Homemade French Fries with Truffle Mayonnaise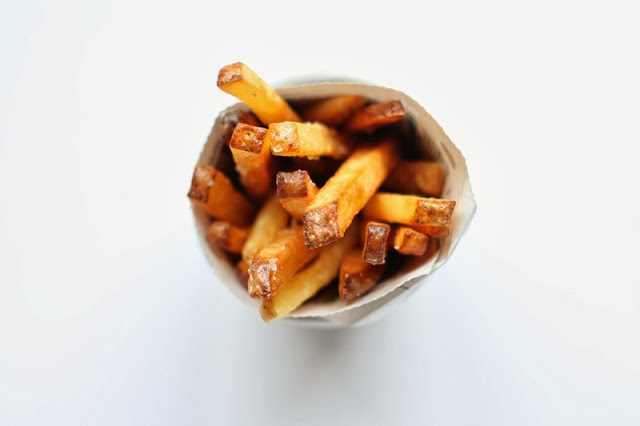 Try this recipe for homemade french fries with truffle mayonnaise, it will become your next steaks best friend.
If you haven't done homemade french fries before you really should give it a try, it's not very difficult. If you own a deep frier then there's no problem at all. If not you can deep fry in a big pot, but make sure to use a thermometer to be able to control the temperature.
If you're feeling insecure about frying in a pot then don't do it because it can get dangerous. Instead, you can roast the fries in an oven, not quite as tasty but still good enough.
For this recipe, I use a quicker version of Heston Blumenthal's three-day fries but I've shortened it so you don't have to spend three days waiting for some fries.
Homemade French fries with truffle mayonnaise
serves 4 as a side
4-6 potatoes
neutral oil for frying, I use rapeseed oil but use your favorite
salt
2 egg yolks
1 tbsp Dijon mustard
1 tbsp red wine vinegar
salt, pepper
1,5 dl neutral oil for the mayonnaise
0,5 dl olive oil
1 tsp truffle oil (check taste while adding)
black truffles (optional)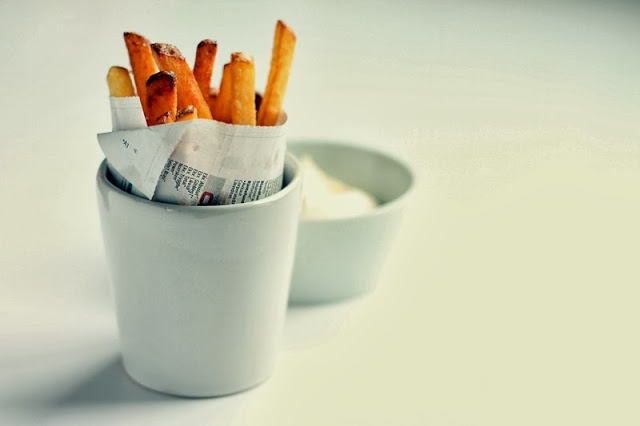 Cut the potatoes into fries. I like mine thin and crispy but cut them to your liking. Leave the skin on. Rinse the cut potatoes in cold water and then parboil until almost done. Remove from the water and let cool in the fridge for about one hour.
Meanwhile, start making the mayonnaise, combine egg yolk, Dijon mustard and the vinegar in a bowl and whisk, carefully add the oil a little bit at the time, remember to whisk during the entire process. When it's thick enough season with salt, pepper, truffle oil, olive oil and some grated or diced truffle. Truffle oil is a bit tricky since the intensity can be very different depending on what brand you use. I've written 1 tsp but add a little bit at the time according to your own taste.
Fry the fries at low temperature without letting them get any color until they are cooked through. Remove and chill again for 1-2 hours. You can prepare these two steps the day before and then fry the fries before serving.
Fry the fries until golden on high temperature, remove and salt. Serve with the truffle mayonnaise.
For more appetizers, sides, drinks and lovely recipes check out my full collection of recipes here.