Homemade Grissini with Parma Ham and Cream Cheese
Try this recipe for homemade Grissini with Parma Ham and Cream Cheese, a great and simple snack.
Making homemade Grissini is really simple and a good way to make use of leftover or extra dough. I usually make Grissini whenever I make regular bread, just make a bit too much dough and make some Grissini with a small amount of dough because it will make a lot of Grissinis. For this I haven't specified the amount in the bread recipe, just use your standard bread recipe and add the olive oil.
However if you´re not into baking then just buy some Grissinis, they usually available in most food stores. Another great thing about Grissini is that they will keep for a long time so why not make a big batch while you're at it.
They are perfect for snacking or serving as a side for all sorts of stuff. Plus you can brag about them no matter what you're serving for main course.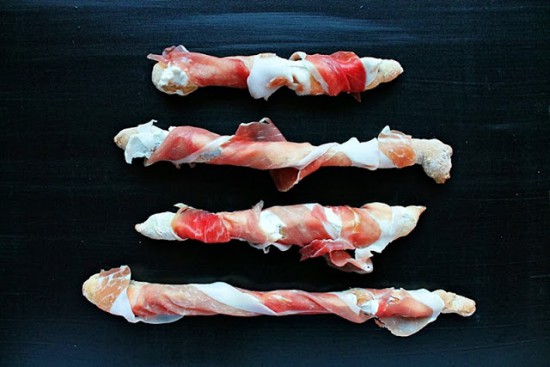 Homemade Grissini with Parma Ham and Cream Cheese
serves 4
wheat flour
yeast
water
sea salt
olive oil
100g / 3.5 oz cream cheese with herbs
8 slices Parma ham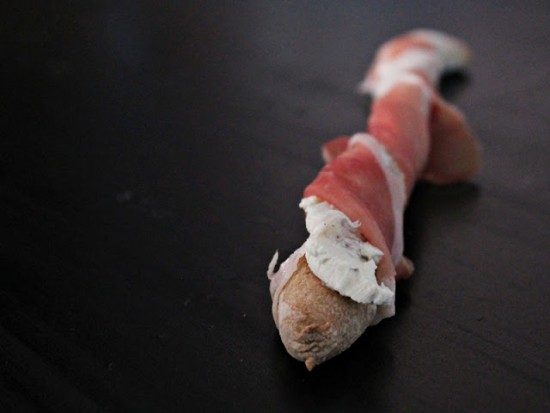 Combine wheat flour, yeast, water, sea salt and olive oil into a dough (use same proportions as you would for regular bread) and knead the dough until it's smooth and not to sticky. Cover the dough and let it rise for about one hour.
Put the dough and a baking surface and cut it into long Grissinis, roll or twist them to make the shape a bit irregular, let them rise again and then bake in oven until golden. If the Grissinis are not crisp but are starting to brown you can remove them and lower the heat in the oven and put them in later to let them get dry enough.
Smear some cream cheese on each Grissini and then roll the Parma ham around it. Serve!
This recipe was originally posted in one of my New Year's Menu ideas, for the full menu head over hear.