How to make Smashed Peas on Toast – Try this Recipe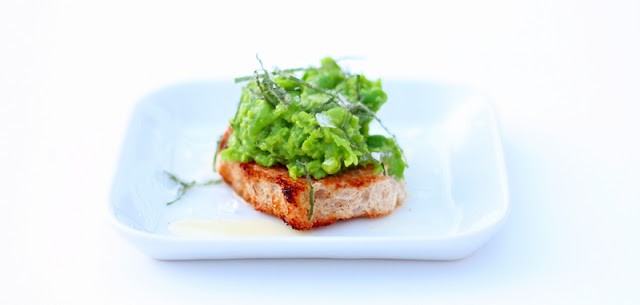 Learn how to make Smashed peas on toast, a very simple but great tasting vegetarian appetizer.
This is a great tapas for any summer occasion, very easy to do and you'll be surprised at how many who haven't tried it. If you can get a hold of fresh peas that´s great but frozen peas are one of the true heroes of any freezer and work just as good. Fresh mint is, however, a must.
Smashed peas with mint on toast
serves 2 as an appetizer
150g / 5 oz peas
1 + 1 tbsp butter
1 tbsp olive oil
salt, pepper
fresh mint
2 slices white bread
Bring water to boil with some salt, when boiling add the peas and simmer for about a minute, discard the water, add a tablespoon of butter and the olive oil and blend the peas with a few leafs of mint for a couple of seconds. You don't want the peas to be too finely blended. A few whole peas are fine and make the texture more interesting. Season the puré with salt and pepper.
Cut away any edges of the bread and fry in a pan with the remaining butter until golden on both sides. Serve the warm smashed peas on the toast.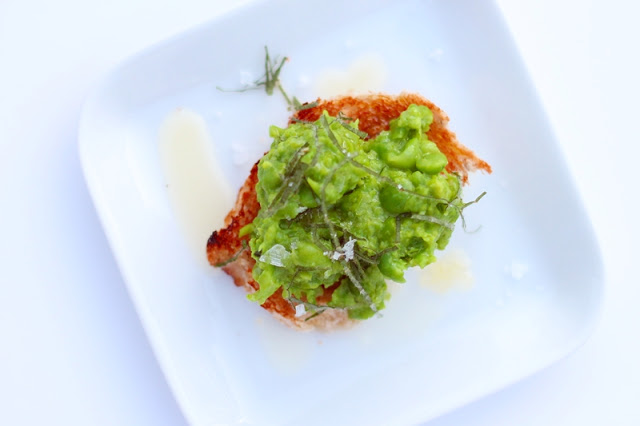 Other serving tips for smashed peas
Smashed peas is a great and simple side to make and serve for other dishes as well. It is a great side for steamed or grilled fish. You can of course also use other herbs to season it if mint is not your favorite. Chives and parsley work great.