Tuna Tartare with Avocado & Chives – Do Try This Recipe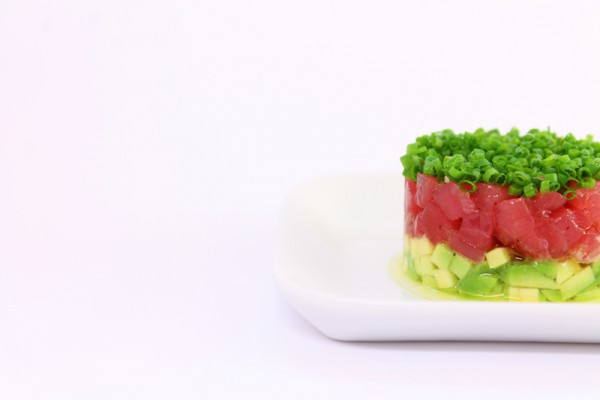 Learn how to make Tuna Tartare with Avocado and Chives, fresh fish, great avocado, and herbs makes this delicious, great looking and quick to make.
Tuna tartare is a great base for a tapas or appetizer. One of the great things is that it is goes really good with lots of different flavors so you can keep it interesting and still serve it often. Make sure you get some really fresh or high quality frozen tuna, it's worth to spend a little extra on the fish since you won't be serving that much anyway. If it's still over your budget then skip it and make something else.
The recipe below is for one serving so simply adjust the batch depending on how many guests you are having. Also, tartar is not something that is good to store because of the raw fish and in this case the avocado as well.  So only make as much as you will serve.
A final thing before we start making this tuna tartare. Consuming raw or uncooked fish is always a small risk. Make sure you are not serving this or consuming it if you are at risk or in a medical state where you shouldn't consume raw fish.
Tuna tartare with avocado & chives
60g / 2 oz fresh tuna, without skin or bones
½ fresh avocados
2 tbsp fresh chives, sliced
olive oil
salt, pepper
lime juice, from 1 lime
Finely dice the tuna and combine with olive oil, salt, and pepper. Peel and dice the avocado and combine with a little bit of olive oil, lime juice, salt, and pepper. Slice the chives as thin as you can. If you want to serve it looking like in my photos you'll need a round cylinder, a cookie cutter is good.
If you are serving something this way to a lot of people you can buy plastic pipes at a hardware store and saw it in smaller pieces. This may sound crazy but it will cost a fraction of for example going and buying ten cookie cutters. Just remember to clean it thoroughly before using them.
So now you know how to make a tuna tartar, simple wasn't it? As I wrote, in the beginning, this is such a good way to serve it and you can make this in so many ways. Next time try it with some soy and cilantro or maybe with a little bit of mayonnaise, capers, and olives. This way you can turn it into a tuna tartare nicoise.
If you want to try another recipe that uses raw tuna I have this tuna carpaccio with capers, mayonnaise, and cress. It's just as good as this one, but has a completely different flavor.