Iberico Ham with Sunchokes and Olive Oil Mayonnaise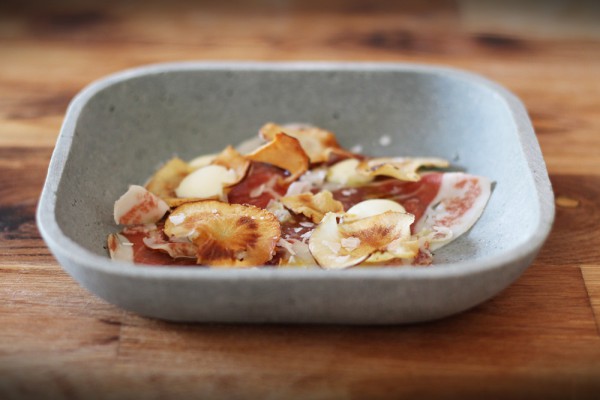 Thinly sliced Spanish Iberico Ham with Sunchokes and a rich and creamy olive oil mayonnaise, you won't regret trying this recipe.
Iberico ham is the luxurious type of Spanish Serrano ham. It is made from a special breed of pigs called Iberico that is also known as the black Iberico. The ham or Jamon as it is called in Spain is therefore called Jamon Iberico but is also known as Pata Negra.
I have used the standard version of the ham. If you want the best one you need to get a Jamon Iberico de Bellota. Then the pigs are free-range and fed loads of acorn that flavors the meat. Usually, the ham is cured for a longer time as well. If you want to know more about the different variations of Spanish ham then Wikipedia has a short but good post on Iberico ham.
Now for some cooking, as long as the ham go you should use an Iberico one since it has more fat that is one of the key elements in this dish. I serve the ham at room temperature with deep fried sunchokes and an olive oil mayonnaise. The sunchokes give the dish a little bit of texture as well as pairing really good with the intense ham flavor.
The olive oil mayonnaise makes the dish a bit moister and the taste of olive oil mayonnaise is great in a small dish like this. Use a mild olive oil, if it is too intense it will be too powerful. If the oil you have is too intense you can replace half of the amount of oil with a neutral vegetable oil. As the dish is quite fatty you won't need to serve very much, that will be a relief when it's time to pay for the ham, on slice or two for each serving is enough.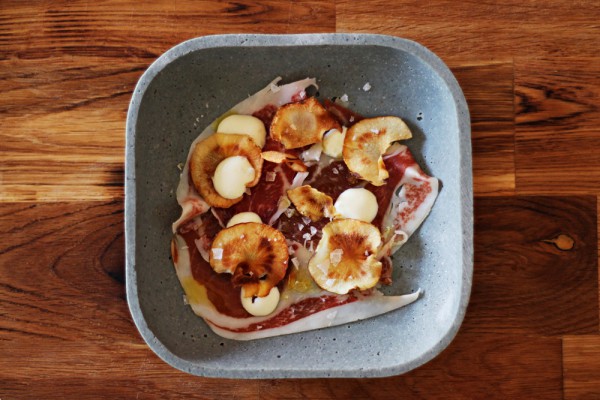 Iberico Ham with Sunchokes and Olive Oil Mayonnaise
serves 4 as an appetizer
8-12 slices of Iberico ham
1 egg yolk
1/2 tsp Dijon mustard
1/2 tsp red wine vinegar
salt, pepper
0.5 cups / 1.18 dl mild olive oil
2-4 sunchokes, washed
vegetable oil for deep frying
Whisk the egg yolk with the vinegar and egg yolk, start adding the oil during whisking until it starts to thicken. Add salt and pepper and then the rest of the oil until you are satisfied with the thickness.
Wash and slice the Jerusalem artichoke as thin as you can, a potato peeler works well unless the artichokes are too big. Rinse the slices in cold water and the pad dry with kitchen paper. Deep fry on medium heat until crisp, season with salt.
Add the Iberico ham to a plate and add the mayonnaise and fried artichokes, add a little bit of salt if necessary, serve. Good luck.