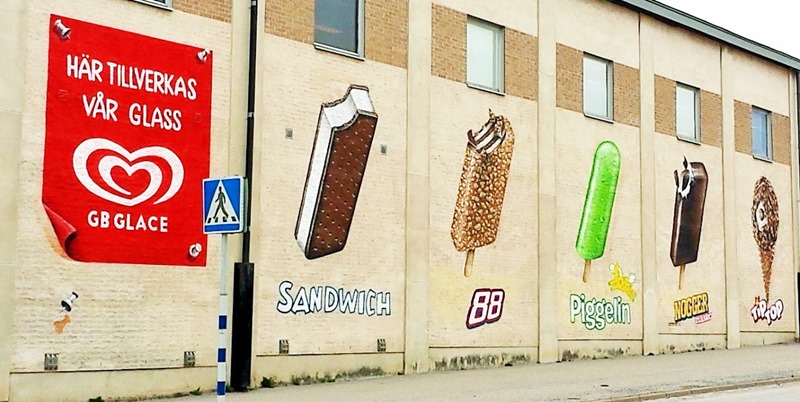 See how GB Glace in Sweden made their factory look great with street inspired ice cream art.
There's plenty of ice cream art to find if food art is your thing. But the folks at Sweden's biggest ice cream factory in Flen, Sweden decided to use ice cream art to make their factory look great.
With some help from highly talented artists this factory have been given a great new look. At the same time people who pass by now know where some of Sweden's most iconic ice creams are being made.
The ice cream art does not only show off some of their most known ice creams. We also get a short history of the GB Glace ice cream company as well.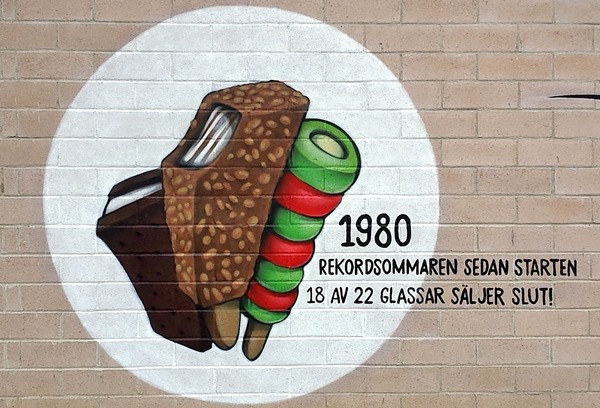 1980 – The record breaking summer when 18 out of 22 varieties of GB Glace ice creams got sold out.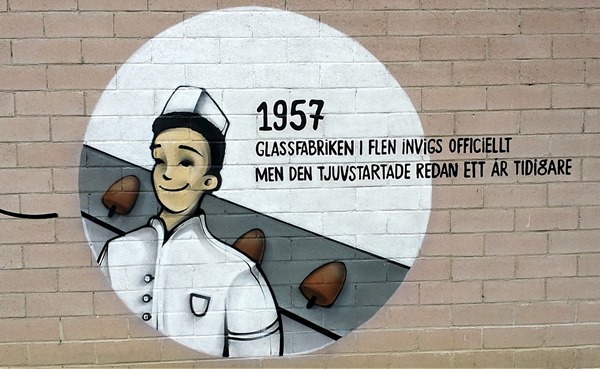 1957 – The ice cream factory in Flen is officially opened, even though it had already started production one year before.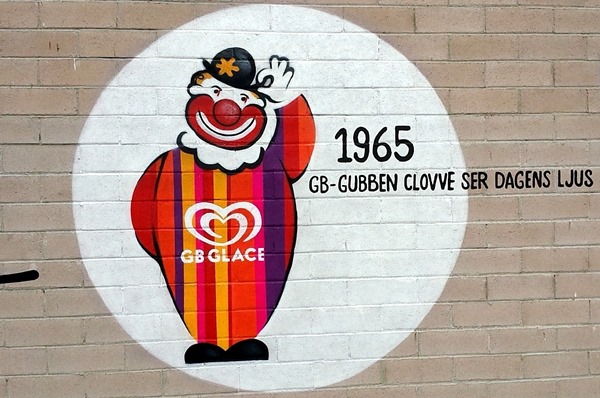 1965 – The company mascot Clovve is born.
Looks pretty cool right? The weird thing about this whole project is why aren't more food companies doing this? Most food factories look incredibly boring. Many doesn't even show their logo. Just imagine these photos without the ice cream art in them. Then it would look like a Eastern European factory where dreams come to die, or like a former ice cream factory in Flen. Instead GB Glace made anyone who pass by their factory smile and think about when they will eat their next ice cream. Not a bad thing if you're the one supplying the ice creams.
I'm not sure how much this have cost to make but I'm sure that the budget for a project like this is no more expensive that a couple of print ads in a major newspaper that nobody ends up reading anyway. Plus the free media attention from people like me who just love fun and cool stuff and we are talking about a solid investment.

The Ice Creams 
But it's not all the history of the company, we've also get to rest our eyes on some of the classic ice creams from GB Glace, let's take a look at them and I'll give you a short history lesson on each of them as well.
Piggelin
Piggelin is one of the most classic ones and it's technically a popsicle. It was first introduced in 1972, since then the weight and shape have changed a few times. It's also one of the cheapest of the ice creams in the GB Glace range which makes it the one you'll get if you're a child and your parents don't want to spend too much. Normally the conversation goes like this:
You: I want ice cream!
Mom: No
You: Please!!!
Mom: I said no.
You: Not even a Piggelin (this goes with incredibly sad eyes as well)
Mom: Alright then.
You: I love you mom!
The flavor is Tutti Frutti and it really is delicious. During the 90's it a drink was quite popular which imitated the flavor of the Piggelin.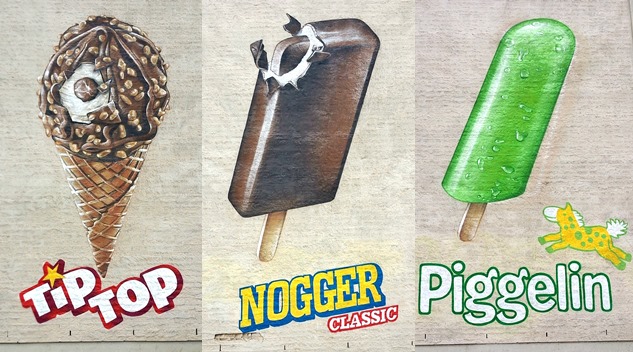 Tip Top
Tip Top is a ice cream cone. It's vanilla ice cream with a almost soft chocolate ball in the middle. The cone is a wafer and at the end of the wafer there is also chocolate filling. The top of the cone is dipped in milk chocolate and have sprinkles of puffed rice. The cone was first introduced in 1981. Some sources claim that Tip Top replaced the former Big Top but even though they are both similar they have been available at the same time. I haven't tried a Tip Top for a long time but writing about kind of make me want to go for one.
Sandwich
The Sandwich or actually the GB Sandwich came out as early as 1972 and is one of the classics. Simply vanilla ice cream in between two soft layers of chocolate biscuits. Sometimes the simple stuff lasts.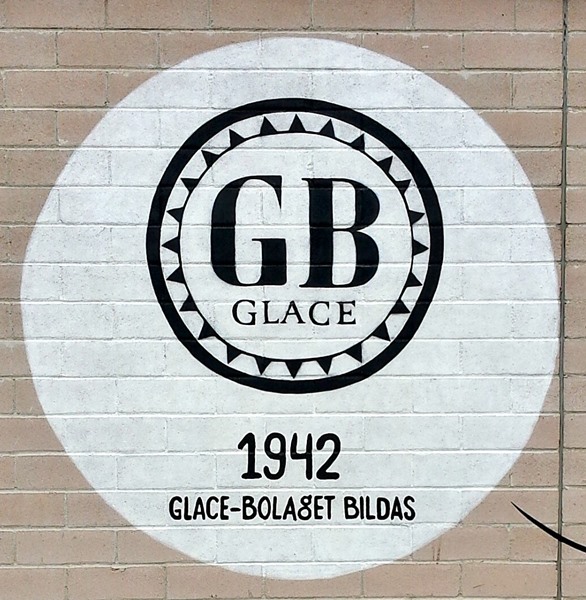 Nogger
Nogger is a full range of similar ice creams sold by Unilever in Europe. The Swedish version produced by GB Glace was introduced on the Swedish market in 1978. The ice cream has a core of nougat with vanilla ice cream on the outside which is covered by a thin layer of chocolate. Nogger is quite tasty but you'll need about a gallon of water after eating since you'll end up with eating pure nougat. There also used to be a Nogger Black with licorice. Some parts of the Nogger Black campaigns was accused of being racist when it was launched in 2005.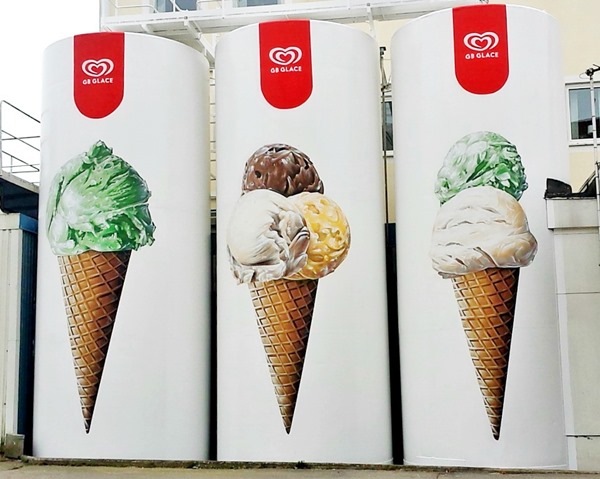 88:an
My personal favorite the 88th was launched by the company Trollhätteglass in 1964 before they merged with GB in 1973. At the time Trollhätteglass was owned by Unilever so the inspiration for the 88th came via Unilever from the US. The number 88 was first a working name because this was the 88th product developed at Trollhätteglass. The ice cream is vanilla with ice chocolate and covered in chocolate and hazelnuts.
About GB Glace
GB Glace was formed in 1942 by the Swedish companies Mjölkcentralen, Choklad-Tule and Alaska-Glass. The company was acquired by Unilever in 1985. Since 1998 GB Glace have used Unilever's Heart Logo in their marketing which is also used by the other Heart brands for ice cream in Europe. The production is made in Flen which is located about a two hour drive west of Stockholm. GB Glace in Sweden have around 500 employees and 140 different products. You can check out some more of this fun project at the GB Glace Facebook Page.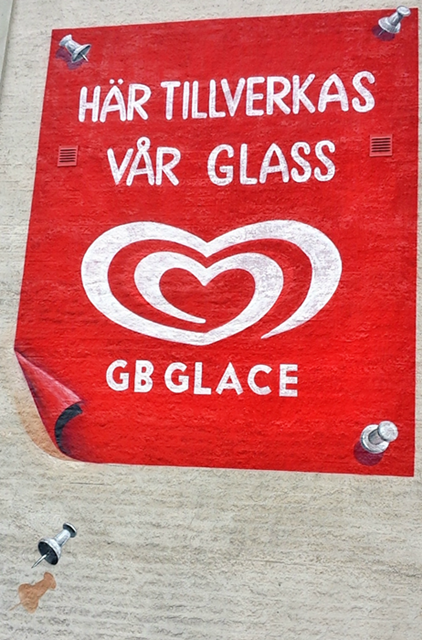 Tags: art, design, flen, food history, food industry, food produ, food production, gb glace, ice cream, popsicle, street art, sweden, unilever