Jack Hudson Food Illustrations – Small People Bouncing On Jell-O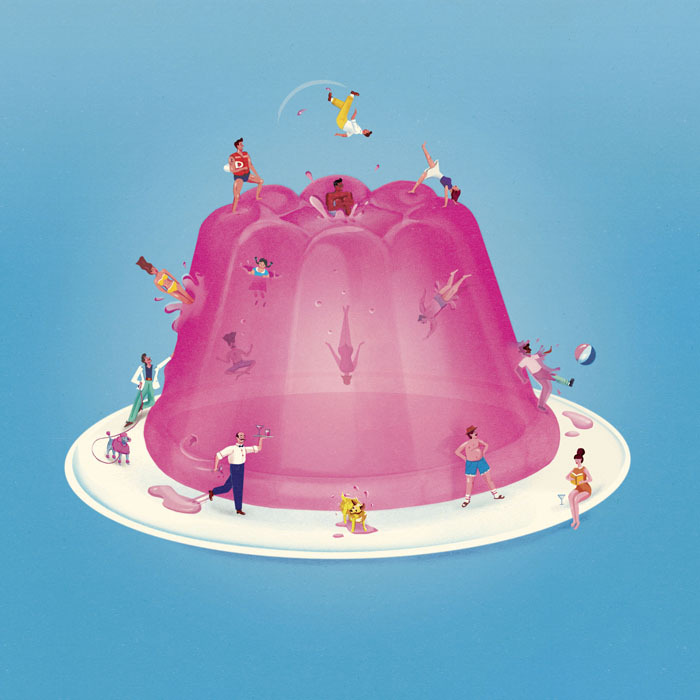 Check out a few of the Jack Hudson Food Illustrations. This English illustrator have created some great food related art that make even me want to have some Jell-O.
Jack Hudson is an English illustrator and artist who has created these cool illustrations of people bouncing on Jell-O. He has a really unique style of illustrations that makes you think of the cute side of the 50's and 60's, a nice contrast now that we've been seeing those decades from the eyes of Don Draper for the last time.
Only a small portion of Jacks work are food illustrations but since we completely fell in love with them here at äteriet we thought we might share them with you either way.
If you feel like you've seen some of Jack's work before you just might have, he has done work for Google, WIRED Magazine, Toyota, The Guardian and many others.
For more of Jack's work visit his site, below you can read some more about Jack Hudson. Also he problaby have the coolest name ever.
About the artist
"Jack Hudson is a Birmingham born illustrator now based in East London. Jack finds Inspiration in mid-century illustration, human interaction and the adventure films that sparked off his imagination as a young child. He creates distinctively energetic work full of fun and humour, often depicting the relationship between the big and the small."