Jalapeno Mint Julep Ice Pop Cocktail – A Twist on The Mint Julep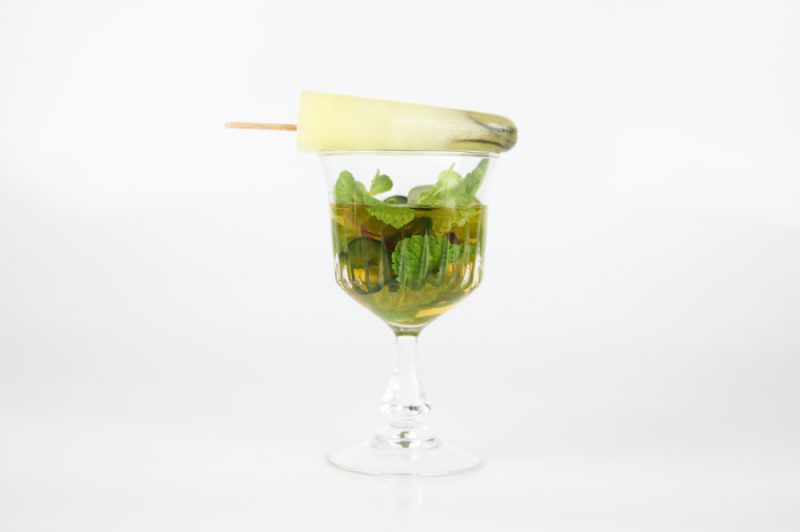 This Jalapeno Mint Julep Ice Pop Cocktail is a fun twist on a classic Mint Julep. Instead of crushed ice you'll get an ice pop with lemon and some jalapeno to add some spice.
This Jalapeno Mint Julep Ice Pop Cocktail is not really a Mint Julep but it has lot's of bourbon and mint in it so the flavor is similar. The jalapeno in the ice pop and drink adds a nice kick. It's not very hot when you drink it but when you bite down on a slice you'll feel it.
The recipe has been featured here before in a collection of ice pop cocktails. So if you want more recipes like this check it out.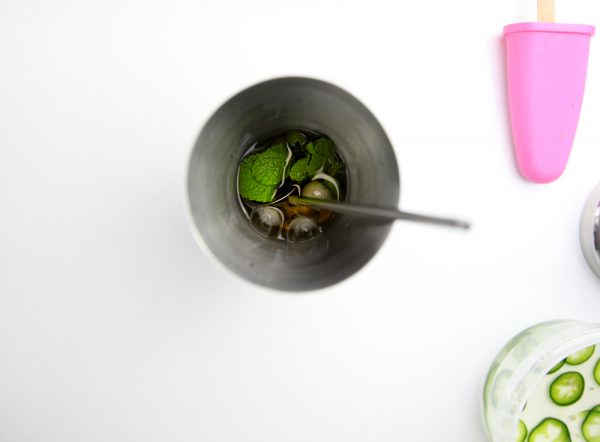 Jalapeno Lime Lemon Ice Pop
2 parts lime juice
2 parts lemon juice
3 parts jalapeno syrup (1 part sugar + 1 part water + jalapeno)
The recipe is in parts. To get the right strength I used one fresh jalapeno with the seeds kept for a little over one cup of finished product.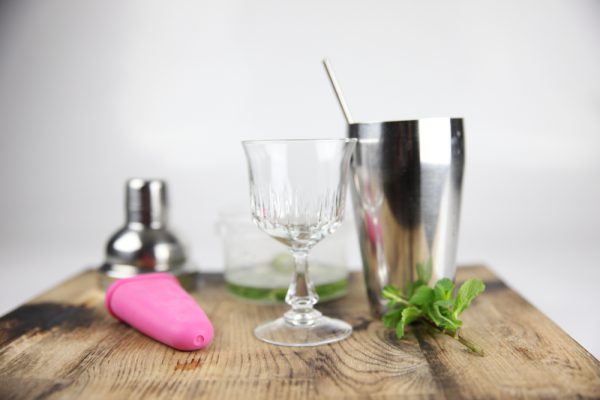 Squeeze limes and lemons to get the juice. Set aside. Slice a jalapeno thin. Bring sugar and water to a boil, leave to cool. Add the jalapeno syrup and lime and lemon juice. Save the jalapeno syrup and a few slices of jalapeno in it.
Before you freeze the ice pops you can pick out a few slices of jalapeno and place them on the inside of the ice pop mould. This way they will stick and be more evenly distributed on the ice pop. Then add the ice pop juice and freeze.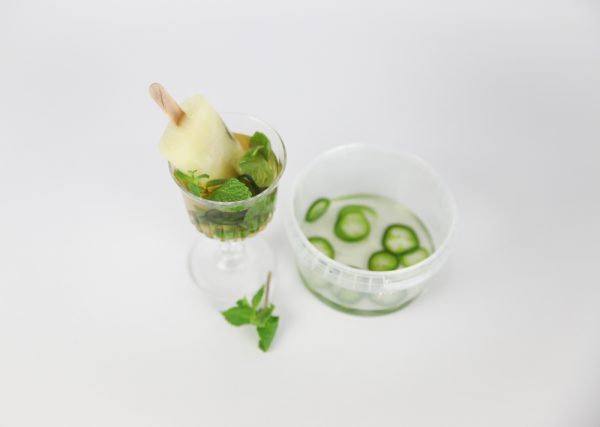 The Ice Pop Cocktail
1 Jalapeno Lime Lemon Ice Pop
1 oz / 3 cl jalapeno syrup
a few leaves of fresh mint
2 oz / 6 cl bourbon
a few ice cubes
a few leaves of mint
sliced jalapenos from the jalapeno syrup
glass
muddler
spoon
shaker or mixing glass
Add mint leaves to the shaker and muddle lightly. Add bourbon, jalapeno syrup and a few ice cubes and stir for 30 seconds. Add mint and a few slices of jalapeno to the glass. Pour the drink, leave the ice in. Add the ice pop. Enjoy!
Drink Recipes at Ateriet
Making drinks is fun and I highly recommend trying some of my recipes out. Use them as a starting point to create new and fun stuff. Some of my drinks are classics with a twist, some a real classics and some are inventions of my own. You'll find them all here.