Jamie Oliver Packaging – A closer look at his great food packaging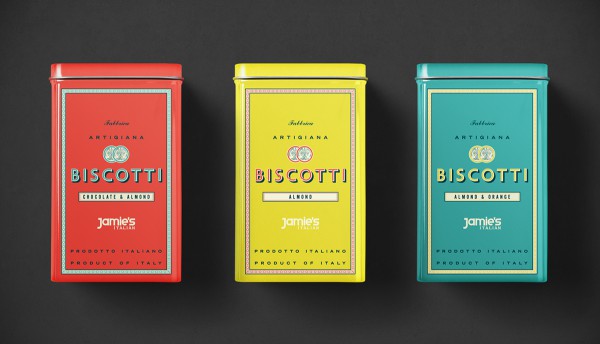 A few years ago Jamie Oliver launched the artisan brand Jme. It was launched with an amazing set of designs but sadly poor sales left too much of the products unsold and in 2013 Jamie Oliver pulled the plug on the brand. To this day we still love the packaging design of this now sadly dead brand. But there are good news as well, Jamie is now launching a new range called Jamie's Italian with spectacular design.
Jamie Oliver came into the food world with a boom. As soon as his first show aired he was an instant hit and he never looked back since. And besides most other TV chefs and food personalities he hasn't just stuck with making recipes. With the school food project and Fifteen among others he has shown that just because you start out with making recipes and inspiring people to cook better you can make an impact in a bigger way.
The Jme Jamie Oliver Brand
But there are also some failures along the way. Jamie Oliver launched the artisan brand Jme a few years ago. The idea was to round up a wide range of great deli products from Italy and England and sell them in small deli shops around England. There were also some products sold both in the US and in other European countries.
The range was branded Jme but in a very subtle way. The thought behind this was that the product was suppose to be the hero. Unlike most other Jamie Oliver products you can barely guess that Jamie Oliver was behind any of these products.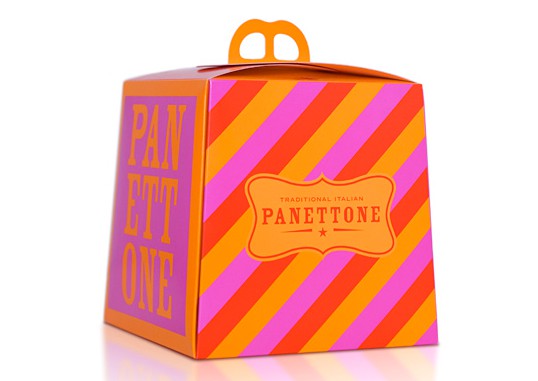 Sadly most consumers didn't get it either and in 2013 the brand was terminated due to poor sales. And if you now look at any Jamie Oliver products there is always a photo on Jamie that can't be missed. Probably a good call when it comes to selling the products, as long as packaging design goes it was a sad day.
A fresh start for Jamie Oliver Packaging with Jamie's Italian
But now there are new great things for all us packaging lovers. Jamie's Italian is Jamie's casual dining chain that is now expanding all over the place. Along with the expansion of the Jamie's Italian restaurants there are now a range of products that you can buy in the Jamie Oliver Italian restaurants.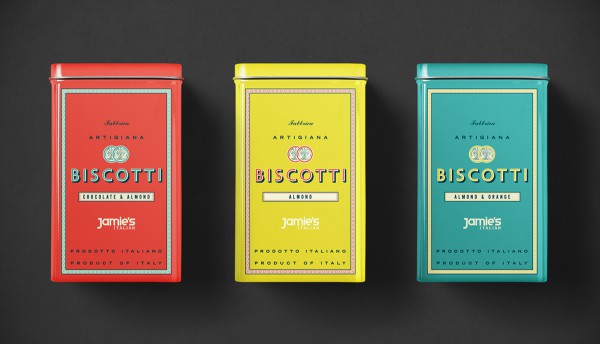 And we think it is safe to say that Jamie Oliver Packaging is back in style. The design for Jamie's Italian food packaging are made by Matt Utber and we love it and are happy to see Jamie Oliver packaging back where it should be.