Joel Lindqvist – Chef Q&A with Sweden's Top Chef Desserts winner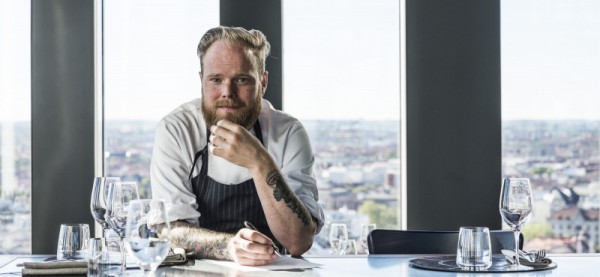 Joel Lindqvist is the winner of the second season of Top Chef Desserts in Sweden where he dominated the show with his modern and interesting desserts. Besides this he also runs a Supper Club in his apartment, is the Head Pastry Chef at Clarion Malmö Live and this fall he is releasing his highly anticipated debut cookbook.
We asked Joel Lindqvist about how he came to work with food, where he gets inspiration and how things have changed after winning Top Chef Desserts Sweden. Keep reading.
Have you always wanted to work with food?
No, actually not. I have always had a creative mind and wanted to create. But I started out as a web designer, creating websites for different companies. It didn't take long though before I realized that I wasn't meant to sit on my ass in an office chair.
So I quit my job and signed up for culinary school with a friend of mine. I was completely blown away the first day in the kitchen. This was exactly what I wanted to do! The heat and energy of the kitchen, the expectation in the guests eyes, the impact a well executed meal had on them.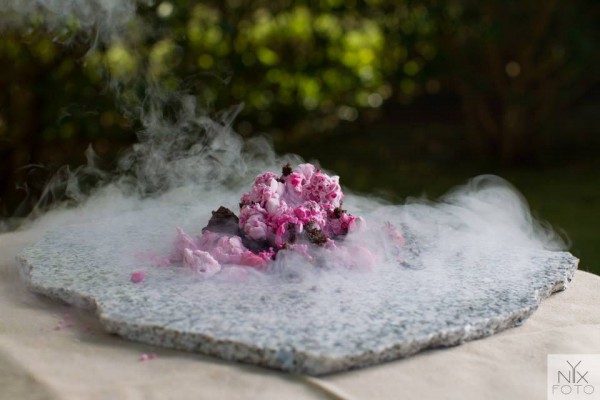 What's you favourite food memory?
Picking cloudberries as a child is one of my oldest favourite food memories! But I keep getting new food memories all the time. Stumbling upon new and exciting ingredients and thrilling combinations.
What is your favorite ingredient at the moment?
I have a sweet spot for green things. I just love dill, lovage, woodruff, sorrel, beech, cucumber, celery, matcha, pistachios. And yuzu! Just couldn't live without yuzu. Or sudachi…
What's your favourite thing to drink?
I really love wine, especially natural wines. I love Spätburgunders and Rieslings. The really dry Rieslings, and the aromatic Gewürztraminer! If I had to choose one producer I would go for Radikon or Cornelissen I think.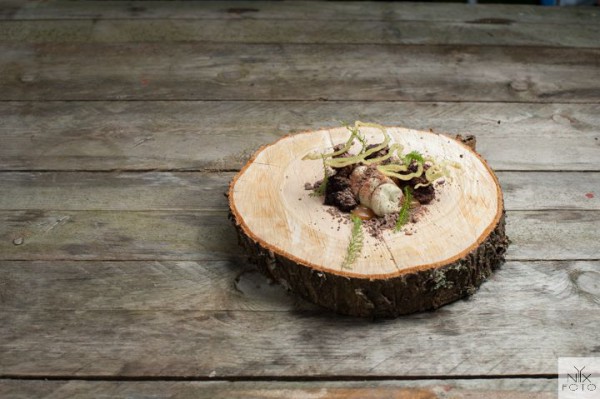 What inspires you in your work?
Inspiration can come from many things. It could be from nature; the forest floor, a beautiful tree or just some tiny green leaves on a branch. It could just as easily come from a modernistic painting or a stone formation och just a combination of colours.
The transience of seasonal ingredients is also very inspiring. For example, when the first beech leaves occur you only have a very short period of time to use them if you want to have them really acidic and bright green. And of course the sensation of new exciting and unconventional pairings pushes my inspiration!
You used to work at some great places in Copenhagen but are now cooking in Malmö, Sweden, was there a special reason for the move?
I had been working quite a lot and felt that I needed a break. Traveling back and forth to Denmark every day added a few extra hours every day. And I also started to appear on Swedish television and got a lot of opportunities there.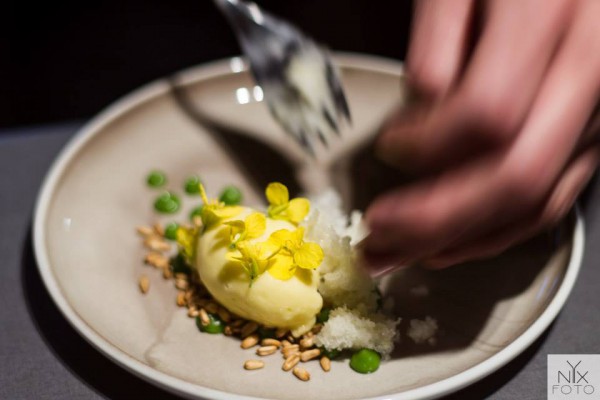 You have a bit different approach to dessert than most pastry chefs, can you explain your style in a simple way?
First and foremost, I believe that the dessert should end the meal by giving you the refreshing boost that you need to get out of your chair after eating a full menu. By using less white sugar, (sucrose) that contains short sugar chains that gives your glucose a rush, and instead more vegetables, that contains of longer chains of fructose, you achieve a more comfortable feeling.
I also enjoy to use some unexpected components in my desserts, for example black garlic, miso, dill and soy. That adds an extra edge to the dish. Not because it is unusual but because it is surprising how good it tastes!
With your use of unconventional dessert ingredients the step to the savory kitchen is not long, is this something you've considered working more with?
Sure, the regular kitchen inspires me, but I like the idea about not having to work around a piece of meat or fish. A dessert can be anything, it doesn't have any boundaries.
You run a pop-up restaurant in your home from time to time with a big focus on pastry, do you have any plans to open up something more permanent on your own?
No, not at the moment actually!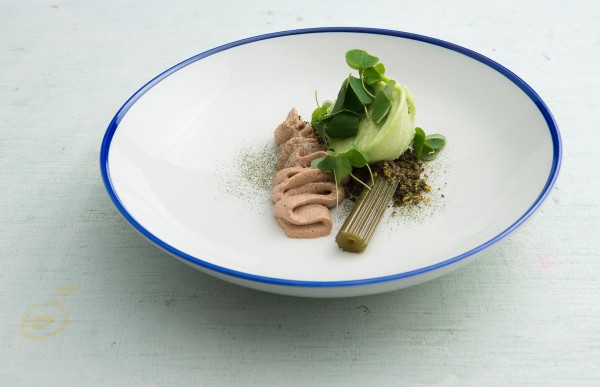 Last year you won the Swedish Top Chef Desserts, has it had a big impact on your life and career?
Yes, it has!  These days I get the chance to have a lot of different people eat my dishes and hear my thoughts. I hold pastry classes and I am about to release a dessert book! It´s called Dessertrevolution – jordnära desserter i samklang med naturen (Dessert Revolution – earthbound desserts inspired by nature).
Do you have a guilty pleasure in food, and if so what is it?
I do, I just love pizza! Don´t all chefs?
Who do you think we should interview here at Ateriet?
I would love it if you interviewed Janice Wong of 2.AM dessertbar in Singapore!
She is a true genius!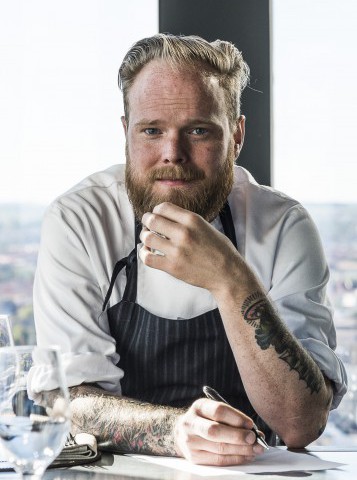 Name: Joel Lindqvist
Age: 35
Born: Varberg, Sweden
Current city: Malmö, Sweden
Education: Chef
Previous restaurants: Mielcke & Hurtigkarl, no2
Current restaurant: Clarion Malmö Live
Thank you Joel Lindqvist for your time and good luck with the upcoming book.
You can read more about Joel's upcoming cookbook and about Top Chef Desserts Sweden below. To keep up with Joel you should of course follow him on Instagram, find him at @pastrybyjoellindqvist, expect mouth watering dessert photos on a regular basis. You should also check out his website www.pastrybyjoellindqvist.se
About Joel Lindqvist cookbook: Dessert Revolution – earthbound desserts inspired by nature.
Dessertrevolution – jordnära desserter i samklang med naturen is the debut cookbook by Pastry Chef Joel Lindqvist. In the book Joel will give us home cooks a chance to create a bit more modern desserts than what we are used to. But without having to invest loads of money to do so.
The book will have around 40 recipes and are divided into four themes. Root vegetables, Wild Herbs, Fruits & Berries and The Classics. So as you can see this might not be the most classic of cookbooks, learning to work with root vegetables and wild herbs just might be the thing you need to take your desserts to the next level.
Dessert Revolution – earthbound desserts inspired by nature is scheduled for release by the end of November, you can see some behind the scenes material and read more about the book at Facebook.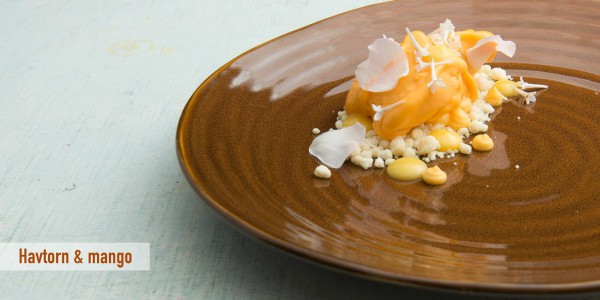 About Top Chef Desserts Sweden
Top Chef Desserts Sweden is the Swedish version of the American original Top Chef Desserts. In Sweden it is called Dessertmästarna (Dessert champions) and is aired on Kanal 5. Joel Lindqvist won the second season where he stood out with his use of non traditional dessert ingredients. The third season of Dessertmästarna is currently aired.
About Ateriet's Chef Q&A
Chef Q&A at Ateriet is my way of giving great chefs the respect they deserve. I interview chefs from all over the world with the stuff I want to know. If you know a chef I should interview or have any other suggestions don't be afraid to let me know, just leave a comment or send an email. You can read my other Chef Q&A's here or explore all these great chefs and restaurants in my Chef Q&A Map, you'll find it here.