Meet Chef Josh Grinker of Kings Co Imperial in Brooklyn in our Chef Q&A
Josh Grinker is the chef and co-owner of Kings Co Imperial in Brooklyn. Meet Josh in our Chef Q&A in a long talk about soy sauce on tap, traveling through China and how he mastered Chinese cooking. Read it.
Josh Grinker is the chef and co-owner of Kings Co Imperial in Brooklyn. When the time came to leave his former restaurant Stone Park Café Josh went away from the American food and took his love of Chinese food with him to Kings Co Imperial.
After the restaurant opened in 2015 it has become a Brooklyn hit and the word about the delicious Chinese food found there have spread. Some call it American-Chinese but it's really Chinese made by an American. I've got the chance to ask Josh about how he became a chef, why Chinese food and of course his guilty pleasures. Keep reading.
How did you become a Chef?
After graduating from college with two enjoyable but relatively useless degrees in literature and history, I really didn't know what to do. I had always been attracted to learning a craft and I liked to cook dinner parties, so I convinced myself that this was the career for me.
The reality is there's almost no resemblance between cooking at home and running a professional kitchen (except perhaps the end result), but I went to culinary school and the career stuck.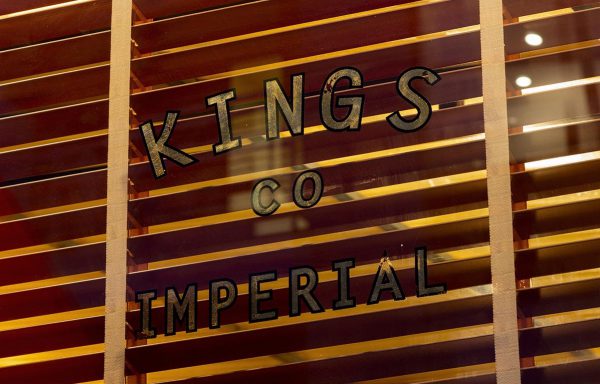 Do you have a favorite food memory?
I've always loved restaurants and loved eating. Restaurants, even more-so than home cooked meals in some cases, can provide a kind of daily and immediately available escape from the grind. My parents love to eat out as well, so special occasions out were my favorite early food memories and growing up in NYC there were basically two ethnic foods available for these occasions: Italian and Chinese. I grew up eating at some of the great NY Cantonese restaurants, as they were both affordable and special.
Your first restaurant was Stone Park Café and is French American. Kings County Imperial is something completely different with its Chinese American food, how come you made this big switch?
I went to culinary school in central Vermont and fell in love with Vermont so I decided to stay there. The Vermont restaurant scene was relatively limited, so for work I sought out the most interesting and excellent restaurants I could find and I wound up cooking for a great Chef, Steve Bogart, in an exceptional Chinese restaurant in Montpelier, VT; very unlikely, I know.
As a Western trained cook, getting behind a wok was so different and exhilarating, and the flavor profiles so foreign and exciting, that I fell in love with the cuisine on a different level. It is, in my opinion, the most adrenaline-charged and intense hands on cooking you can do. The heat of the wok, 120,000 btu's or more, is so powerful and immediate, with so little room for error because of the intense heat, that even when I went back to cooking Western style food in some of NY's great restaurants, I always knew I wanted to cook Chinese again.
When the time came to expand Stone Park Cafe, I just knew it was time to do something different, both for myself and because I wanted to do my little part to bring this amazing cuisine to a wider audience, an audience that might never have had exposure to Chinese food's breadth, diversity and nuance.
I understand that you've traveled through China to get educated about the Cuisine, how was it?
Traveling throughout China with a focus on food and food culture was an eye opening experience. The food is so diverse and so regionally specific that from a culinary point of view it's like visiting multiple countries. People in the US have generally been exposed to Americanized Chinese food or Cantonese food, both important cuisines in their own right, but hardly the whole story.
When you travel throughout China there is often no beaten path and you're introduced to an unparalleled cultural experience. From kabobs, curries and dried rubs in the north, to traditional dim sum in the east and south and everything in between, the breadth and scope of the cuisine is unmatched anywhere in the world. It's a bit daunting, really, the technical skill and variety of the food.
Having now devoted my career to this amazing cuisine, I'm still just scratching the surface, really. From dumpling making, to hand pulled noodles, to Beijing style duck, the skill and mastery involved is amazing to me. All this is on full display in China.
Is there a specific region of China that is dominating your Chinese food?
We stay away from introducing Western elements into the food, but we're all over the map when it comes to China. We just cook what we love, so there's plenty of traditional dim sum involved and then plenty of mala and stronger flavors associated with the Szechuan region.
This is where our Western palates really dominate our concept. Cantonese people generally don't like the spicy, pickled and fermented foods of Szechuan province and someone from Chengdu might find the subtlety, nuance and freshness of Southern coastal China a little bland. In that regard, we're downright fusion, although not in the normal sense of East meets West.
We have customers from Szechuan province that only order our Mapo Dofu and then we have customers from Guangzhou who only order our Dao Miau and Steamed Whole Fish. And then, of course, we have plenty of Western customers who love to try it all.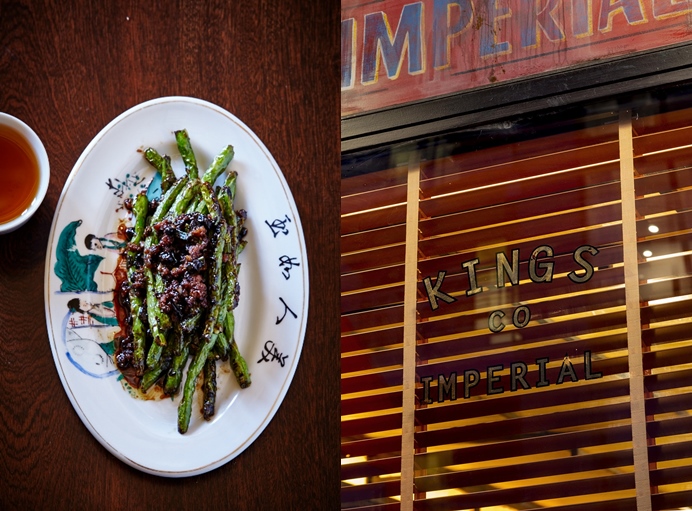 I have a theory I ask most chefs who cook a cuisine not from their own country which is this. Many times the best food from a specific country is better when cooked by a chef not from the actual country. My theory is that since they choose a different country to cook from they really love the food and are free from any ideas on "how things should be", do you agree?
Yes and no, because "better" is such a subjective word. Yes, it requires a special kind of passion to delve into a foreign cuisine. And yes, we are not bound by tradition in the same way that a Chinese chef may be, but I'm not sure one can ever "master" the food like a native.
In some ways, we stay slavishly tied to cooking with Chinese technique precisely because we didn't get our chops in Chinese kitchens. In other words, maybe a chef who has flawlessly mastered his technique in dim sum cookery might feel confident introducing some exotic Western ingredient to his/her cuisine, whereas we still find immense satisfaction in simply cooking and teaching the technique.
Where we really unshackle ourselves is in jumping from region to region within China, which most classically trained Chinese chefs I've met are very reluctant to do.
What is your favorite thing on the menu right now?
That's like asking me to name my favorite child. Chinese food is about balance and many dishes are one dimensional in their own right, so it becomes about playing dishes off of one another.
Here's my perfect KCI simple dinner for four, keeping in mind that it's Fall here now:
Mock Eel, Dry Fried Long beans, Chop Your Head off Soup, Copper Well Street Noodles, Wok Seared Pea Shoots and Crispy Garlic Chicken. This is a meal that should leave you well satisfied.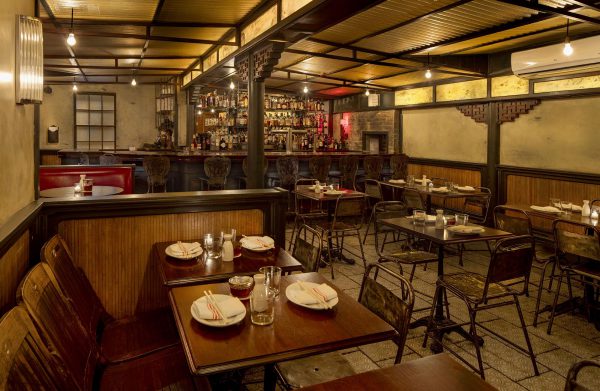 How do you work with the seasons when it comes to cooking Chinese in the US, you sort of have to adapt and create your own seasons or how do you do it?
We don't do full overhauls of the menu as I've done at some Western restaurants; we just focus on different things. In the Spring, for instance, we'll run dry fried asparagus and use the vegetables from our Chinese garden out back to inform the menu and in the Fall and winter we'll focus more on red cooking and heartier dishes, but you're right it's a challenge. We just kind of go with the feel of the season instead of dramatic menu changes.
Brooklyn have really bloomed as a culinary destination, how well do you think it holds up in general and why should people go there?
Five years ago I would have been more cynical about Brooklyn restaurants and I speak as a Brooklyn native. I would have told you it was largely a hype and that Brooklyn restaurants couldn't touch Manhattan's. I've changed my mind.
The obvious answer is that the rents in Manhattan are so exorbitantly expensive that restaurateurs and chefs are less likely to take a risk when there's that much money on the line. That's partly true, but it's also true that you now have some really well trained chefs in Brooklyn that combine some real skill with their creativity.
You can have amazing dining experiences in Brooklyn without getting dressed up or dropping a week's paycheck. The food can be comforting and challenging at the same time, which is something that's hard to find anywhere. There are some true hidden gems and there are more popping up all the time.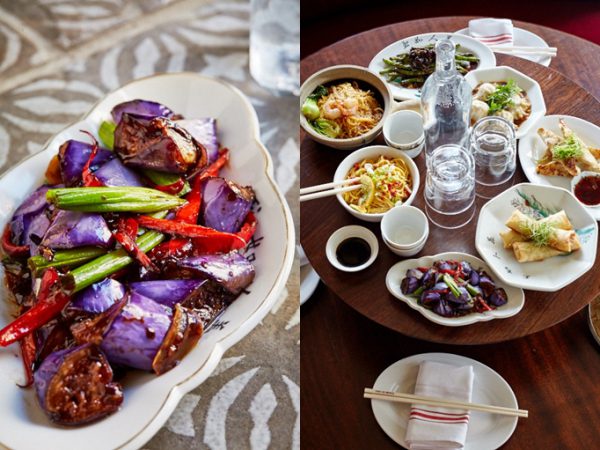 Soy Sauce on tap, tell me more?
We partner with a family in Southern China that sun ferments our soy sauce recipe and brews it with techniques handed down over generations. We use it in the restaurant and put it on the tables and we're getting ready to bottle a small batch.
In the meantime, we keep it on tap so it doesn't oxidize. There's absolutely nothing wrong with the opened bottle of soy sauce you've had sitting in your cupboard for three months, but if you taste it next to a freshly opened bottle you will taste a slight metallic quality in the previously opened one. The tap keeps the soy super fresh.
Do you have a favorite culinary destination besides China?
Mexico City.
Do you have a guilty pleasure in food, and if so what is it?
NY Pizza is the perfect food, but it's basically horrible for you, especially in the quantities I've been known to consume.
Who do you think we should interview here at Ateriet?
I'd like to hear from the chef at Fu Run in Flushing. Ask him how they make their lamb ribs, because they're the best thing ever and the recipes on the internet don't quite get you there.
Thank you Josh Grinker for your time and keep making Brooklyn proud.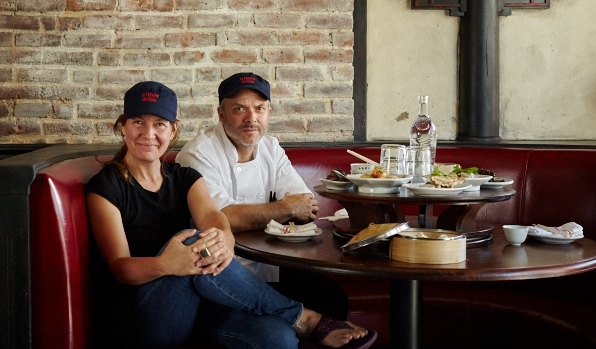 Name: Josh Grinker
Age: 48
Birth city: Brooklyn, NYC
Current city: Brooklyn, NYC
Education: Macalester College, New England Culinary Institute
Previous profession: Worked on a beer truck
Favourite quote: "The harder you work the luckier you get"
To keep up with Josh Grinker and Kings Co Imperial make sure to check them out on Facebook, Instagram and Twitter. Read more about the restaurant below.
About Kings Co Imperial
Kings Co Imperial opened in 2015 and is located on 20 Skillman Avenue, Brooklyn, New York. The food is Chinese but not tied to any specific region. Kings Co Imperial is open for dinner daily and for Sunday Brunch. The restaurant takes limited reservations as most tables are held for first come first serve customers. For menus and details please visit Kings Co Online.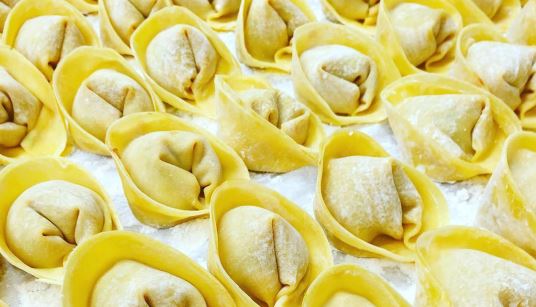 About Ateriet's Chef Q&A
Chef Q&A at Ateriet is my way of giving great chefs the respect they deserve. I interview chefs from all over the world with the stuff I want to know. If you know a chef I should interview or have any other suggestions don't be afraid to let me know, just leave a comment or send an email. You can read my other Chef Q&A's here or explore all these great chefs and restaurants in my Chef Q&A Map, you'll find it here.