Kale Avocado and Feta Cheese Side Salad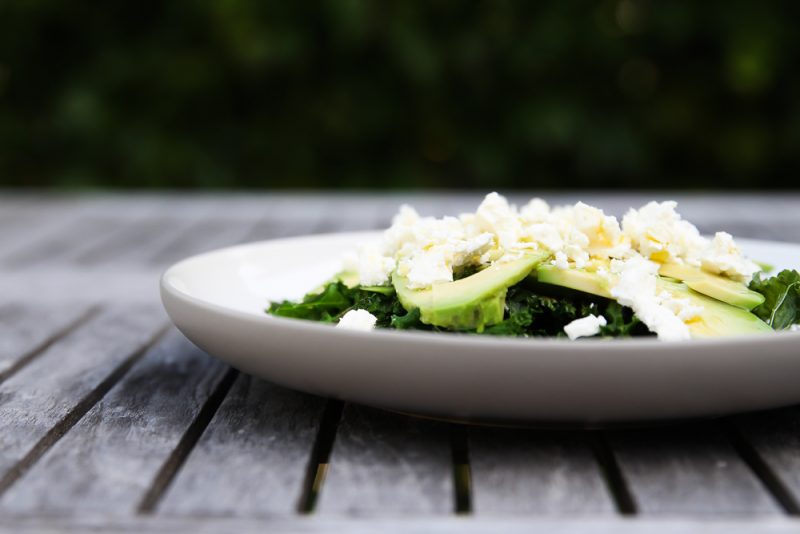 As far as side salads go it doesn't get much tastier or easier to make. Luckily it is super delicious, and that's what matters, isn't it?  So try this Kale Avocado and Feta Cheese Side Salad.
This Kale Avocado and Feta Cheese side salad is a new one even for me. I love side salads, especially if someone put in an effort in making them. That means stay away from a boring bowl of green leaves with a few (never enough) of small tomatoes on there.
This one stands out from one of those sad side salads but it is just as easy if not easier to make. The reward is a beautiful and delicious side salad that you won't regret having.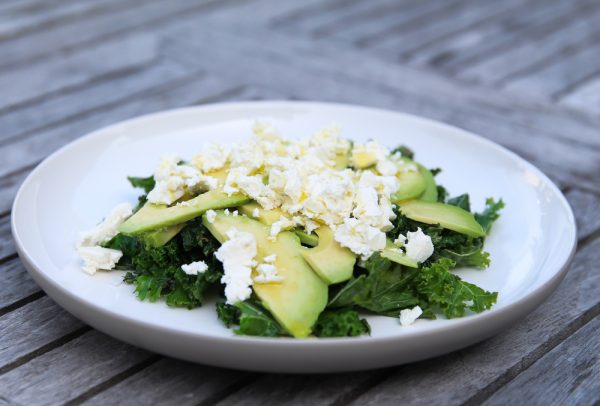 The salad comes with just three main ingredients. Quickly sauteed kale, sliced avocado and some crumbled Feta cheese. Because that is all it takes. If you're used to cooking you won't even need the recipe but if you're starting out it can feel better to have some good instructions so here they come, enjoy!
Kale Avocado and Feta Cheese Side Salad
serves 4 as a side
2 avocados
100g / 3.5 oz crumbled Feta cheese
4 big handfuls of chopped kale
1 + 1 tbsp olive oil
salt
pepper
1 lime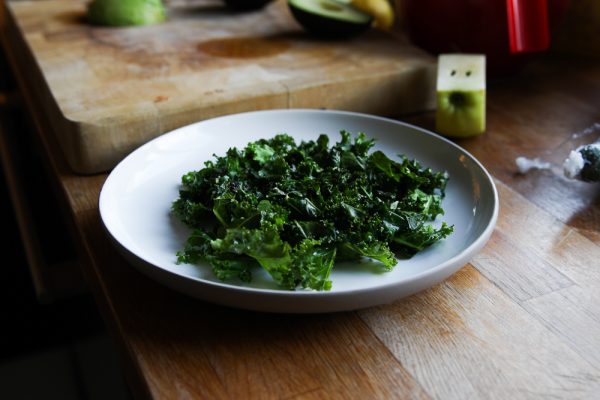 Chop the kale if you didn't get it chopped. Heat a pan and add the olive oil. Add the kale and sautee in the pan for about 30 seconds. Season with salt and pepper. Remove from the heat and add the kale to a serving platter.
Split the avocados in half and remove the stone. Using a spoon remove the avocado from its skin and then slice. Put the slices on top of the kale and then squeeze the lime on top.
Crumble the Feta Cheese if you haven't bought it crumbled. Add on top of the avocado, drizzle with a tablespoon of olive oil. Serve.
As you can see it's not hard to make this salad and I promise you'll like it. But what should you serve it with?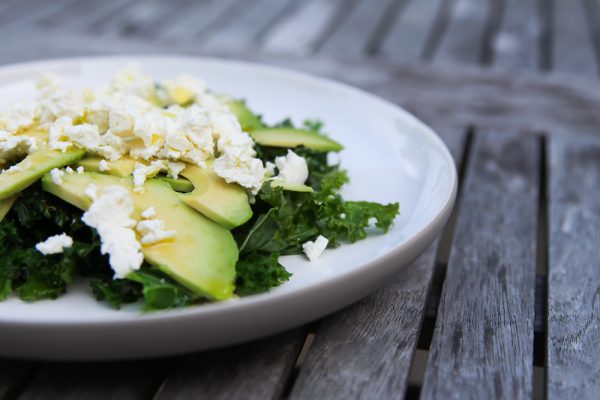 Kale Avocado and Feta Cheese Side Salad Serving Suggestions
Well, this side salad is a little bit different. First, it is very easy to turn it into a dish on its own. Add a few slices of Italian or Spanish prosciutto and you're done. Or maybe some walnuts and fried chicken.
As a side, I like it with something like this.
Steak, any grilled red beef is great

Good sausages, like a Merguez or nice Salsiccia

Steamed white fish

Toasted sourdough bread and a soft boiled egg and you have breakfast
Good luck and don't forget to check out all the recipes here at Ateriet.