Knalle Popcorn Taste Test – White Chocolate and Pretzels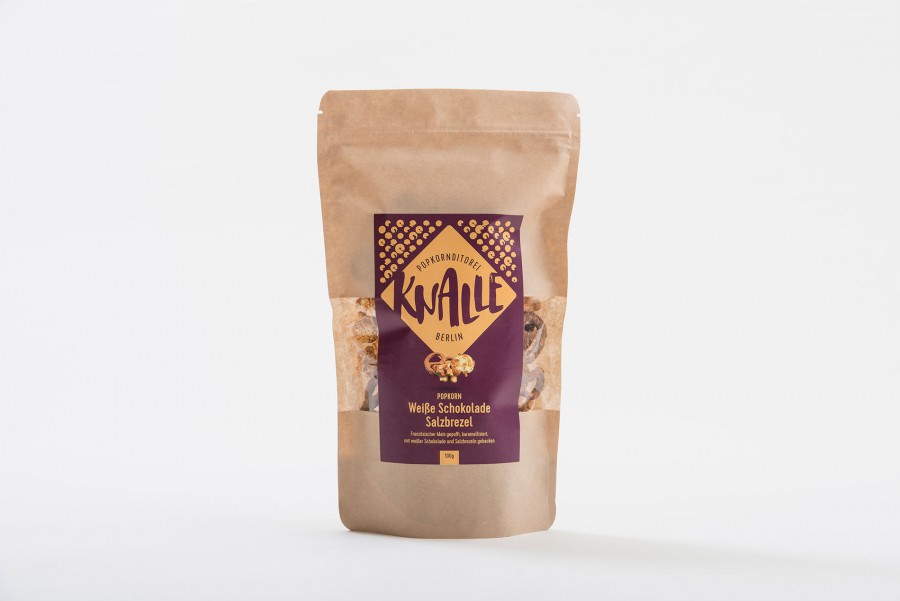 Time for the Knalle Popcorn Taste Test. Read how things went when I tried the White Chocolate and Pretzel mix from Berlin's Gourmet Popcorn maker Knalle.
So time for the Knalle Popcorn Taste Test. Before we start the actual test I want to mention a few things about Knalle Popcorn. The company is made up out of a few popcorn enthusiasts in Berlin. All the popcorns are handmade and they have a full range of innovative flavors. How about popcorn with chocolate and almonds. Or maybe a bag of butter caramel and Tahitian vanilla? Doesn't sound too bad does it?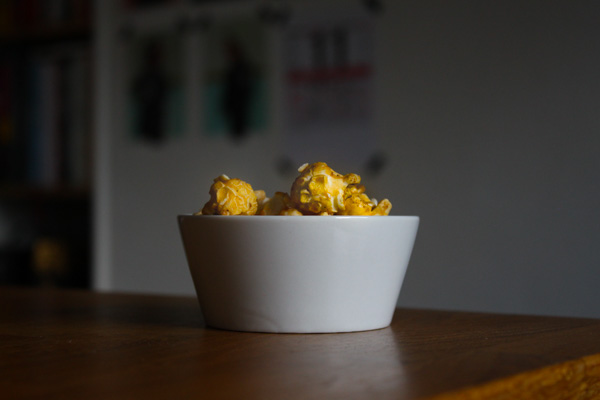 Now if you're a returning reader here at Ateriet you know I'm a fan of innovative stuff and have a love for anyone trying something new. So that more or less means I already like Knalle Popcorn before I even had my first taste. Just simply because anyone daring to try something new should be rewarded. This will however not influence the actual Knalle Popcorn Taste Test.
I did stumble upon this popcorn in a lovely gourmet food store in Berlin which I can't remember the name of. I was looking to get some truffle potato chips from Spain when the owner recommended a bag of Knalle instead. So I picked up a bag of White chocolate and Pretzel flavor, let's see how I liked it.
Packaging and Design
Not much to say about the design. The popcorn comes in a plastic and paper bag. There is a window of the bag so you can see what you buy which is a good thing. A label on the front and back with the logo and product information. It all looks good but it's nothing special.
The one detail that I really like is the stamp on the bag which says "Ick bin handjemacht" which translates to "I was handmade".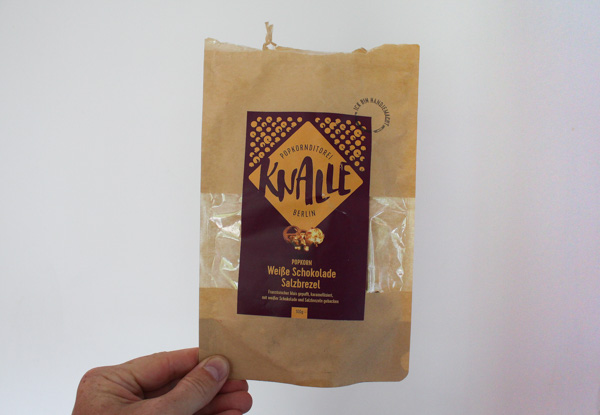 Value for money
Knalle popcorn is expensive. If you get it in their online store one bag of 100g/3.5oz costs 4.5 EUR / $5. That's crazy much for popcorn. But you have to keep in mind that this is gourmet handmade popcorn from a Berlin startup.
So it is unfair to compare to a big snack company. But it is still expensive. If you want to indulge on your own then sure, treat yourself with a bag of Knalle. If you're hosting a children's birthday party then maybe stick with something cheaper.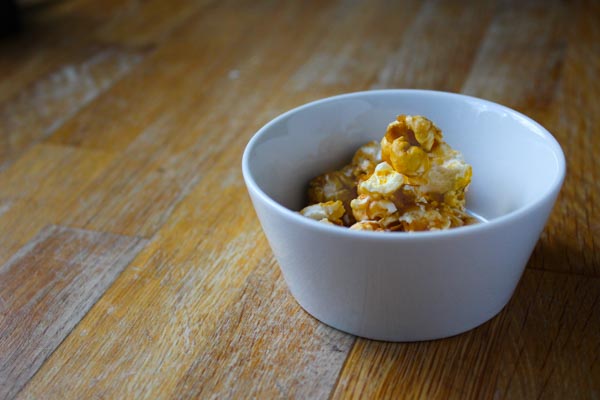 Taste
In the bag there is big beautiful perfectly popped popcorn mixed with some miniature pretzels. The first thing I notice is the delicious crunch of the popcorn. Way crunchier than most popcorns I've tried before. The taste is salty sweet but more leaning to the sweet side. A little bit too sweet for me. Still it is delicious, I can't argue with that.
I do think that this could be a problem for more people than me. Most of us are simply not used to eating sweet popcorn. Even if there is a clear salty note with the pretzels it is very different from regular popcorn. On the other hand the crunch is great and the popcorn look perfect.
The sweet flavor is very similar to caramel and I'm guessing they caramelized the white chocolate. That is delicious but it does lose some of its white chocolate taste. I've actually made a caramelized white chocolate powder in this recipe if you want to give it a try.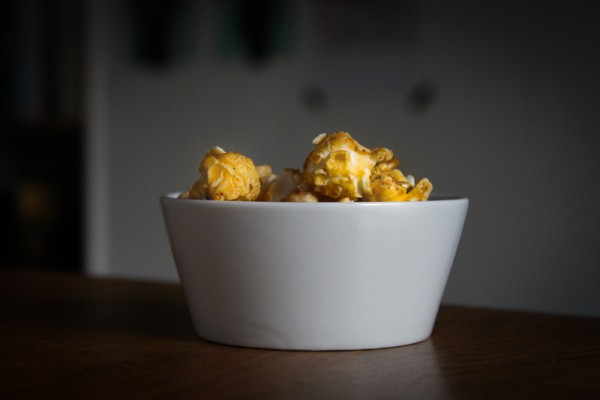 Ingredients
Another downside is the super long ingredient list. I one way I get it, mix popcorn, white chocolate, pretzels and you'll end up with quite the ingredient list. But still, if I'm getting white chocolate popcorn I shouldn't expect to find wheat starch and palm oil to name a few. Here's some room for improvement in the future.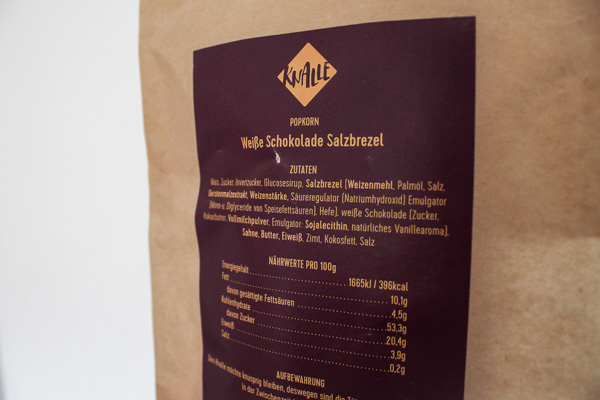 Final Taste Test Result
All in all a tasty product. Actually the best sweet popcorn I tried. It could be a five but due to the ingredients, price and the popcorn being a bit too sweet the result ends with a 4 out of 5.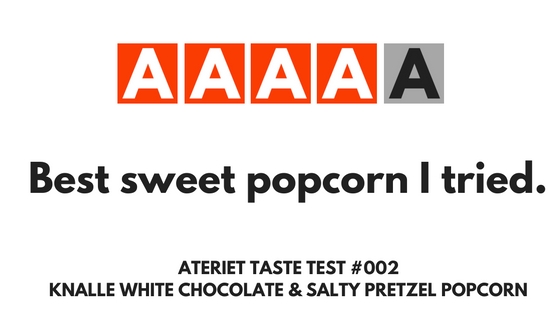 Info
Name: Knalle White Chocolate and Salty Pretzel Popcorn
Price: 4.5 EUR / $5
Brand: Knalle
Producing Country: Berlin, Germany
Bought: Berlin
Weight: 100g / 3.5 oz
Taste Test at Ateriet
Taste Test at Ateriet is what it sounds like. We test food and drinks from all over the world and rate each product. The result is a grade that rates from 1-5 where 1 is bad and 5 is outstanding. This is also the only category at Ateriet where we might write down a product or brand. For any taste suggestions, opinions or if you have a product you want us to try contact us via email. For all Taste Tests check out the full coverage here.