Langoustine with Cabbage, Butter and Japanese Soy Mayonnaise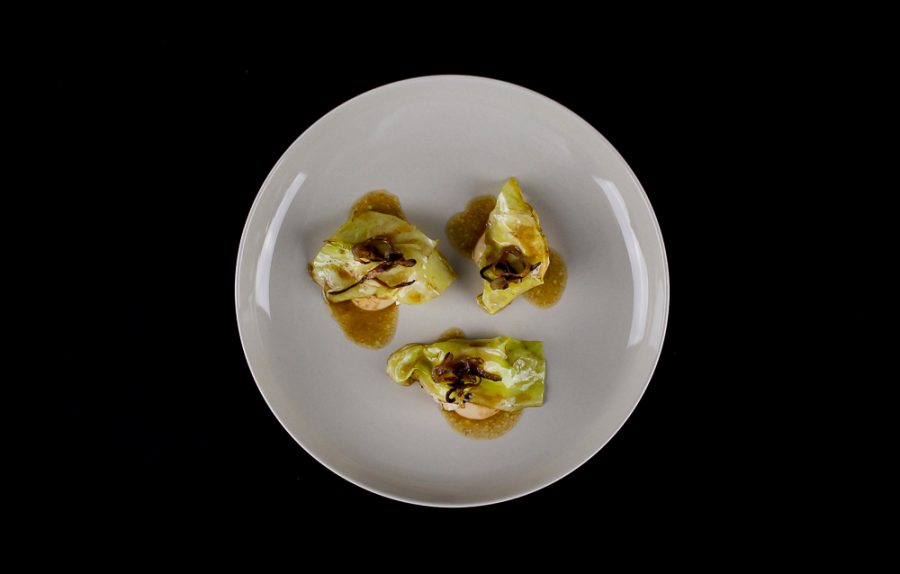 Try this delicious dish of langoustine with cabbage, browned butter, soy mayonnaise and some fried shallots. You won't regret it.
There's something about cabbage, butter and soy. Combine those three and you're on a good path to a great dish. Add some great seafood? Well, in this case, it turned out to make things even better. I'm not much for naming dishes, I simply call them what it is. So this is Langoustine with cabbage, butter and Japanese Soy Mayonnaise.
It's not hard to make but it does take a little more time than most of my other recipes. But just follow the steps in my recipe and you'll get it done in about an hour. And it will be worth your time, I promise.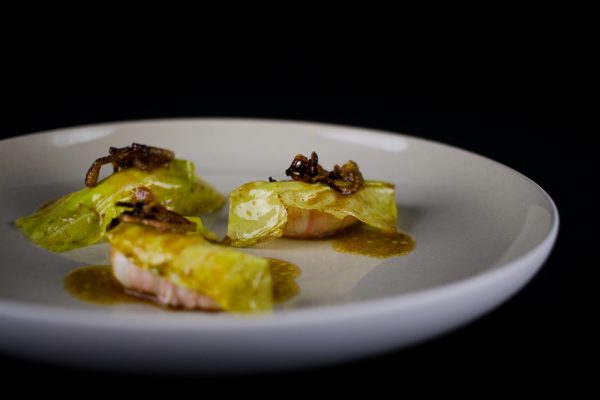 Langoustine with Cabbage, Butter and Japanese Soy Mayonnaise
I divided this recipe up in parts, let's start with the langoustine and then go through each part. Once it's time for plating the only thing you have to worry about is keeping the cabbage and butter warm, the rest can be prepared ahead of time. The recipe serves four as an appetizer.
Langoustines
12 small langoustines, cooked
I could only find cooked langoustines when I did this recipe, I do think it would be even better with raw pan-fried ones but I worked with what I could find. If you can't find langoustines any similar crustaceans will work like langust or lobster.
Remove the tails and peel them, keep at room temperature if you will be serving within an hour, otherwise chill them. Save the shells for the butter vinaigrette later.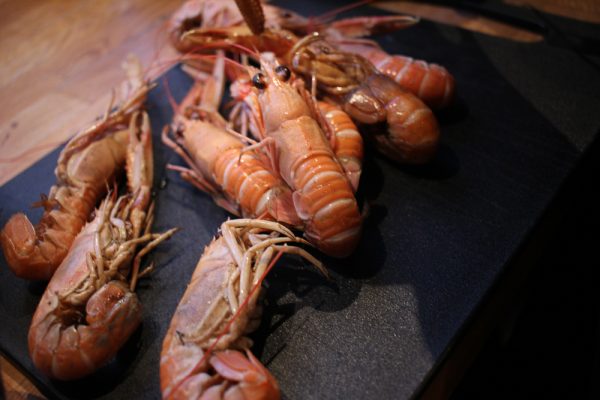 Cabbage
1 head of pointy cabbage or fresh white cabbage
2 tbsp butter
salt
pepper
Remove the thin outer layers of the cabbage. Cut up into 12 large pieces. Each piece should cover one langoustine tail. Rather make them too big as they will shrink a bit when you fry them.
Heat the butter in a pan on medium to high heat and quickly fry the cabbage, season with salt and pepper. Save the butter in the pan for the butter vinaigrette.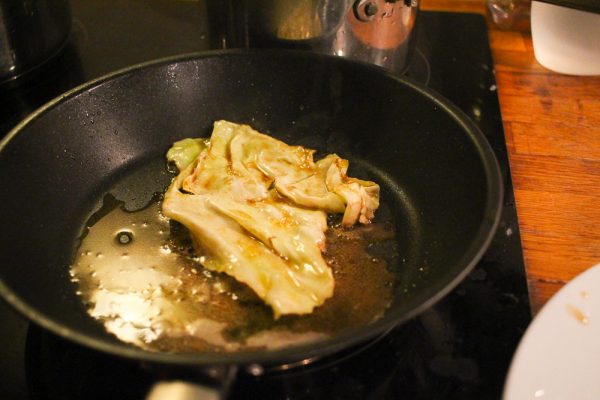 Soy Mayonnaise
If you have a good homemade mayonnaise already you can simply flavor it with Japanese soy. If not just follow the instructions below.
1 egg yolk
0.4 cups / 1 dl neutral oil
2 tsp Japanese soy
½ tsp mustard
½ tsp white wine vinegar
a few strips of lemon peel
1/2 clove of fresh garlic
pepper
Add egg, soy, vinegar, mustard, garlic and the lemon peel to a small mixer or use a handheld blender. Blend together, then add the oil while mixing so it emulates into the mayonnaise. Check the seasoning and add a bit more salt if necessary.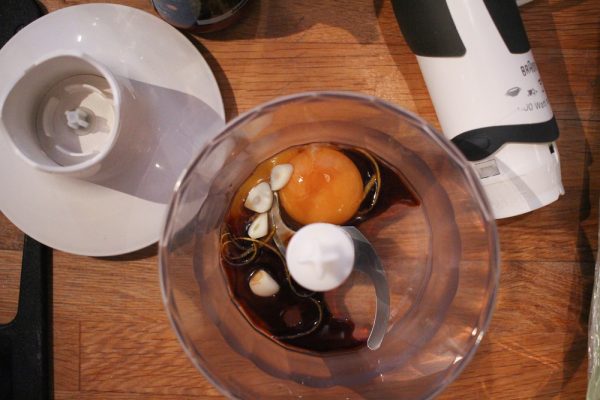 Fried Shallots
2 shallots
2 tbsp olive oil
salt
Peel and slice the shallots thin. Cook them in a pan in the oil on medium heat until crisp, season with salt,  remove and allow to drip off on some paper to remove excess fat.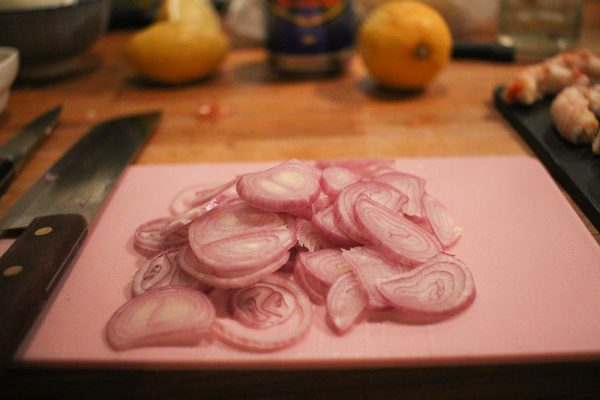 Butter Langoustine Vinaigrette
Shells from langoustines
Water
1 tbsp tomato paste
2 tbsp butter
1 lemon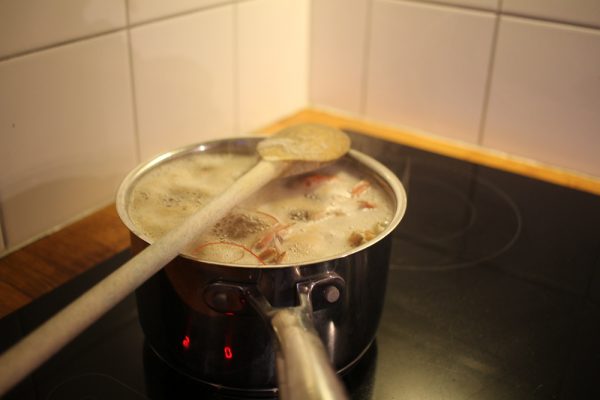 Add all the shells from the langoustines into a pot and cover with water. Add tomato paste and then simmer for 30 minutes. Strain the liquid and then boil down until you only have a few spoons of concentrated broth.
Heat the pan with the butter from the cabbage and add the rest of the butter. Brown the butter. Set aside and add the langoustine broth a little at the time. Add a squeeze of lemon juice.  Check the seasoning, the ratio should be about 3 parts butter to 1 part broth and 1 part lemon. Keep warm.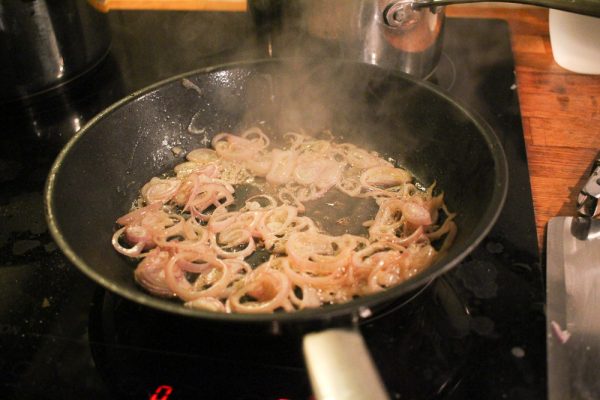 Plating
Add three langoustine tails on each plate, add half a teaspoon of mayonnaise next to each tail. Put one leaf of cabbage over each langoustine, then add a few slices of shallots on top of the cabbage. Finally, spoon over the butter vinaigrette over each tail. Serve immediately.
For more recipes check out my full coverage here.