Langoustine with Granny Smith Apples, Ginger and Langoustine Vinaigrette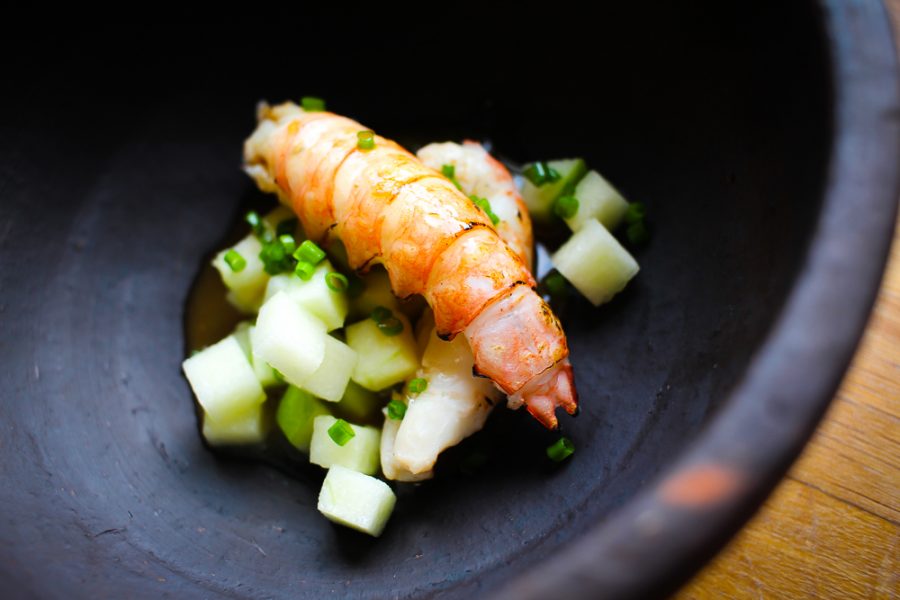 Langoustines are my favorite seafood, try this recipe for Langoustine with Granny Smith Apples a touch of fresh ginger and a warm butter and langoustine vinaigrette.
This Langoustine with Granny Smith apples recipe almost came out of a mistake. I picked up some cooked langoustine tails because the price was right but I didn't have a plan on what to make of them.
Luckily I had a few things at home so I ended up making slightly roasted langoustine tails with fresh Granny Smith apples seasoned with ginger and a warm butter and langoustine vinaigrette. It turned out quite nice as an appetizer so why not share it?
I've split the recipe up into a few parts, the langoustines, the apples, the vinaigrette and finally the serving. Let's make this shall we?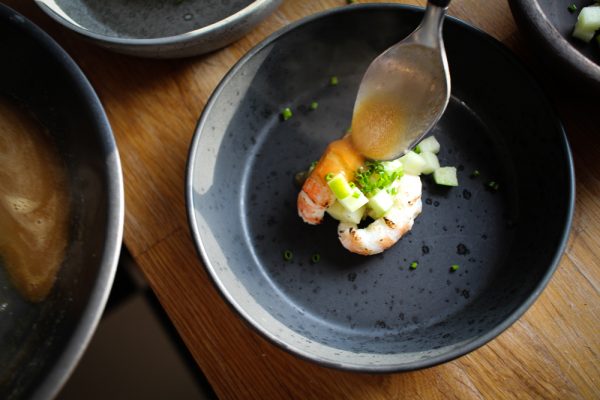 Langoustine with Granny Smith Apples, Ginger and Langoustine Vinaigrette
serves 4 as an appetizer
I'm using cooked langoustines for this dish, if you can find raw ones that would make it even better but you'll have to cook them of course.
Langoustines
8 langoustines
Peel the langoustines, save all the shells for the vinaigrette. Pad the langoustines dry on the surface with some kitchen paper. Then torch them with a creme brulee burner for a few seconds each. This will gently roast them and give them somewhat of a seared flavor. Like I already mentioned with raw ones it will be even better but this works. Also, the torching part is the last thing you do before serving the dish.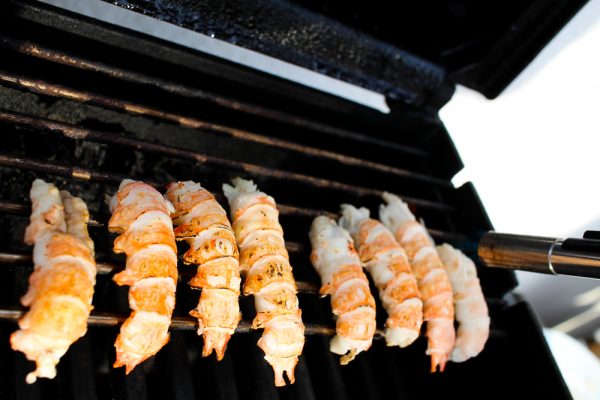 Langoustine vinaigrette
Langoustine shells
2 tbsp butter
1 garlic clove
1 small onion
salt (if necessary)
Add the shells, garlic and onion to a pot and cover with water. Bring to a boil and let simmer for about 30 minutes. Strain the liquid into a pan and reduce until about half a cup (1dl) remains. Empty the liquid into a pot. Add the butter to the pan and brown it over medium heat. Then combine the butter and the langoustine broth, season with salt if necessary, gently heat before serving.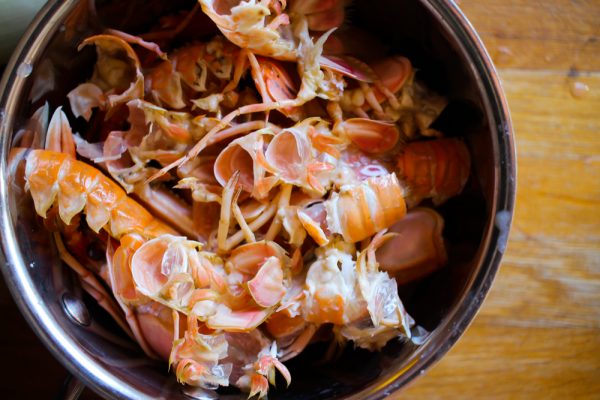 Apples and ginger
1 Granny Smith apple
2 tsp olive oil
black pepper
salt
1 small piece of ginger
Dice the apple, combine with the olive oil and season with salt and black pepper. Grate the ginger into the apples. Done.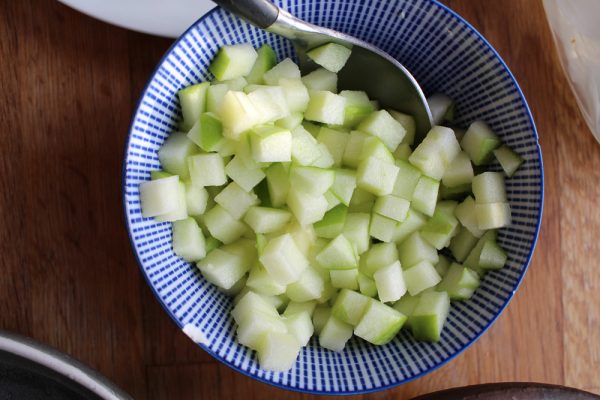 Serving
Chives
Olive oil
Add the apples of the bottom of the plate, then add the langoustine tails, two for each serving. Sprinkle with sliced chives. Add one or two spoons of warm vinaigrette on top and a few drops of olive oil. Serve immediately.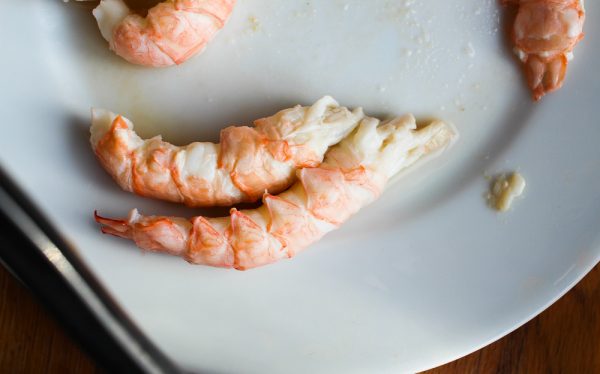 More Langoustine Recipes
If you want to try more recipes with langoustines why not give this Langoustine Caesar Salad a try or maybe this one with Cabbage and soy mayonnaise?