Leg of Lamb cooked in red wine with Potato cream and Shallot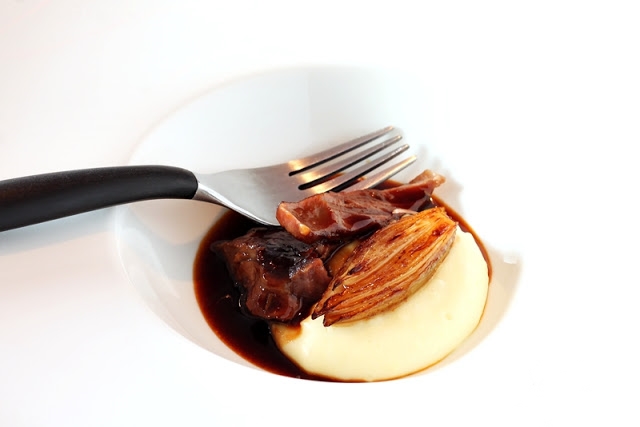 I love lamb, especially the rough parts like this leg of lamb cooked in red wine. Serve it with a potato cream and a roasted shallot.
This recipe is a great way to serve lamb, I used a leg because that what I happened to get a hold of but any piece that´s great for slow cooking works fine, it's also great for beef as well.
I roast the leg in a frying pan and then slow cook it until it almost falls of the bone in beef stock, rosemary, garlic and red wine. I serve it with a creamy and rich potato cream, that cream does not hold back on the fat so you don't need to serve very much of it. To add something extra I made a butter roasted shallot onion, that adds some texture and of course great flavor.
The recipe is written to be enough for 4 people as a main course but in my photos it is served in the size of a tapas. If you want to try the tapas size one leg will be enough, just split the recipe in four. Not let's cook.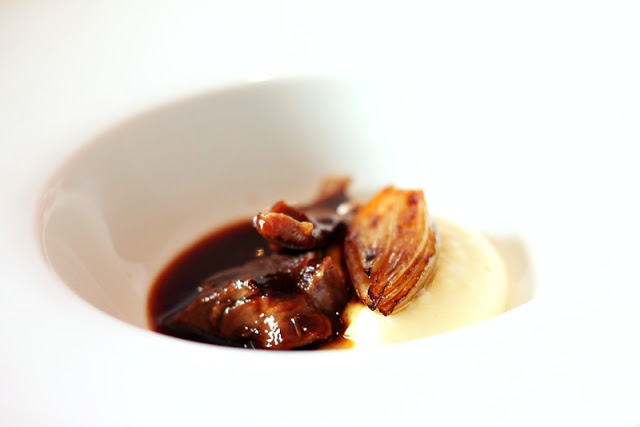 Leg of Lamb cooked in red wine with Potato cream and Shallot
Lamb
4 legs of lamb
5 dl / 2 cups red wine
10 dl / 4 cups beef stock
1 sprig rosemary
4 cloves garlic
2 shallot onions
salt, pepper
water
3 bay leaves
Season the lamb with salt and pepper and roast in a pan until browned all around. Put the lamb in a pot and add all the remaining ingredients. Make sure the lamb is covered and let simmer until tender and the meat can be easily pulled from the bone. Take out the meat and reduce the liquid until it's getting slightly thicker. Season to taste. Remove the bone from the meat if you're serving it as an appetizer, for a main course serve each leg of lamb whole.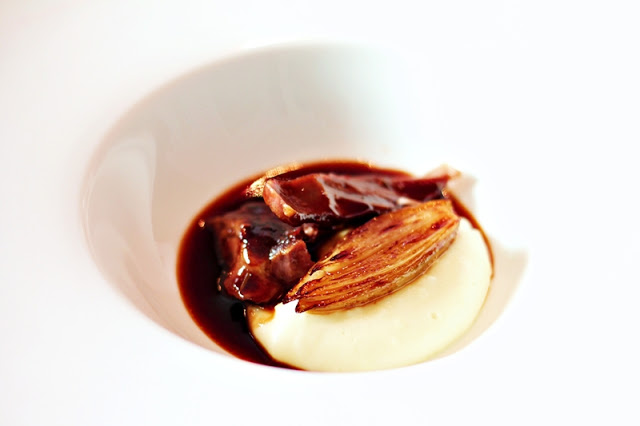 Potato cream
10 potatoes
1 dl / 1.2 cups cream
salt, pepper
6 tbsp butter
Peel the potatoes and boil in salted water until ready, discard the water and pure the potatoes with loads of butter and cream, season with salt and pepper. You're only serving a spoonful so use way more cream and butter than you would if this was a main course, the cream should be thinner than usual and have a very rich taste.
If you're going for the main course you will serve more than a spoonful but less than what you normally would since it is very rich and fat.
Onion
4 Shallot onions
salt, pepper
2 tbsp butter
Peel and split the onions lengthwise, roast in butter with the cut side down until cooked through.