Linie Aquavit – An Amazing Journey From Norway To Sydney & Back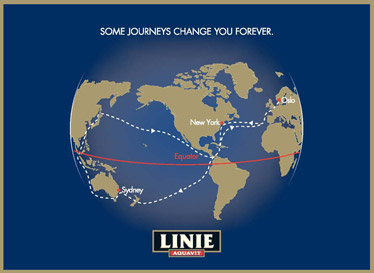 Linie Aquavit is one of the most known brands of Aquavit in the world, and it comes with one amazing story. Not only does every bottle travel the world before landing on your table. Learn the story behind this great aquavit.
Linie Aquavit has quite an amazing journey behind itself, both an actual journey and one as a brand of Akvavit. Each bottle travels for about four months across the seas of the world, usually from Norway to Australia but each route is a little bit different. This is also how it got its name, by passing the line (equator) the Linie Aquavit was named after this line, linie meaning line in Norwegian.
I have written a bit about Akvavit before here at Ateriet and then we promised to come back with the amazing story on Linie Aquavit, so here it is.
How Linie Aquavit Was Created
In 1805 a few casks of Norwegian Akvavit was put on a boat with the hopes of being sold overseas. But once the casks arrived in Indonesia and were to be sold there was little interest. Nothing to do but return the casks back to Norway. But due to the constant moving of the casks and big changes in temperature something happened. The akvavit tasted better after coming back to Norway than when it was sent away. This was the start of what would become Linie Aquavit.
In 1821 Lysholms Distillery was founded by Jørgen B Lysholm. In the 1930's they started maturing their akvavit onboard ships that was bound for Australia and South America. These ships usually exported dried cod but now they got some more goods to bring on the journey. It took some time before the akvavit was a commercial success and other distilleries also made linie aquavits. Today however Linie is the only akvavit still being matured at sea.
How Do You Know That It Was Really At Sea?
Well, to be honest, Linie Aquavit could be messing with us. On the other hand they built the entire brand on this story so I feel safe to say that all of the Linie Aquavit actually travel halfway around the world and back again. Another cool thing that they do is mark each bottle. You can go grab your bottle and head over to Linies homepage. There you can enter the date of your bottle and take a look at the exact route your akvavit made.
Today the akvavit is not sailed however, it is put on huge freight ships all owned by the Wilh. Wilhelmsen group who is the only shipping company who is allowed to ship the Linie Aquavit.
How Do Linie Aquavit Taste
Linie Aquavit is made from potatoes and spiced with caraway and aniseed, but also some secret spices. After the spices are added it is stored in Spanish Oloroso Sherry Casks to mature at sea. It is a quite mild akvavit but very well balanced with hints of vanilla and a bit of sweetness.