A Night In The Kitchen of Lis Mejeri Christmas Dinner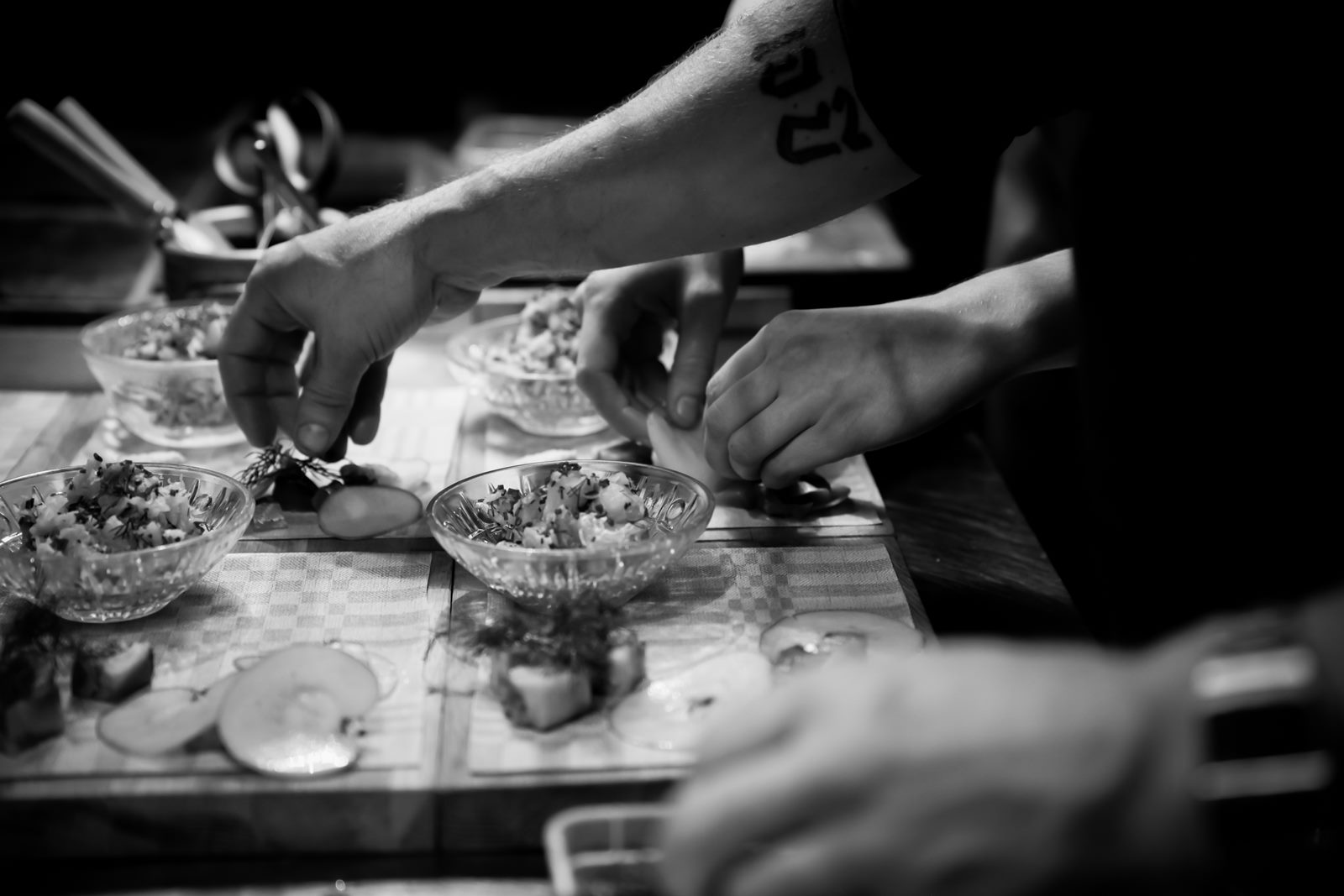 Not long ago I spent a night in the kitchen of Lis Mejeri as they premiered this seasons traditional Christmas dinner in an untraditional way. Let's see how it looked.
Lis Mejeri is a former dairy that can be found between Falkenberg and Varberg along the Swedish west coast. There, owners Johan and Rina are creating a dream of their own. A restaurant driven by their passion for food, hospitality and a will to create something unique.
At Lis Mejeri a number of dinners are held every year.  Each dinner is based on what the season offers both when it comes to drinks and food. Chef Johan Blidberg has a passion for Swedish flavors that he updates to something more modern but always with one foot left in tradition.
Each Christmas season Lis Mejeri offers their own take on the traditional Swedish Christmas dinner. At most restaurants that means a huge smörgåsbord is set up where people line up to scoop their plates packed with salmon, meatballs and all the other traditional Christmas foods.
What Johan and Rina offer at Lis Mejeri is something different. It's even named differently. Roughly translated they call it "A traditional Christmas Dinner in an untraditional way". That means eight tableside servings of their take on what Swedish Christmas food is all about.
I got to tag along for this seasons opening night for the first of my series of "A Night in The Kitchen" photo projects, enjoy the slideshow below. Once you're done you'll find more information about Lis Mejeri and this photography project.
About A Night In The Kitchen Of Photography Series
A Night In The Kitchen Of is exactly what it sounds like. I visit a kitchen and simply hang out and photograph for a night. The result can be viewed above. For me, it's a great creative outlet and I get to revisit places I would normally not get to visit. All photos are taken in natural light and nothing is staged. It's simply a night in the kitchen of. If you want me to spend a night in your kitchen feel free to contact me via email. (contact(at)ateriet.com)
About Lis Mejeri
Lis Mejeri is a restaurant set in a former dairy factory. But it doesn't look or feel like a factory at all. More like a unique restaurant experience. Behind the restaurant are Johan and Rina. Each year a number of set seasonal dinners are held. The Christmas season of this year is already sold out but there are new seasons coming so visit Lis Mejeri online to find out the next opportunity to spend a night at Lis Mejeri.