Love Fire? Burger King Wants You To Work For Them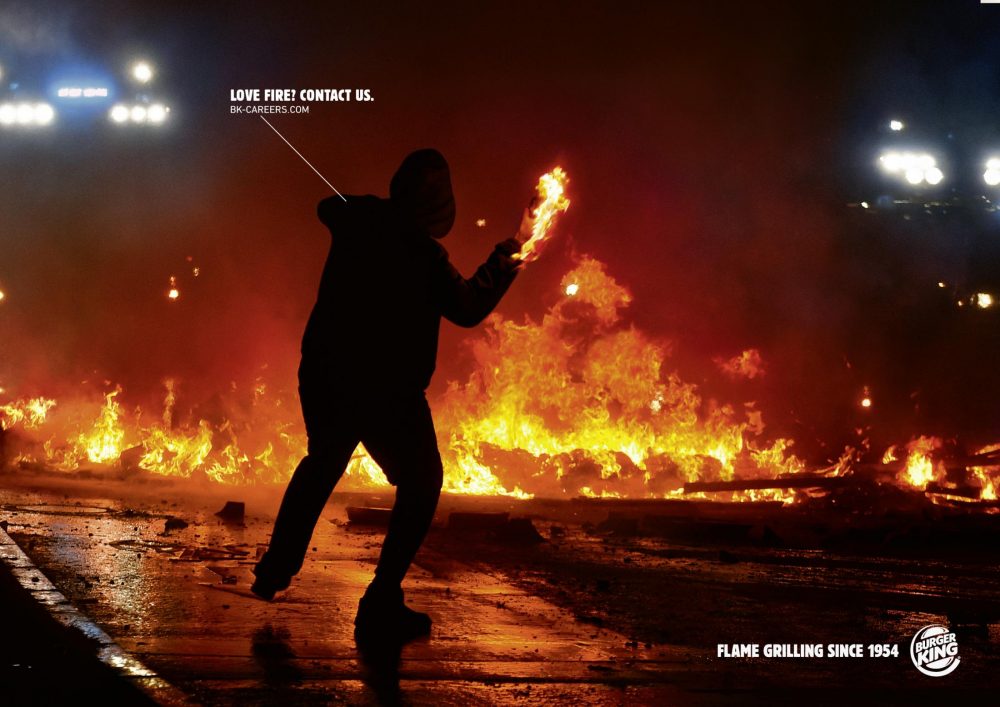 Burger King came up with a clever way of attracting new employees. Do you love fire? If so Burger King wants you to work for them.
Burger King grill their burgers over flames, or fire actually. They are one of the few that cooks their burgers this way and they have turned that fact to one of their main selling points. In a new set of ads, hey turned their love of fire into a recruitment idea as well.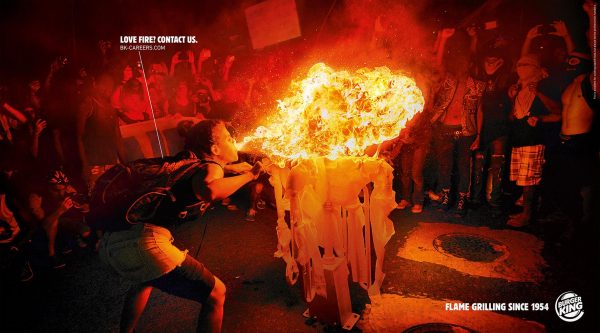 Burger King Fire Ads
These Burger King fire ads were used in a campaign in Germany and I must say that they are quite clever. Instead of showing an ad for a burger being cooked over fire they decided to search for fire elsewhere.
Like someone using their mouth as a flamethrower, someone about to throw a molotov cocktail or people dancing in flames or filling a football stadium with smoke.
Each image is filled with fire and there are just two messages. First, small text that points to the person doing fire things that says "Love fire? Contact us." On the bottom part of the ad they use their tag "Flame Grilling Since 1954". And then just the logo.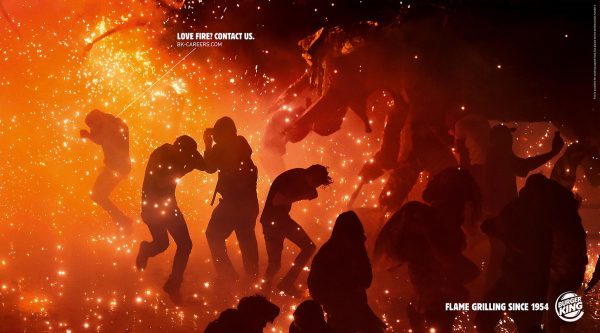 What's Great About It
It stands out for sure. It is certainly a set of ads worth discussing. It is clear that the use of fire in the ads are not what you consider good use. Throwing Molotov cocktails for peace? I don't think so.
But if you can get those people working with fire in a different way, by cooking burgers I guess that is positive. Now I don't see Burger King being overwhelmed by applications thanks to this campaign and I don't think they expect that either. It's just great advertising that is just a little bit closer to the moral lines than most others.
I guess that is why I'm sharing it as well, so good work Burger King.
For more on Burger King check out more previous coverage here. For more great food ads head over here.