Thought that Twitter wasn't fun anymore or are you not even on it? Well, sometimes it does deliver, as with the trending tag #makeabandhealthier, check out my favorites.
Make a band healthier is a hashtag on Twitter where the users make great and not that great puns on band names. The idea is just to have fun, at least as far as I know. Sometimes it's not that easy to figure out how some tags start trending and if there is something else besides sharing your best and worst puns with the world.
I discovered the tag yesterday and decided to share my favorite ones here about a day later. As it turns the puns keep coming in with just seconds apart so I guess the cause to make a band healthier is one lot of people can support.
Since Ateriet is about food, I just selected the ones that involve food and that instantly put a smile on my face. Here are my favorite ones, to see more just check out the tag #makeabandhealthier on Twitter, and follow Ateriet Food, of course, enjoy!

The Wheat Strips instead of The White Stripes

The slightly healthier Queen Latifah.

LL Cool J likes his OJ.

Bruce Springsteen or is it Spring-greens?

The equally cool but healthier Nine Inch Nails.

Dave Grohl has done it again.

Apparently, Eddie Vedder is not a vegetarian.

AC/DC, going the healthy way instead of going to hell.

Zanah put some extra effort into her Make a band healthier tweet.

The Flying Banana Band I guess?

Throw those oats.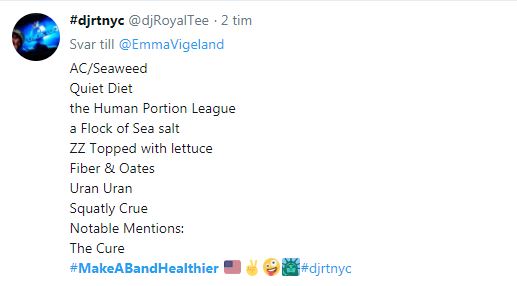 #Djrtnyc is bringing it.

Would love to go to that camp…

The healthier stoner rock band.

Hey, I thought he was called Bruce Spring-greens?

The King, of herbs.
Tags: food puns, fun stuff, puns, social media, twitter