Make your own cheese in one hour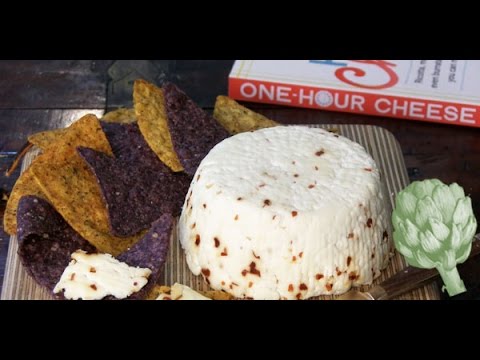 Yes it is that simple, you can make your own cheese in one hour. Just imagine making your homemade pizza with your home made cheese on top.
In the video above Claudia Lucero demonstrates how the one hour cheese is made, with the help of Potluck Video. Claudia Lucero is the author of the book One Hour Cheese in which you'll learn how to make not one but sixteen different varieties of fresh cheeses at home.
And no you don't need any complicated equipment or ingredients, everything you need is easy available. You simply follow the basic steps of all cheesemaking, heat milk, add coagulant, drain, flavor and press. You might want to add some flavors in there but that is the basic steps of making cheese.
Besides learning how to make cheese you will also get some recipes that shows you how to serve your creations after they are made, not that using cheese is a problem.
And if you want to buy full kits to make your own cheese they are available at Etsy, choose between mozzarella, burrata, ricotta and others.