Eating at Marzapane Roma – From Spain to Italy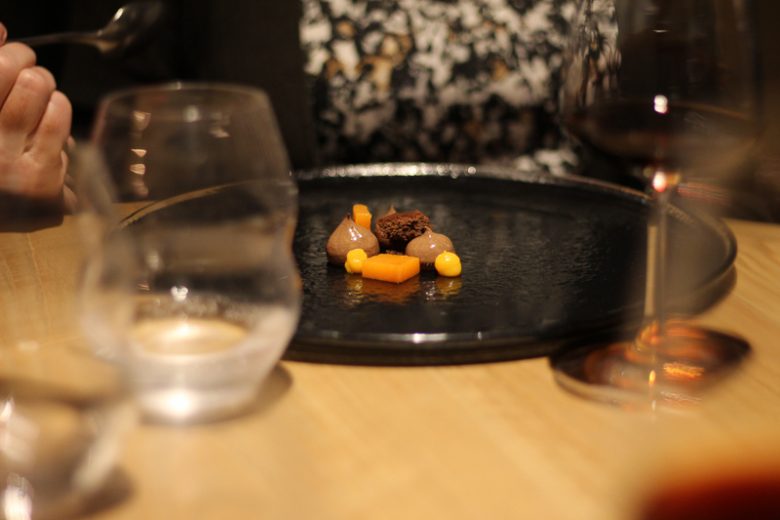 I've spent a night eating at Marzapane Roma, a modern but also traditional restaurant in Rome, Italy where a Spanish chef took us on a journey from Spain to Italy, did I like it? Let's see.
This fall I spent a few days in Rome, Italy. A place where you are sure to eat delicious almost no matter where you find yourself. At my trip, I mostly wanted to just wander the streets and eat what looked fun when passing by, with a regular stop at the city's lovely ice cream shops of course. But I wanted to spend one night at a good place and after some searching online I decided to go to Marzapane Roma.
The restaurant is quite small, I would guess about 40 seats and it is located in the Northcentral parts of Rome on a quiet street. The interior goes in dark wood and is elegant and relaxed at the same time.
Marzapane Roma was opened in 2013 and one of the parts of the success of the restaurant has been the Spanish chef Alba Esteve Ruiz. She started her career in Spain but came to Rome via the Abruzzo countryside an since 2014 she is to be found at Marzapane Roma. Her background from Spain and her experience from Italy shows on the menu. Let's see how I liked it.
Menu options at Marzapane Roma
Marzapane Roma is open for lunch during Wednesday to Friday and at daytime, you can get a 4-course light lunch either based on fish or meat. We planned to go at night and then the options are a little bit different.
There is an a la carté menu and two tasting menu options. Either the "Marzapane Evolution" menu which is priced at 95 EURO or the "Historia Alba" which is a menu based on the experience of Chef Alba and this is priced at 75 EURO. We choose to go for the Historia Alba menu.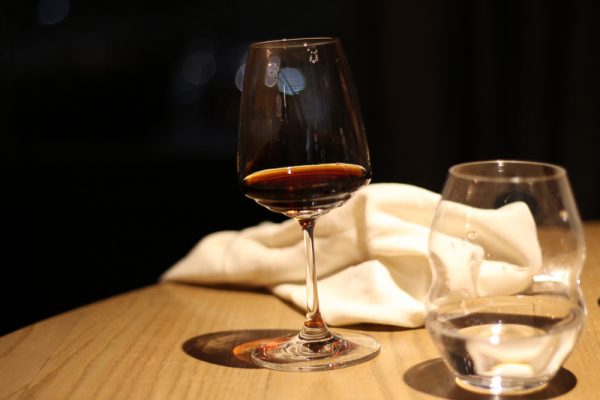 Drinks at Marzapane Roma
To go with the menu we choose to let the sommelier choose a tasting for us. Like I said in some of my other restaurant reviews I do love wine but don't know enough to talk about it in detail. To me that's why great sommeliers are great, they know their stuff and they will help you out. The wine pairing was priced at 40 EURO and came in generous glasses that paired perfectly with the food. Especially the dessert wine that I really hoped I would have written down. So far so good.
Since we were in Rome we cooled off while browsing the menu with a glass of Campari Spritz, that will get the appetite going.
Let's Eat!
The Historia Alba menu started out with a full range of Spanish snacks or as it is written in the menu. "Her story begins in her Grandmother's kitchen". We got a great selection of what felt very Spanish.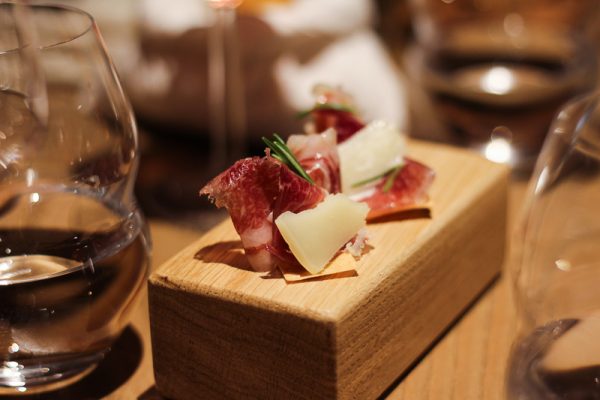 Crispbread Manchego with Bellota y Romero. Delicious but no surprises.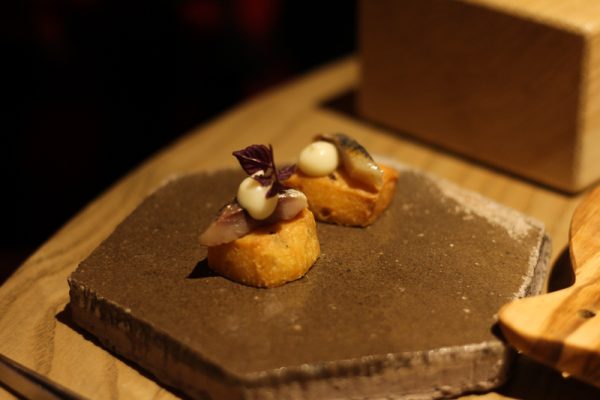 Sardina encebollada, sardines with onion.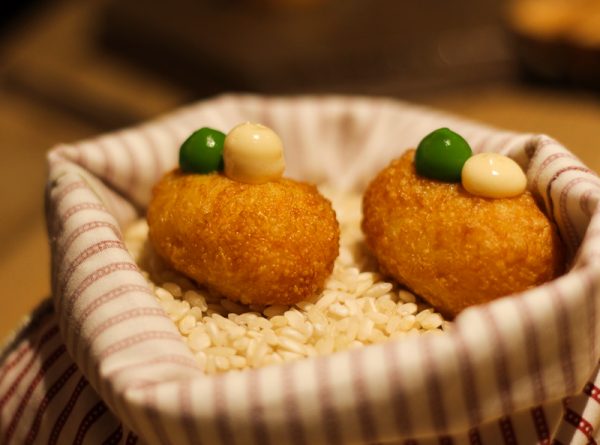 Bonuelos de bacalao, fried Spanish bacalao fish.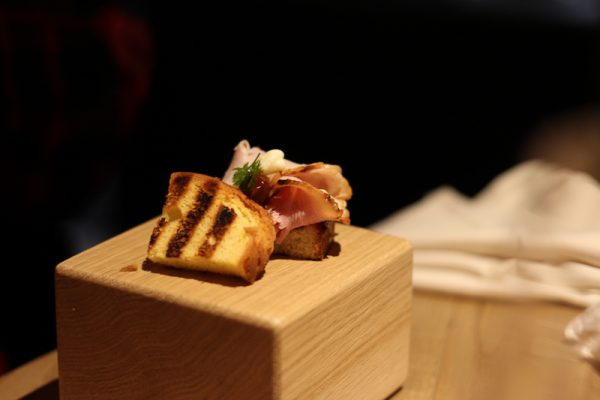 Cochitoast, like a grilled very elegant pork sandwich.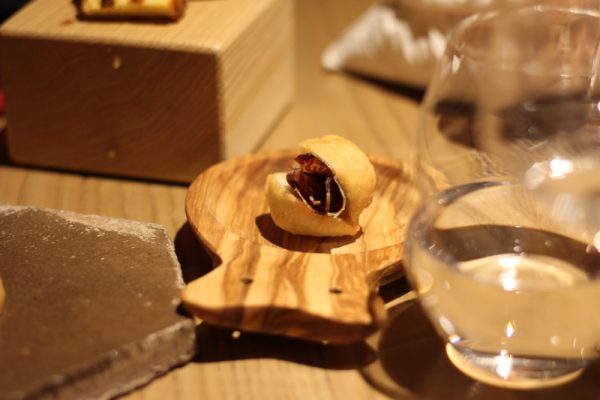 Coca frita con cecina, like a small wheat bun with meat.
This whole first serving with Spanish snacks came elegantly served, the flavors were very traditional which is not a bad thing. All delicious but no surprises. Time to move on to the next round of dishes. This serving came with the name "The older she gets, Valencia, Alicante, Girona".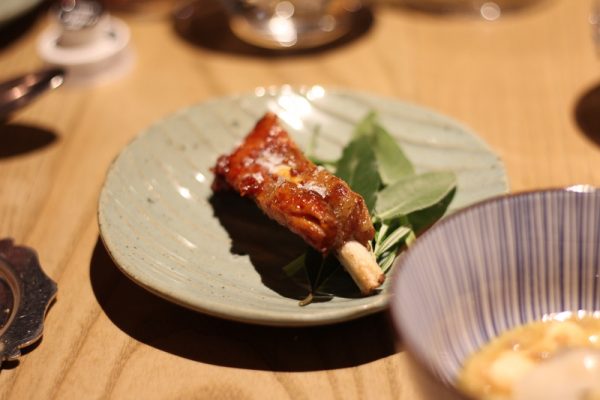 Costillas de Iberico. Iberico pig ribs. Simply roasted. This was one of my favorite bites of the whole menu. Only bad things were there was only one.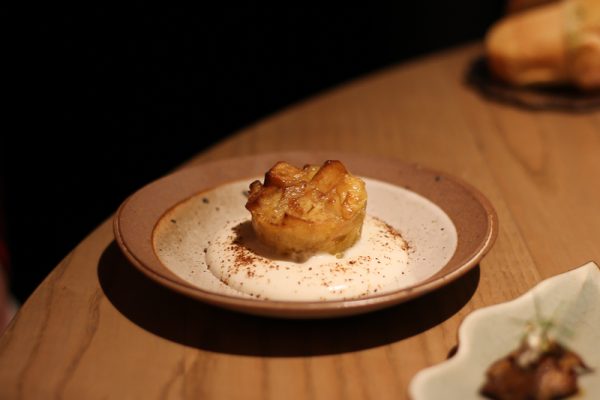 Tortilla de Patatas. A slightly more modern Spanish Tortilla, tasted more or less like a normal tortilla, delicious but not surprising.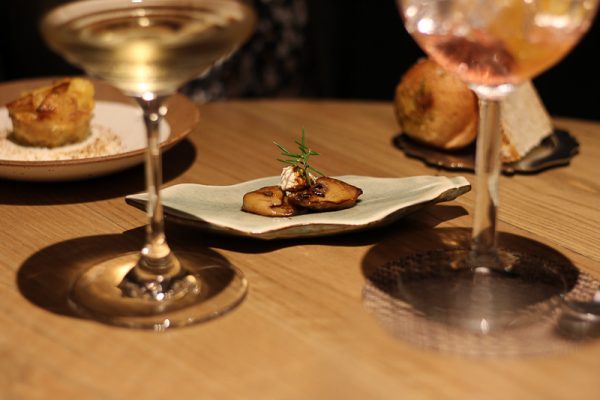 Setas, cabra y balsamico. Porcini mushroom with balsamic vinegar and rosemary, what's not to like?
In this serving, I forgot to take photos of a fourth dish, Cazuela de modongo. But that's not all I missed. There was also a small serving of Cacio e ova which is cheese and egg balls and Arrosticino which is beef skewers. Both were good but didn't stand out like some of the other dishes. Let's move on to the last set of savory dishes, this set of servings is called "She dreams of the Eternal City".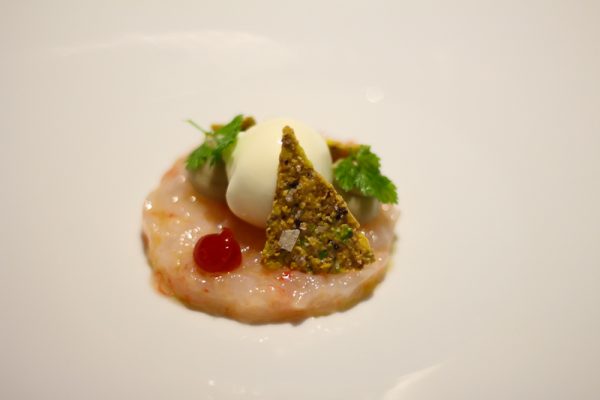 Red Prawn Tartare with burrata, eggplant cream, pistachios and tomato. One of the best dishes on the menu. Another one I wished I had more of.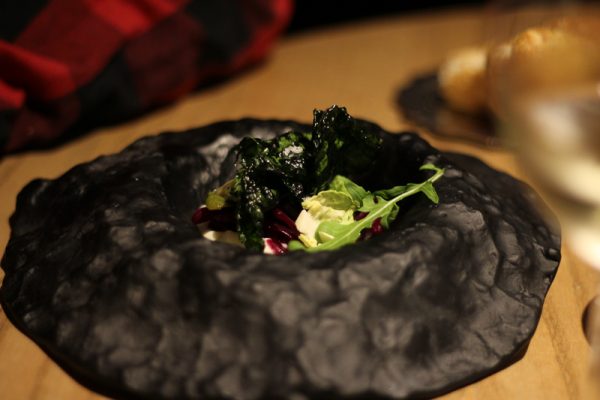 Crouciferous, or cabbage. A fresh and crispy vegetarian mix of different types of cabbages. Not a standout dish on its own but it was surprisingly refreshing with something a bit more vegetable based.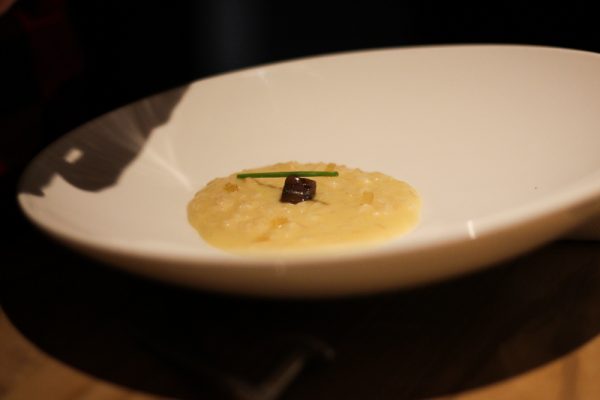 Risotto with anchovies and ginger. Good but a bit too fat and salt.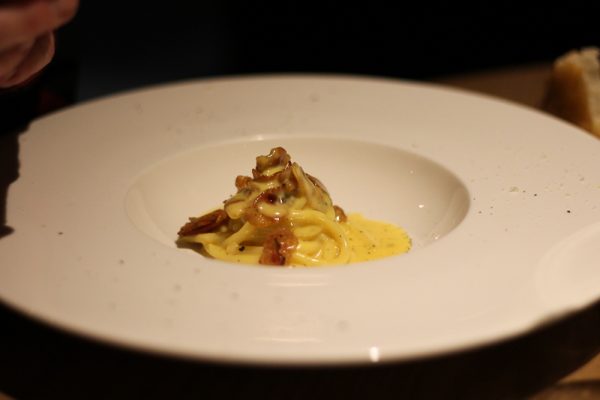 Carbonara, it is what it looks like. This one was also a bit too fat and salty I'm afraid.
Lastly time for dessert. They come with this name "Her soul always remains Iberic, but has become enriched over the years".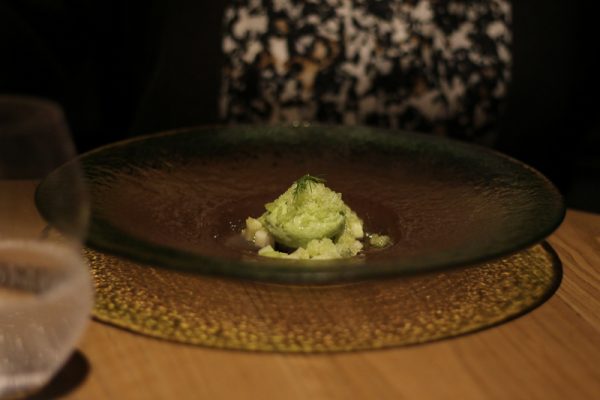 Dessert of Celery, cucumber, lime and white chocolate. Delicious, sweet and fresh at the same time, a really great dessert. Love how it was both sweet and fresh and the unconventional use of cucumber and celery.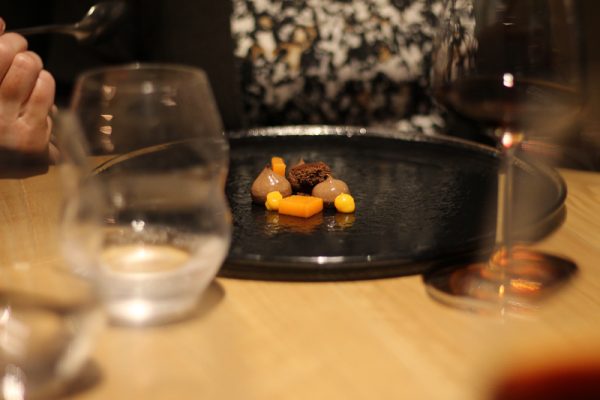 Pumpkin, mixed spices, dark chocolate. It's not easy to create a great dessert using pumpkin, Alba did though.
Lastly, we ended things with some coffee where we also got some traditional Italian cookies. So what do I really think of Marzapane Roma?
How did I like it?
First the basic things. I've got great, relaxed and friendly service all the way. The wine pairing was great and the interior and the design is great. The food is at best great with my favorites from this menu being the Iberico rib, the prawn tartar and both desserts. A few slight misses on seasoning here and there. The biggest critique I can add is that this menu is a bit too traditional. I haven't tried the bigger Marzapane Evolution menu both from the looks of it it is more experimental.
Personally, I think Alba could have stepped a little farther away from the traditions in this menu as well. The prices are great, we had five big rounds of small plates including a great wine pairing for 110 Euro per person. That is a great value. If you're planning on going to Rome, don't hesitate to eat at Marzapane Roma, but add a few euros and go for the bigger menu. Make your reservations and get more info here.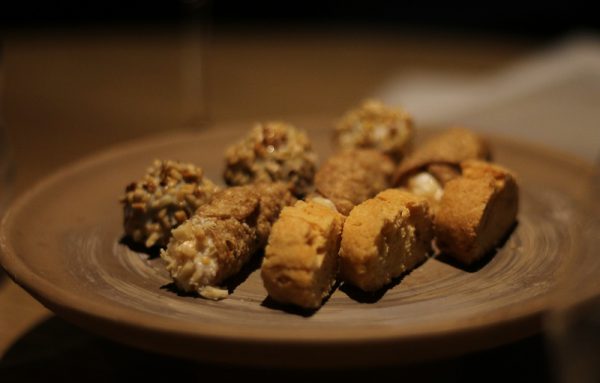 Ateriet Restaurant Reviews
Ateriet loves restaurants and we eat out as much as we can. Although Ateriet's focus is not mainly reviewing restaurants sometimes we find places that are worth writing about. All those can be found in the tag Restaurant Reviews. We visit way more restaurants than we write about. It's also worth noting that we don't give out grades or anything like that, we just eat. Then sometimes we write. Enjoy.