McDonald's Swedish Fashion Line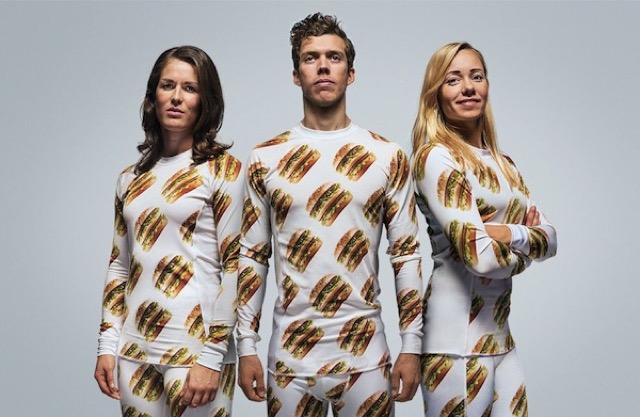 In Sweden McDonald's have released a clothing line that will make you look great when doing your winter sports, because Swedish fashion looks great, even when it look like burgers and fries. 
Swedish fashion have been growing strong since the nineties, now Swedish McDonald's have taken the Swedish fashion to a new level. In collaboration with the Swedish national skiing team they have during the last months airing some funny commercials where the Swedish fashion stars are hanging out after a day of skiing in McDonald's clothing. You can take a look at one of the commercials below, but keep reading once you're done.
On tuesday the full line of clothing that the skiing stars have been wearing in the ads was shown at the worlds first Big Mac fashion show called McWalk. The collection is a celebration of the worlds most sold hamburger and have been requested by all its fans.
The collection is not limited to clothing only, there is also wallpaper, bed linen, dog clothing, a rain coat and rubber boots. All of the items are not yet released but you can order some selected items right now at Big Mac Shop online.
During the campaign for Swedish fashion with the skiing team the campaign has also been raising money to support skiing clubs youth programs in Sweden. A part of the sales for the clothing line is also donated to the skiing clubs. Any other profits from the products at the Big Mac Shop will be donated to the Ronald McDonald Children's Fund.
The fashion show in Stockholm was a part of the international McDonald's campaign called imlovinit24.
If you're a fan of McDonald's and especially clothes from the burger giant you could match any of these outfits with a pair of McDonald's fry gloves.
For more fun stuff about McDonald's make sure to check out our full coverage here.