McFlurry Ads Makes Ice Cream Sad in these Fun Ads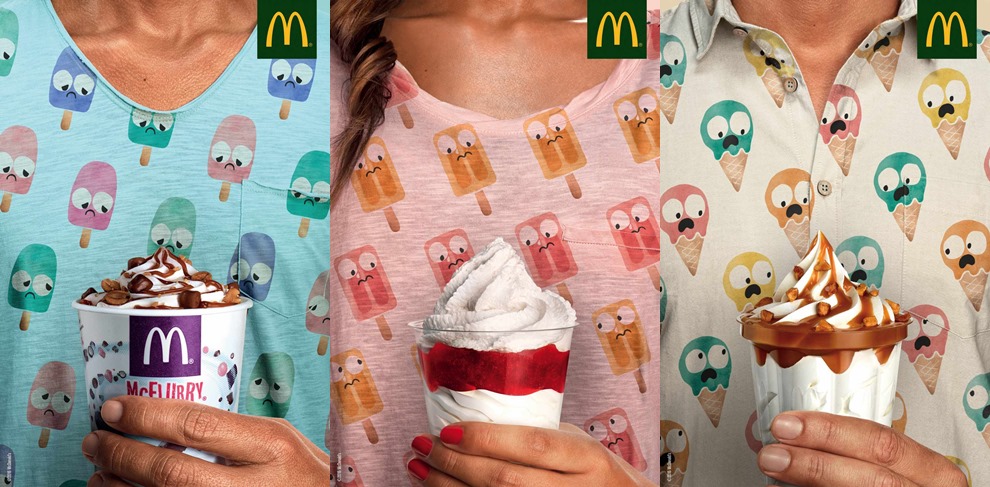 McFlurry Ads makes ice cream sad in these fun McDonald's Ads.
McFlurry is the flagship product when it comes to McDonald's selling cold stuff during summertime and with it comes McFlurry Ads. The obvious contenders are regular ice cream. TBWA Portugal decided to take a clever swing at the contenders by creating these clever ads.
Each ad shows a person holding a McFlurry. From the photos I have to agree that I would not turn down one of those on a hot day. Each person is wearing a hipster style t-shirt with an ice cream print. The fun detail is that the ice creams printed on each shirt is sad or scared.
At a first glance it is easy to miss but look closer and you'll see that poor sad popsicle with a tear running down.. eeh cheek? The scared cone of ice cream is not something you want to see either is it?
Only problem with this is that you might feel sad for the popsicles. Maybe you'll end up going for a regular ice cream instead of a McFlurry just to make them feel better.
We have a bunch of other McDonald's related stuff here at Ateriet, make sure to check that out.