Meat Packaging with Meat Graphics for Russian Rebrand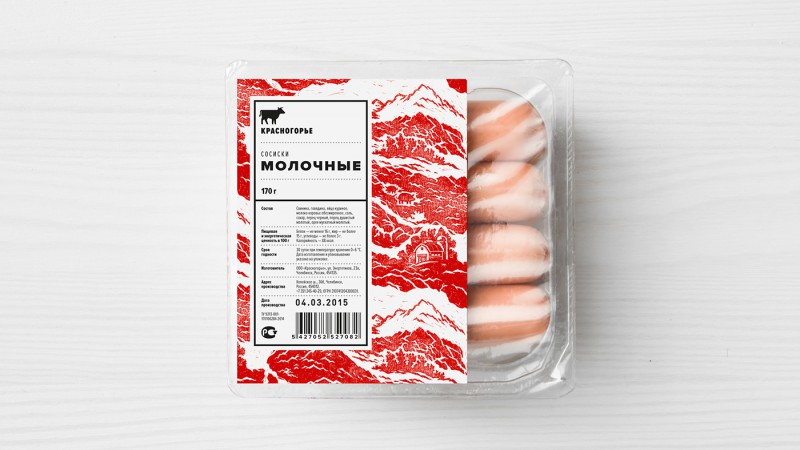 This meat packaging and rebranding project comes with meat graphics. The Russian brand Krasnogorie needed a rebrand and came up with some super cool meat graphics for all their products, read all about it this cool project.
Krasnogorie is a Russian brand and producer or meat products. This far they have been offering their products to small deli shops and local groceries. But the plan was to be able to take their products national and reach a bigger market for their products. To do so they needed a new branding and packaging for their products. The idea they came up with? Meat graphics for meat packaging.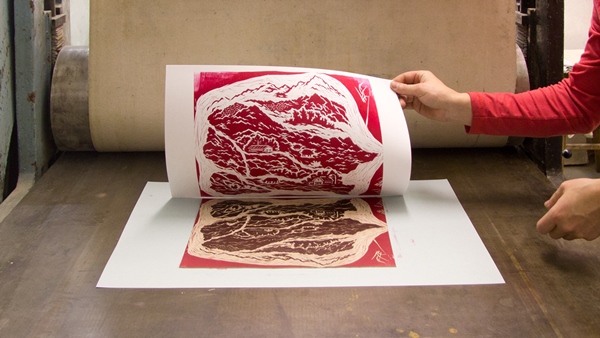 Packaging idea and concept
To show what the products is and to highlight that it is a natural product they decided to go with the meat graphic of a juicy steak. It is easy to see from a distance and of course it goes together with the product, its meat packaged in meat.
So they created a meat graphic based on what a slice of steak looks like. Red and white with the texture of meat easy to see. If you look closely on the meat graphics you can see that they have added farms, villages, Ural Mountains and cattle in the design.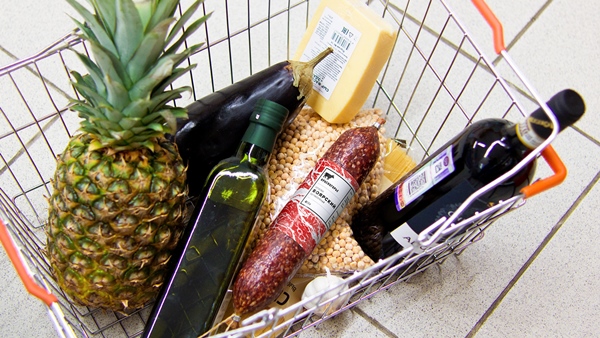 The graphics is used for all of the products from Krasnogorie. That is a great way to use a pattern like this. You can stretched to fit any product. The name of each product and all the product information is printed in a white rectangle over the meat graphics. The white rectangle is also easy to adjust in size to fit any product Krasnogorie have to market.
The font used for the text is the Proxima Nova type. It's a simple font, easy to read and it works great with the meat design.
Since the rebrand the products were launched in record-breaking time and can already be found in shops all over Chelyabinsk.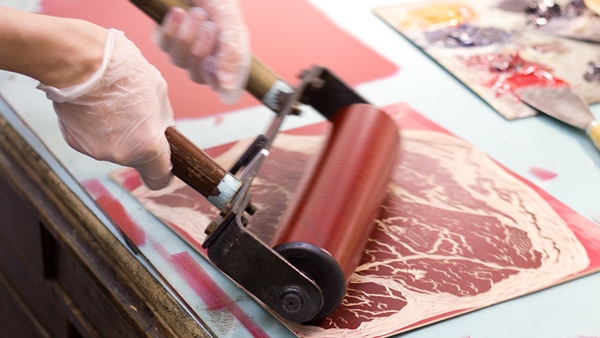 About Krasnogorie (quoted)
Krasnogorie (Red Mountains) is a Ural brand of meat delicacies and sausages from the Chelyabinsk meat processing plant. Krasnogorie products are sold to regular customers in small retail shops at a price slightly above average. In order to enter the national market and large retail chains, the brand required new product positioning and packaging that would reflect its high quality and the producer's commitment.
While gathering and analyzing information, we couldn't help but notice a common belief that Ural meat processing plants produce truly quality, natural sausages. So it seems like Krasnogorie have already met customers' expectations.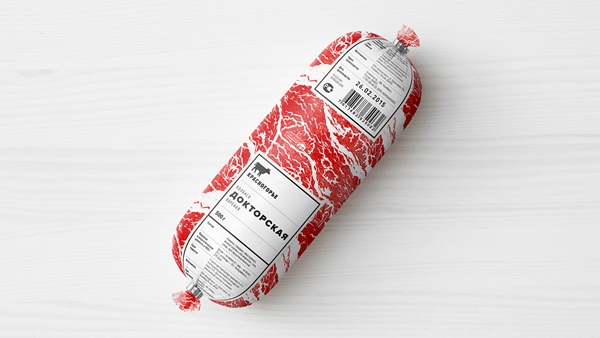 The meat processing plant where Krasnogorie is produced is equipped with the latest German and Austrian technologies. Only natural eggs, butter, and milk from proven Russian producers are used to make sausages. There are minimum flavoring and conserving agents in the products, with the flavor being accentuated by adding Australian and German spices. Actual eco-friendly wood chips are bought to be used in the production process for sausage smoking. Krasnogorie is produced at one of the few Russian plants that don't recycle unsold products.