Meat In Coffins – This Packaging Will Make You Question Your Meat Consumption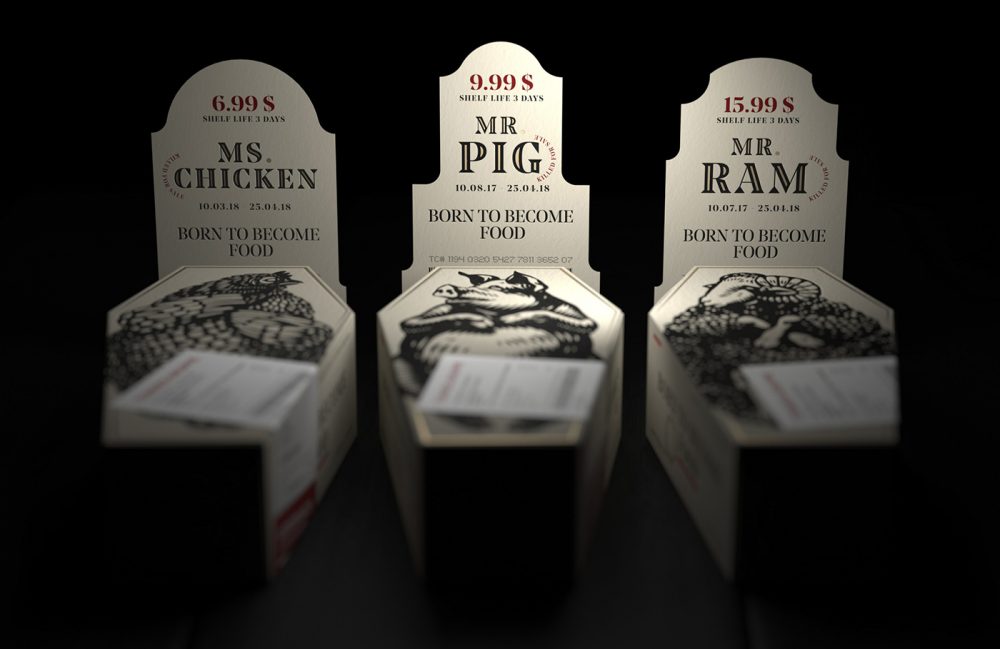 Rest in peace or R.I.P as this project is called is packaging meat in coffins to raise awareness to what we actually eat when we eat meat, and it will make us question that.
This project with meat in coffins is one of the both coolest and at the same time disturbing ones I've seen. I try to think if I ever have seen something similar but besides the type of posters you can see from animal rights organizations I can't think of any.
This is different, a whole concept where meat is packaged in coffins as a concept. It comes complete with a coffin-shaped box, a tombstone of the animal and even a wrath. Let's take a closer look.
R.I.P Meat In Coffins
Let's start with the logo which you can see in the image below.

R.I.P Killed for sale, when you put it that way it doesn't sound very tasty to eat meat at all. I guess that is the point. The logo itself is a simple R.I.P text with the slogan wrapped on the sides. On the individual meat in coffins packagings, a second logo is used that I like more. You can see it below, instead of the R.I.P, it says Ms. Chicken followed by the slogan Killed for sale around it.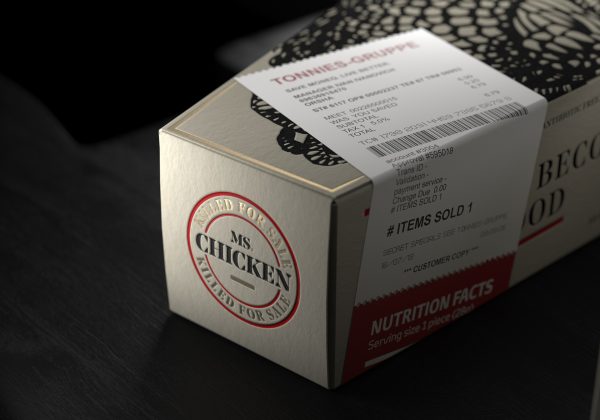 Now let's see the rest of the packaging design.
Meat in coffins packaging
So here they are, there are three different types of meat in the concept. Chicken, pork, and lamb. The chicken is called Ms. Chicken, the pork Mr. Pig and the lamb Mr. Ram. The naming makes the meat more personal, and if you're the one getting killed for dinner I guess it is personal as well.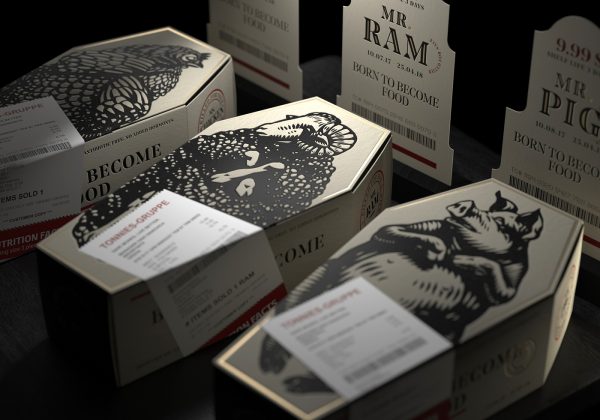 Each coffin packaging has an illustration of the whole dead animal laying on its back in the coffin. For each one there is also a tombstone with pricing and a second tagline that says "Born to become food".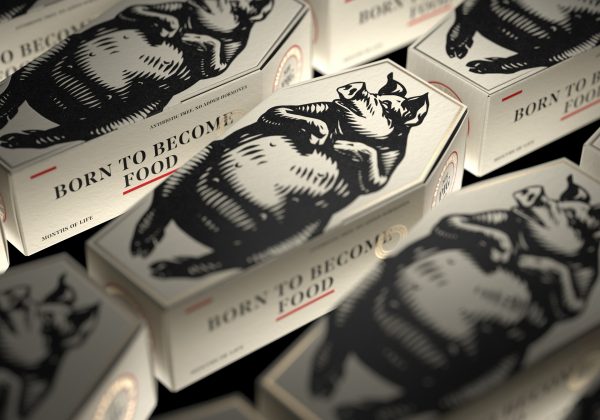 What is great about this project
The question is really what isn't? The packaging looks great, no matter how you feel about meat this is some great design work. It holds together as a concept, got beautiful design and illustration and that does not include the message.
As a way of getting people to not eat meat, I'm not sure how effective it is. It does make you think and it does it in a creative and thoughtful way. What I like in favor of this campaign is how this is more subtle which I think and hope to make it more effective.
No matter how you feel about meat you must love this project, below there are more photos from the project and if you want to see it in full head over here.
For more great food packaging check out my full coverage here.