For the Carnivore – A Meat Menu for New Year's Eve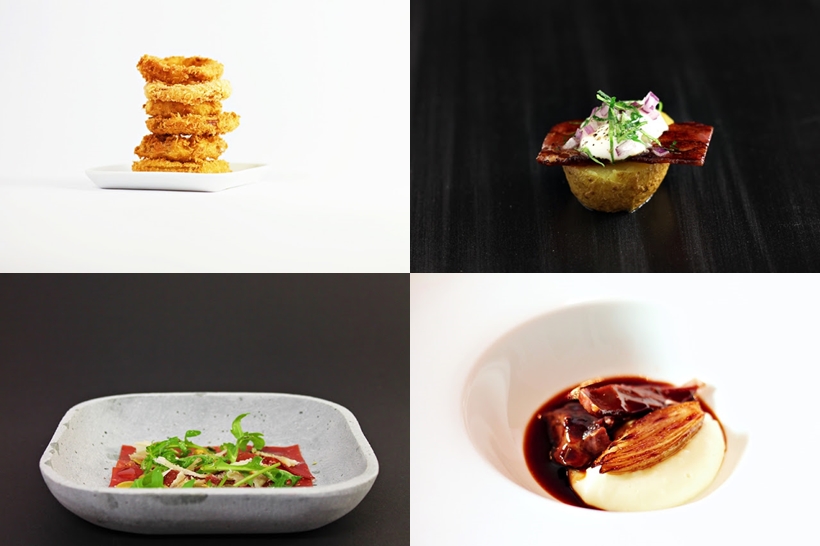 The last few days we've been giving you some menu ideas for New Year's Eve. We've suggested cheap stuff, expensive stuff, seafood, Asian and even a vegetarian menu. Now here are our last suggestion and now we focus on meat. We give you seven dishes over three servings and it is all about meat. So try something for the carnivore – A meat menu for New Year's Eve.
A Meat Menu for New Year's Eve
Appetizers
Duck breast with apples and mustard
Potatoes with bacon and sour cream
Bresaola with Parmesan cheese, arugula and pumpkin seeds
Beef with dijon mustard and red onion
Starter
Whipped ricotta cheese with prosciutto, figs and truffle honey
Main course
Slow cooked leg of lamb with potato cream
Onion rings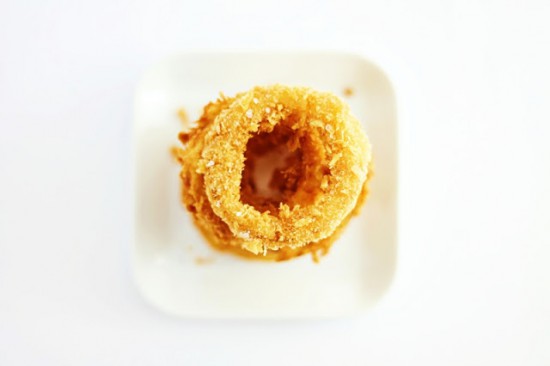 Duck breast with apple & mustard
serves 4
A simple dish with a meat that most people don't eat that often. I really like duck and serving it this way is a great introduction to duck.
1 duck breast
1  apple
2 tbsp Dijon mustard
Salt, pepper
Olive oil
Fry the duck breast on the fat side first until crisp. You don't need to add any fat, the fat on the duck is enough. Then fry the other side until it has a nice color. Let the breast cook until its center temperature is at 54°C / 129°f, use a thermometer to make sure, then leave to cool.
Cut the apple in strips, combine with dijon mustard, olive oil, season with salt and pepper. Slice the duck breast thin and serve with some apple salad on top.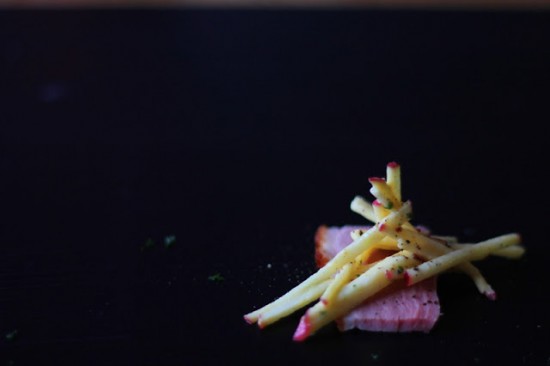 Potatoes with bacon & sour cream
serves 4
12 Potatoes, firm and small
6 slices of bacon
100g / 3,5 oz sour cream
1 red onion
Chives or Parsley
oil
salt, pepper
Roast the potatoes whole in an oven with some salt, pepper and oil until done. Leave to cool. Fry the bacon until crisp. Chop the onion and chives. Cut the potatoes in half and put a piece of bacon on each half. Put a spoonful of sour cream on top of the bacon, add finely diced onion and chives.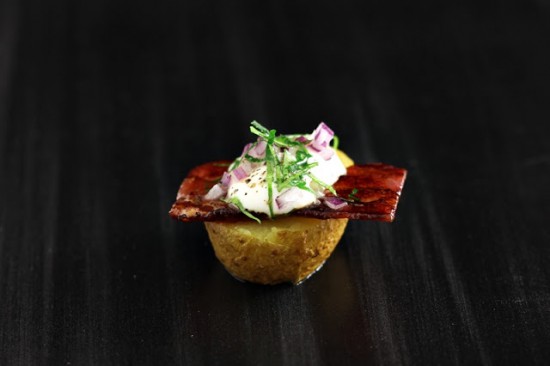 Bresaola with Parmesan cheese, arugula & pumpkin seeds
serves 4
Bresaola is such a good product that there is no need to complicate things, thin slices served with fresh arugula, shaved Italian Parmigiano Reggiano, some olive oil and a few roasted pumpkin seeds for a bit of crunch and you are good to go.
12 slices of Bresaola
80g / 2,8 oz Parmigiano Reggiano
80g / 2,8 oz arugula
80 g / 2,8 oz pumpkin seeds
salt, black pepper
olive oil
lemon or vinegar (optional)
Roast the pumpkin seeds in a dry pan or the oven until they are getting a bit brown on each side. Arrange the Bresaola on a plate, combine the arugula with a little bit of olive oil and a little bit of vinegar or lemon juice if you like a little bit of acidity.
Shave the Parmesan cheese and then put the salad, cheese and pumpkin seeds on top of the Bresaola. Serve.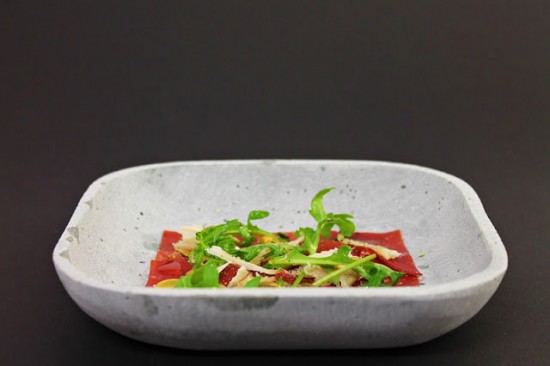 Beef with dijon mustard & red onion
serves 4
Seared beef with dijon mustard and some fresh sliced red onions, sometimes that's all it takes to make a great tapas. Make sure you pick a high quality meat, since it´s served as a small tapas it won't cost a lot to get a higher quality piece.
300g good quality beef
4 tbsp Dijon mustard
1 Red onion
Parsley
Olive oil
Salt, Pepper
Sear or grill the beef and then cut into small slices, put some Dijon mustard on each piece. Slice the onion and chop the parsley finely. Arrange on top, season with salt and pepper and some olive oil.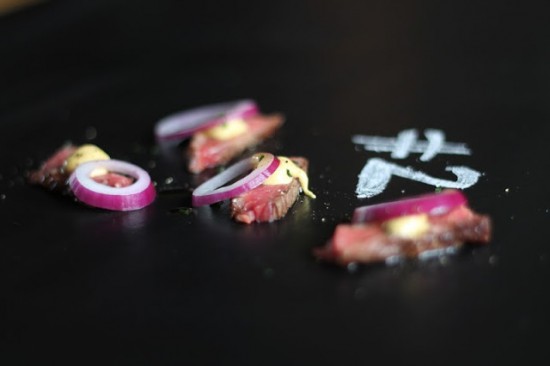 Whipped ricotta cheese with prosciutto, fresh figs & truffle honey
serves 4
Whipped ricotta is a great way to serve cheese, all you do is whip it until it's creamy and smooth, you may need to add a bit of cream or milk. Another good thing about ricotta is that you can easily sweeten the cheese and use it as a base for desserts for example with marinated fresh fruit.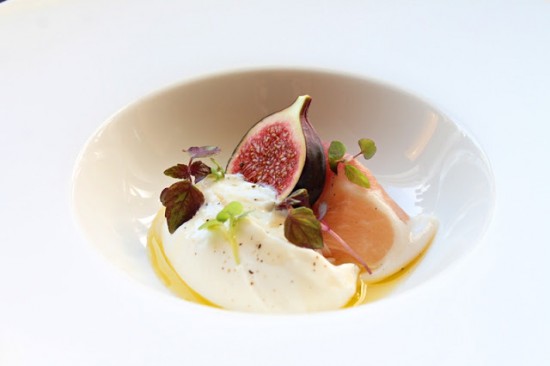 150g / 5,3 oz ricotta cheese
milk
4 figs
80g / 2,7 oz prosciutto
olive oil
2 tsp truffle honey
salt, pepper
cress (for decoration, optional)
Put the ricotta cheese in a bowl and whisk it with a electric whisk until it's creamy and smooth, add a bit of milk if necessary. Put a spoonful of the ricotta on a plate, add the prosciutto and the figs. Add the olive oil, salt and pepper and a little bit of truffle honey on the ricotta. If you can't find truffle honey you can add a little bit of truffle oil into the olive oil or if you´re not into truffle you can skip it, it will still be a great meal. Decorate the plate with some cress or any other mild herb you like.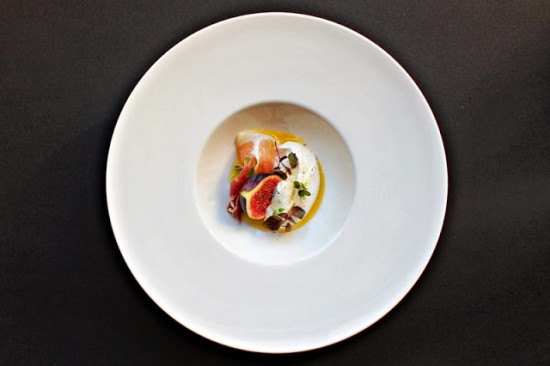 Slow cooked leg of lamb with potato cream and shallot onion
serves 4
This recipe is a great way to serve lamb, I used a leg because that what I happened to get a hold of but any piece that´s great for slow cooking works fine, it's also great for beef as well.
Lamb
4 legs of lamb
1 bottle of red wine
5 dl beef stock
1 tbsp rosemary
4 cloves of garlic
3 shallot onions
salt, pepper
water
4 bay leaves
Season the lamb with salt and pepper and roast in a pan until browned all around. Put the lamb in a pot and add all the remaining ingredients. Make sure the lamb is covered and let simmer until tender. Take out the meat and reduce the liquid until it´s getting slightly thicker. Season to taste. Remove the bone from the meat.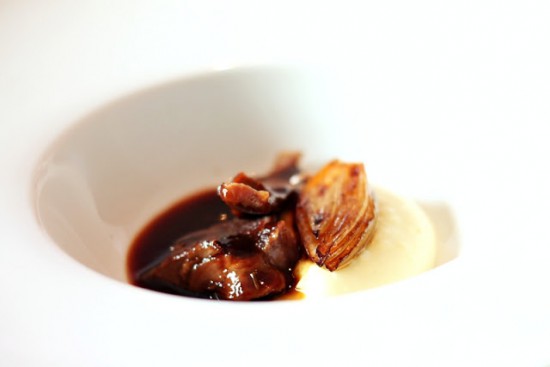 Potato cream
6 potatoes
1 dl / 0,4 cups heavy cream
salt, pepper
80g / 2,7 oz butter
Peel the potatoes and boil in salted water until ready, discard the water and pure the potatoes with loads of butter and cream, season with salt and pepper. You're only serving a spoonful so use way more cream and butter than you would if this was a main course, the cream should be thinner than usual and have a very rich taste.
Onion
4 Shallot onions
salt, pepper
butter
Peel and split the onions lengthwise, roast in butter with the cut side down until cooked through.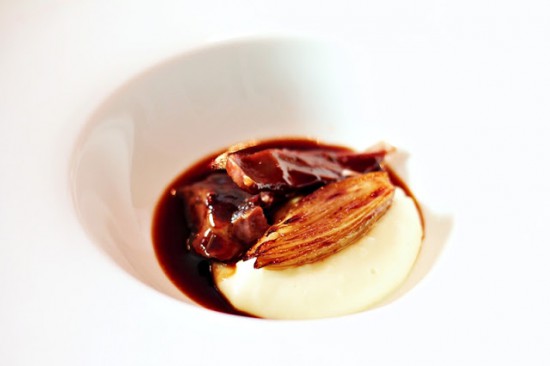 Onion rings
serves 4
Onion rings is quite easy to make and even if you might not get them perfect the first time they will still beat the local burger place, so get going. For this batch I first tossed the rings in flour and then coated them in a mixture of eggs, flour, beer and a bit of baking soda and before deep frying I dipped in Asian bread crumbs, also known as Panko. You can find it in all Asian stores and usually in bigger supermarkets.
Don't forget to add a bit of salt and pepper into the flour to give the rings a better flavor. You will salt them after frying but a lot of that salt tend to fall off.
I usually serve a dipping sauce for deep fried food but onion rings a more moist than french fries so I don't think it's necessary but I you prefer a dip then go ahead.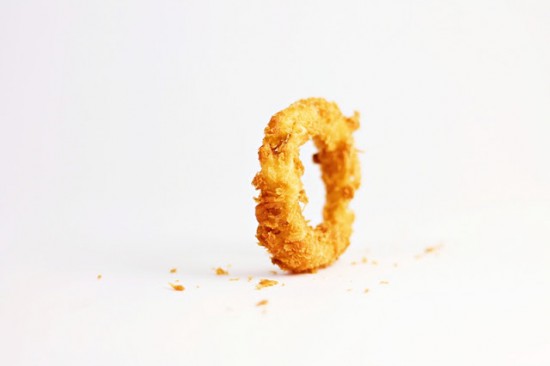 2-3 yellow onions
2,4 dl / 1 cup flour
1 egg
2,4 dl / 1 cup beer
1 tsp baking soda
a pinch of salt
pepper
oil for frying
Flour for the shaking of the onion
1 cup panko, Asian bread crumbs
Peel and slice the onion and separate the rings. Put them in a ziplock bag and add some flour and shake the bag to cover all the rings. Combine eggs, flour, beer, baking soda, salt and pepper. The thickness should be about the same as for pancakes.
Remove the rings from the bag and shake off the flour that is not stuck on the onion rings and them put them in the batter and cover them, lift the rings out of the batter and cover in the panko. Deep fry until golden, remove and let drip off on paper, salt the onion rings. Serve hot.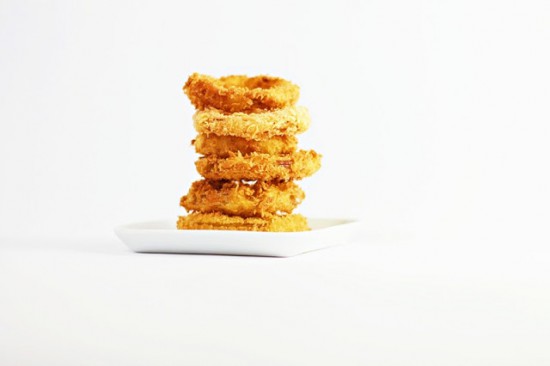 New Year's Menus at Ateriet
We've rounded up some of our favorite recipes and created a few different menus based on different themes. We've left out the desserts and focused on the starters and main courses. Most of the recipes are served in small bites but they are all easily scaled up to work great as main courses. You can check out all of the menus under our tag New Year's at Ateriet.
If you recognise some of these recipes they have been posted before on my previous food website Delicious Tapas and some of them have been featured here at Ateriet before. Happy New Year!