Mentos Choco Taste Test – Let's find out how this tastes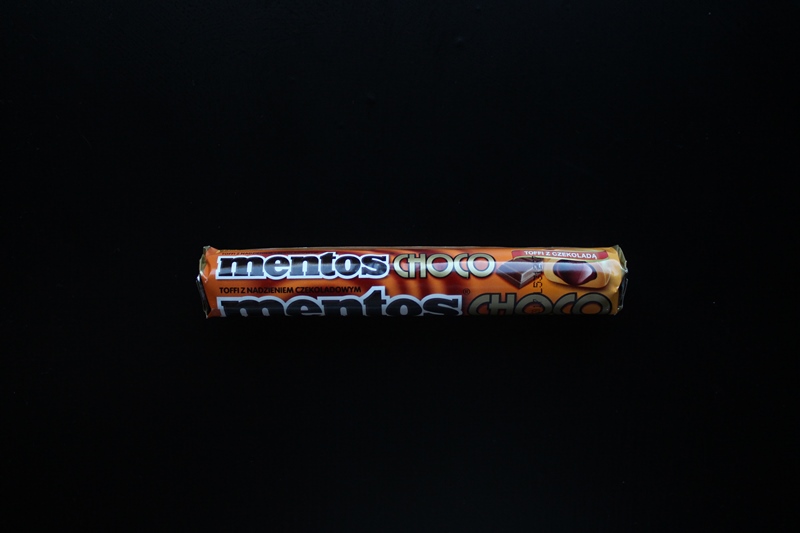 This time I've come across a Polish roll of chocolate Mentos. Let's see how I liked it the Mentos Choco Taste Test.
So the Mentos Choco Taste Test. It just sounds wrong. Mentos is mint or fruit flavored and have been marketed as refreshing since the beginning of time, or at least since the 1990's. So naturally I got interested when I found this Polish Mentos roll of Mentos Choco. Chocolate Mentos.
But before I start chewing let's see what Mentos really are and also a short stop at some of the classic marketing from Mentos.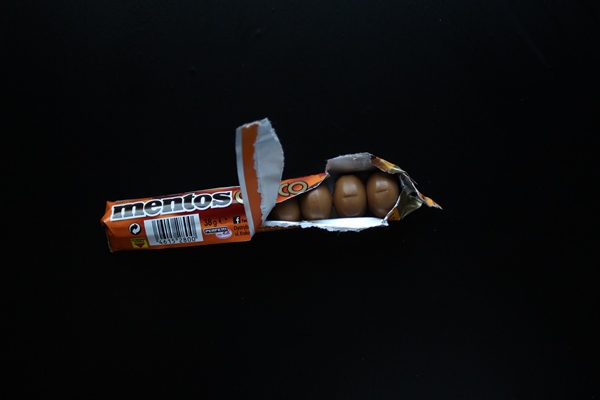 What is Mentos?
Mentos is a brand of prepacked candy produced and marketed by the Dutch-Italian candy maker Perfetti Van Melle. The candy was first produced in 1948 and is now sold and marketed in more than 150 countries.
There are several types of Mentos. The most known and common is the Mentos roll but there are also mini Mentos and chewing gum marketed under the Mentos brand.
The Mentos roll which is the most common product is a roll of scotch mints or chewy dragees. Each disc or candy has a hard exterior with a chewy inside. The most common variety is mint but there is a wide range of different fruit flavors as well. And now there's chocolate too.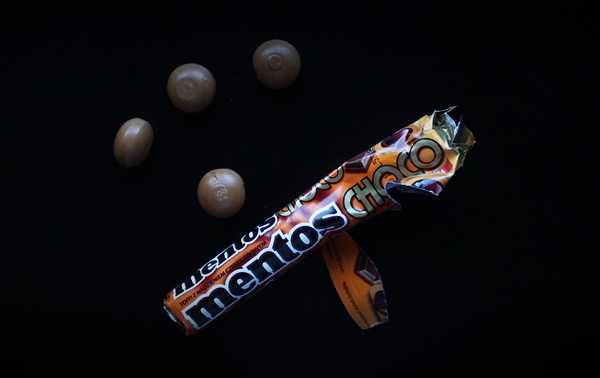 Mentos Marketing
Mentos like all big global brands is marketed all the time all over the world. But the one set of campaigns that really have stuck with most of us is the goofy set of commercials from the 1990's.
Back then the Mentos used the slogan The Freshmaker and a number of seriously cheesy and goofy commercials was produced. To get the feel for how things looked back then you can watch one of these right now.
These commercials became a great source for parodies. The best and most known example was when Foo Fighters based their entire video for the hit song Big Me on those commercials. Enjoy it now.
Another not so planned marketing is the mint Mentos and Diet Coke experiment. If you've never heard of this before then just open up a bottle of Diet Coke and drop a mint Mentos in the bottle and see what happens. You might want to Google that before. Or watch this video from Mythbusters on the science behind the reaction.
Now let's eat some Mentos Choco.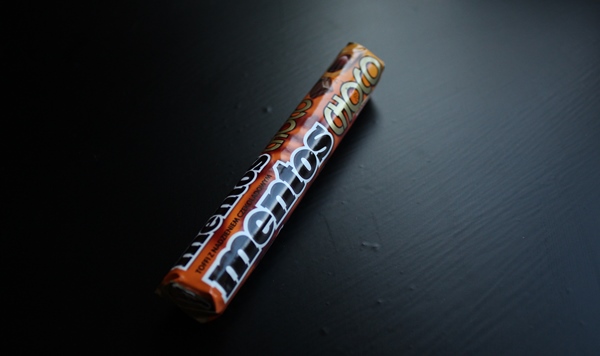 Packaging and Design
The packaging for the Mentos Choco is like any other Mentos packaging. A roll of paper which holds the candies. Nothing special, it works, it looks ok.
The only thing that feels weird is that it's orange and brown, not the fresh and colorful design you normally see on Mentos.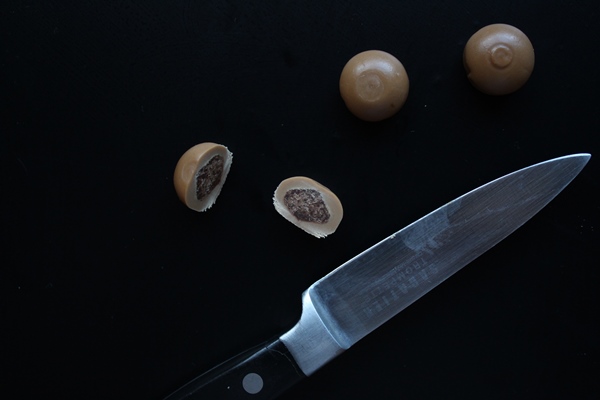 Value for money
This is kind of a tricky one this time. I got this in a shop that sells some imported stuff so this roll of Mentos Choco was never meant to be sold in Sweden. Often when you buy stuff like that it's hard to know if the price is right.
I paid 5 Swedish kronor for one roll. That sounds about right and close to what a regular roll should cost. That's about $0.58.
Taste
So this is where trouble begins. The Mentos Choco doesn't look like Mentos. The shape is similar but these are thicker. There is not crackling coating on the Mentos and there is a chocolate filling inside the Mentos.
It's not really a Mentos at all. It's a soft toffee with a chocolate filling. Don't get me wrong, it is delicious. But to me it's not Mentos at all.
So soft slightly chewy soft toffee with a tasty chocolate filling. I really have no complaints about the actual product. Like I said, it is delicious.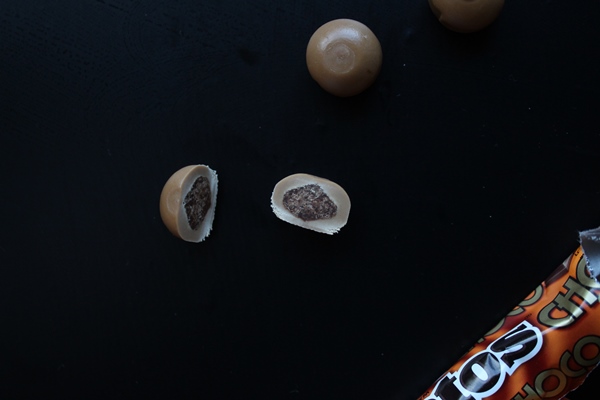 Ingredients
Like always reading candy ingredient lists aren't very fun. Loads of stuff, but who cares. I'm eating candy.
So it's bad for you but no worse than any other type of candy.
Final Taste Test Result
If this was only about the product I would give the Mentos Choco four out of five. What you're eating is a chewy delicious chocolate filled soft toffee.
The problem is that it's called Mentos. There is nothing fresh making about it all. I love toffee but I never ever felt fresh after eating it.
Obviously this is all about marketing. Using the Mentos name to sell this product is just wrong. It is too far away from the original product and as a consumer I don't quite "get it". This product should simply have been called something else.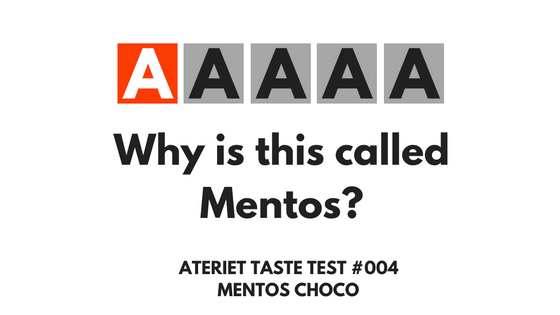 Info
Name: Mentos Choco
Price: 5 SEK / $0.58
Brand: Mentos
Bought: Sweden
Produced: Poland
Weight: 38g / 1.34 oz
Taste Test at Ateriet
Taste Test at Ateriet is what it sounds like. We test food and drinks from all over the world and rate each product. The result is a grade that rates from 1-5 where 1 is bad and 5 is outstanding. This is also the only category at Ateriet where we might write down a product or brand. For any taste suggestions, opinions or if you have a product you want us to try contact us via email. For all Taste Tests check out the full coverage here.