Mini Pizzas With Fresh Mozzarella and Basil

Try these Mini Pizzas with fresh mozzarella, tomato and basil. A great treat to welcome your guests.
Mini Pizzas are the best and when I mean mini pizzas I really do mean mini. We are talking about one bit size pizzas. These great little delights are made using a store bought pizza dough and tomato sauce, topped with fresh mozzarella, tomato and basil. It is beyond simple and I'll guarantee they'll be gone in no time.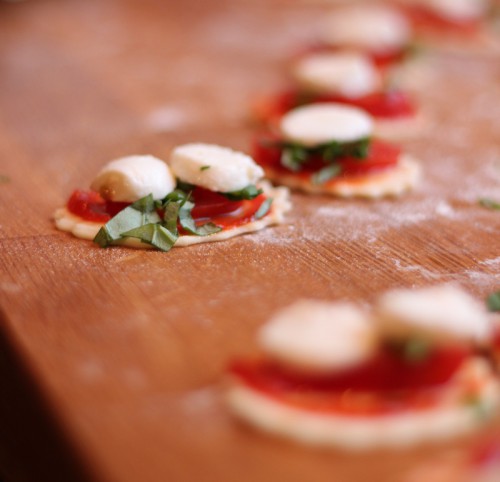 I love making homemade pizza, it's one of those things that are fast to make when you can't come up with anything. Usually you don't even need to go to the store to find some great toppings. There are always some good leftovers that can be used. But there is one thing about it that I don't like and that is making the dough. It messes up the kitchen and leaves some stuff that you don't always feel like cleaning up afterwards. Now don't get me wrong, I understand that stuff gets messy and my kitchen is more or less a constant warzone. But this is for when you're feeling a little bit lazy or would like to spend that time on something other than cooking.
This is why store bought pizza dough and tomato sauce are great products, yes you can make your own but often the effort compared to what you're eating in the end is not worth it. Ok, enough ranting about making pizza dough, this recipe is more or less self explanatory but if you haven't tried this before it can still be useful.
Now for these bites it is quite hard to write a recipe with the exact ingredients, usually you will end up with some leftover dough and tomato sauce but hopefully you can use that for something else.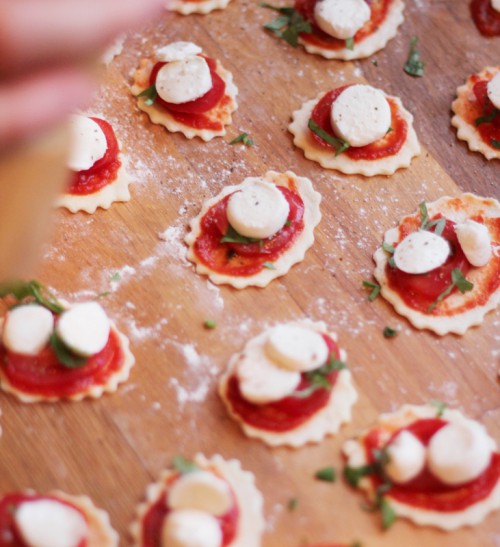 Mini Pizzas With Fresh Mozzarella and Basil
makes loads of mini pizzas
1 store bought pizza dough (or about 400g if you're making your own)
1 can store bought tomato sauce
1-2 bags fresh mini mozzarellas
20 cocktail tomatoes
Fresh basil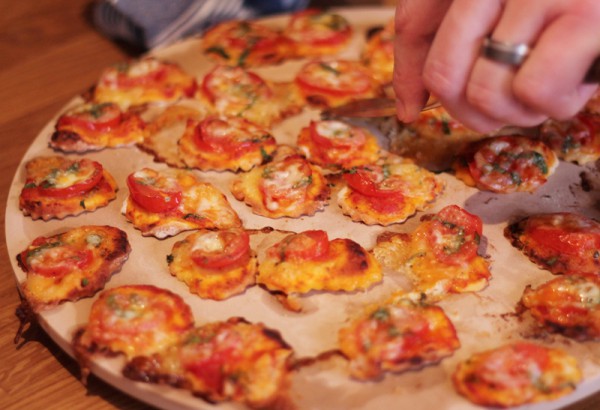 Roll out the dough with a rolling pin and then cut out small pizzas using a cookie cutter or a knife. The shape is not really relevant as long as they are small and the dough is thin. Knead the leftovers and cut out new mini pizzas.
Roughly chop the basil and slice the tomatoes and mozzarella. Add some tomato sauce on the pizzas and top them with tomato, mozzarella and basil.
Cook the pizzas in the oven on highest possible heat, my oven goes to about 250 degrees celsius which is about 500 degrees fahrenheit. That works fine. When the pizzas look good they are ready to eat, this usually takes around 5-10 minutes. Good luck!