Discover The Wonderful Miniature Calendar Food Photos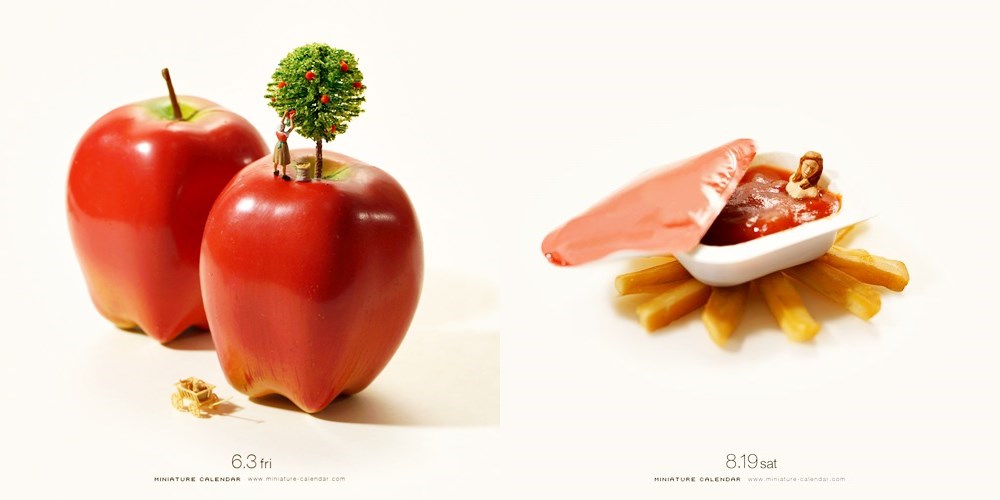 Miniature Calendar is a photography project by artist Tatsuya Tanaka. He places figures in scenes made out of everyday objects, many of them food. The result is wonderful, do take a look at the Miniature Calendar food photos.
I'm going to start by quoting artist Tatsuya Tanaka
"Broccoli and parsley may sometimes look like a forest of trees, and tree leaves floating on the surface of water may sometimes look like little boats. Everyday occurrences seen from a miniature perspective can bring us lots of fun thoughts".
Tatsuya took this way of thinking and started creating photographs based on this idea. He calls it Miniature Calendar. Diorama-style figures places in a world made out of everyday objects. Many of those objects are food. So I put together a few of my personal favorites from the Miniature Calendar food photos. But if you like these you will be just as charmed by the ones who don't involve food as well.
The project is called Miniature Calendar because that is how they are published. One new photo every day in a calendar and on Instagram. That might sound impressive, posting one creative miniature photo every day. Then consider that he has been doing this since 2011.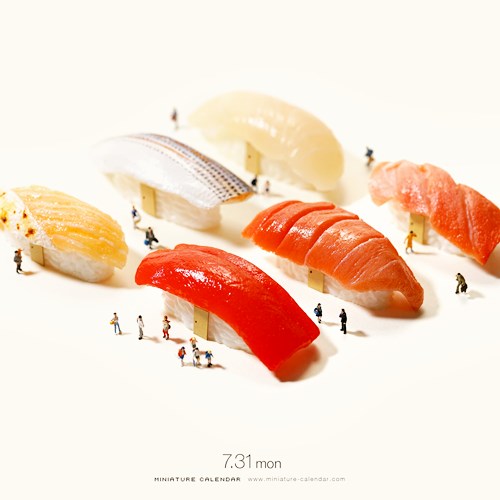 Wouldn't you want to live in a house of sushi?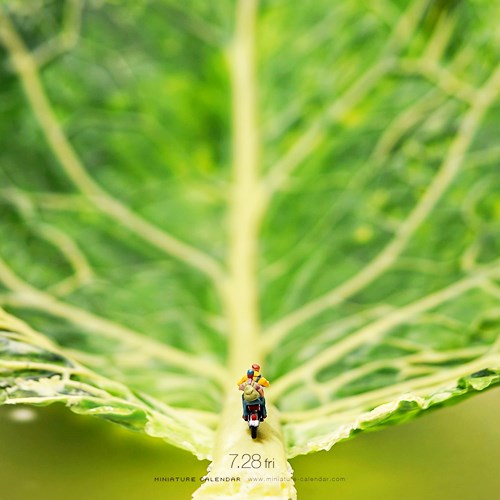 Go for a road trip, a cabbage leaf road trip.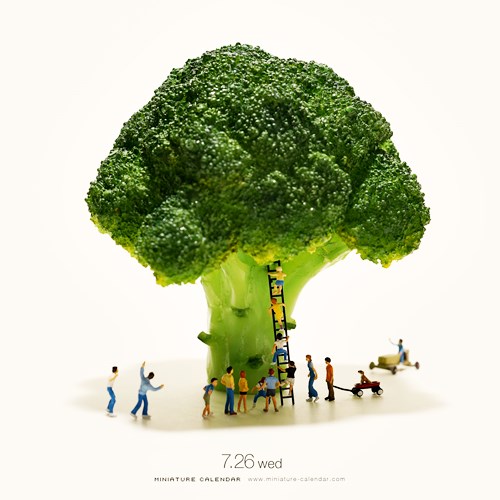 Climb a tree. I wish broccoli really grew this size, how cool would that be?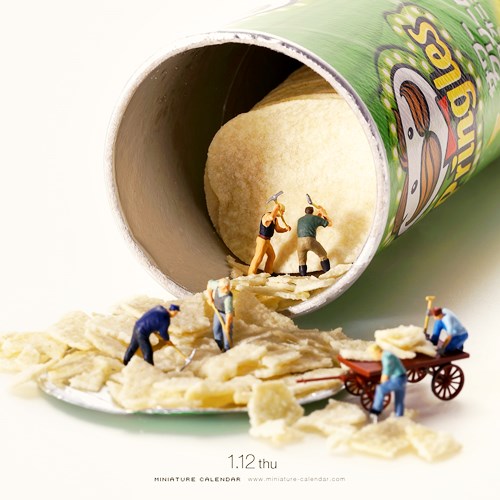 Mining a tunnel through a tube of Pringles.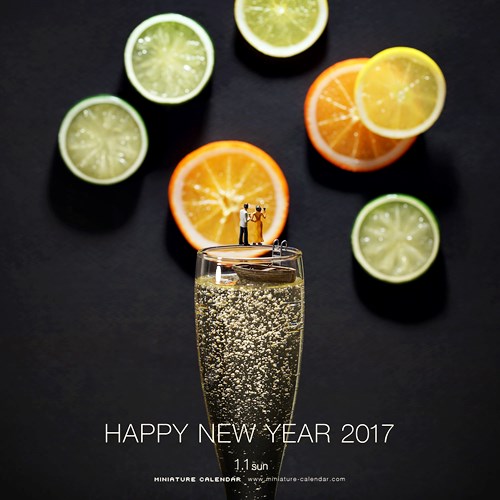 Happy New Year! Take your date out so you don't miss the citrus fireworks.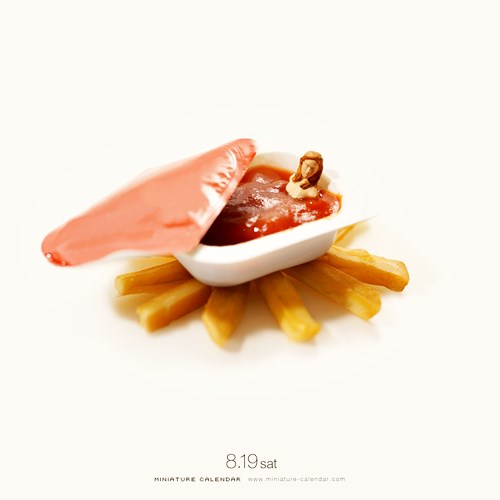 Ah! A relaxing hot ketchup bath. The fire is of course fueled by a fries fire.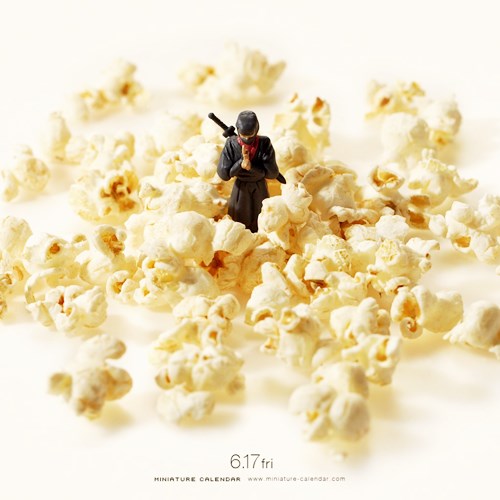 Get focused in popcorn.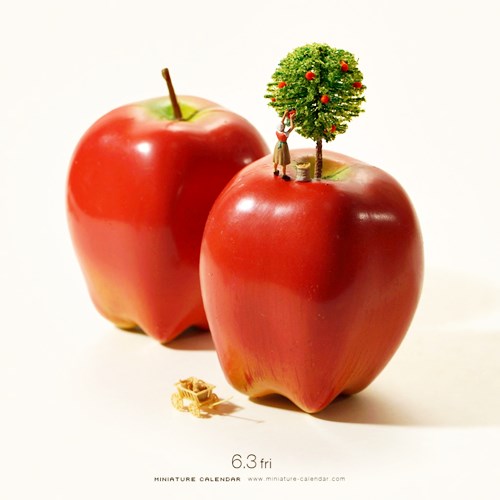 Pick fresh apples, from an apple.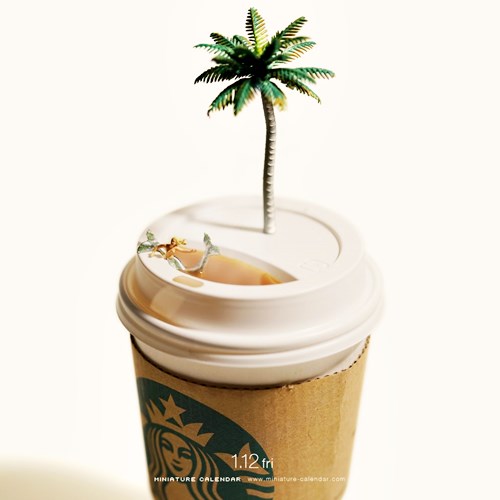 My favorite, the siren taking a swim on top of the Starbucks cup.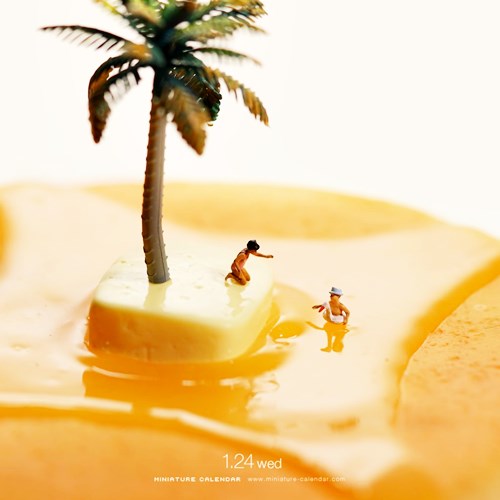 Damn you global warming.
Like mentioned this is an extremely small selection of the work by Tatsuya Tanaka. Do check out the full Miniature Calendar here and check him out on Instagram here. I promise you will like it. For more food art and design check out my full coverage here.