The Motorcycle Part Gin – Take a look at The Archaeologist Gin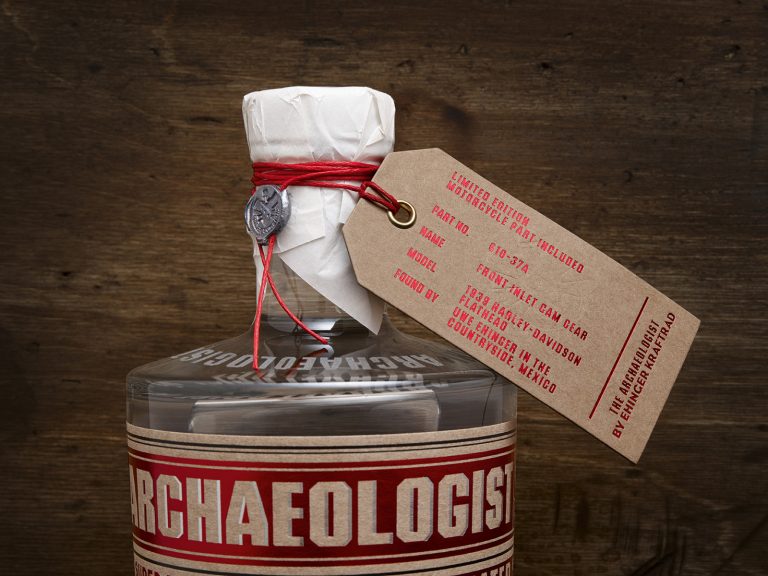 This project has been known as the motorcycle part gin. Why? Well, each bottle contains a real part of a classic motorcycle, do check out The Archaeologist Gin by Studio Oeding.
There are many ways of standing out with a packaging. You can make it cool, beautiful, cheap, environmentally friendly or you can do like Studio Oeding did with their limited edition of The Archaeologist Gin and put a motorcycle part inside the bottle.
You read that right, this is The Motorcycle Part Gin. A limited edition gin that has good reasons to be limited. There aren't an infinite number of parts on a motorcycle to fit inside a bottle.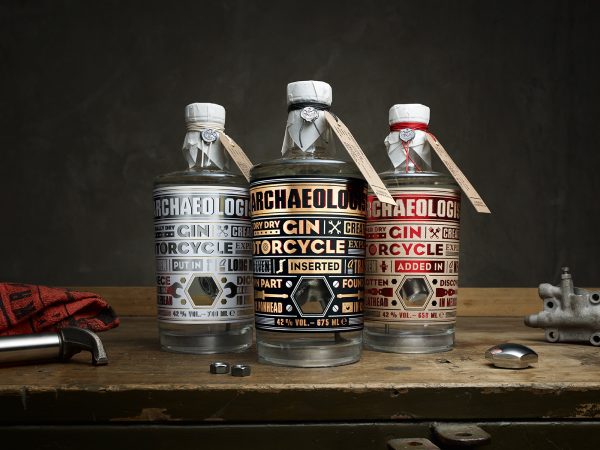 Where Do The Parts Come From
Motorcycle archaeologist Uwe Ehinger has discovered a few forgotten motorcycles all around the world. Parts from those have been removed, polished and cleaned and then put in these bottles. Both because they look great and because we want the flavor of gin to be herby, not oily.
The parts come from three different Harley Davidsons. A 1939 Flathead found in the Mexican desert. A 1947 Knucklehead from Chile and a 1962 Panhead from South Korea.
The Motorcycle Part Gin Packaging Design
On top of this fun idea comes a great looking bottle and a label that would be good enough for a feature here even without the motorcycle parts. The gin comes in three different labels, red, white and black.
The style is the same for all three. Big bold letters in a very 1930's style with nice shading. The design matches the motorcycle style and the vintage era of the motorcycle parts. As you read the label you get a short version of the story behind the gin. Great idea and a fun way of getting some recognition for a new product.
For more work by Studio Oeding visit them here. For more great packaging head over here.