Chef Q&A with Nicolas Delaroque of Nico, San Francisco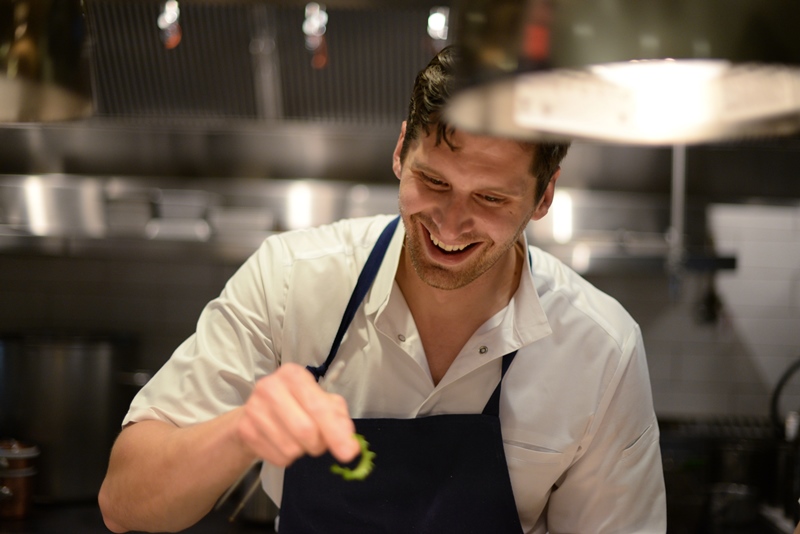 Meet French Chef and owner Nicolas Delaroque of Nico Restaurant in San Francisco in a talk about culinary school, Michelin stars and about creating a new menu everyday, keep reading.
How did you become a chef?
In France we have to decide early on what we want to become. When I was about fourteen I really liked to eat so when my family asked me what I wanted to I said I want to be a chef so I can keep eating, haha.
So you started in culinary school that early?
I started my apprenticeship when I was about 15 years old.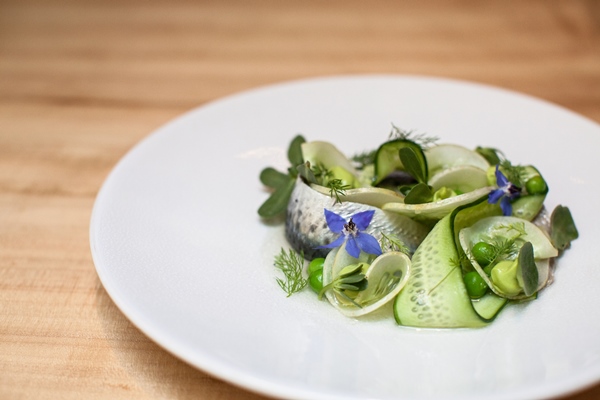 So how do the culinary school work in France?
In France you can choose, either go to school all the time or you can get an apprenticeship. With the apprenticeship you go to school for two weeks and then work at a restaurant for two weeks, that's what I did. I worked in a small restaurant in my hometown.
The time spent in school is used both for cooking and serving but also classic things like math and language.
That sounds like a great way to learn, in Sweden where I'm from I think culinary students spend too little time in the kitchen.
Yes it was very good, you really got to know a lot and you learned to not only be in the kitchen but the whole side of a restaurant.
Do you have a favorite food memory?
Not a specific one but when I think about it it's always the simple things like a tomato salad from my grandparents garden or foraging fresh fruit. Just simple things with the true flavor of the ingredient.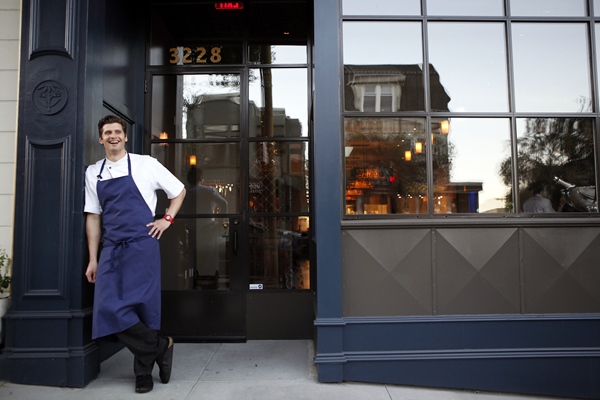 How did you end up in San Francisco?
First I was in Quebec for almost two years working for a hotel, then a old work friend from France was going to move to San Francisco and he told me about a job opening. He knew the chef who happened to be Dominique Crenn who now have Atelier Crenn. So she took me on and helped me get to work there.
How would you describe your cuisine?
When I'm asked here I usually say modern French, that's so people don't think it's the classic French with cassoulets and Coq au Vin and stuff like that. So it's more modern but the techniques is very French. Market-driven cuisine done in a modern way with the help of the classic French techniques. And we create a new menu everyday.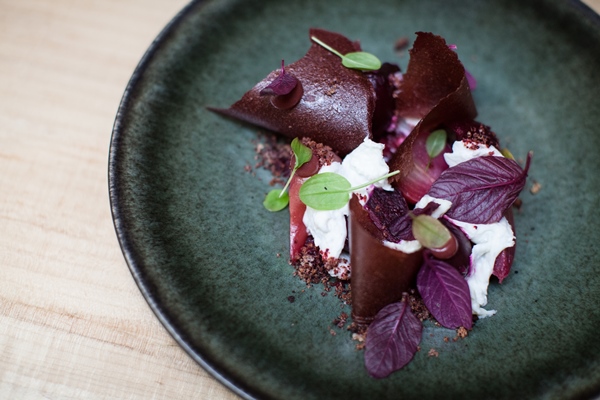 So how do you work with that? Creating a new menu each day is a bit of a creative challenge, do you have a process that you use?
I think that we are making a very gourmand type of menu so we try not to overthink it. I try to find a great ingredient and then we go from there and try to get that ingredient to shine even more.
I try to not make it complicated. There might be a complicated technique behind a dish but it should feel very approachable.
You hold one Michelin star for the second year in the row. Was the star an ambition from the start?
Not really, there was never a plan to go for a star. I didn't want to think about that, instead I just wanted to cook my food, that feels right for me. I think we got it because we just try to do a good thing and not overthink things.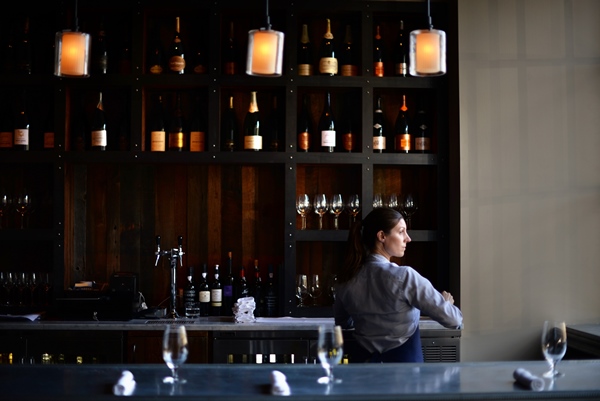 That makes sense because I think Nico feels like a great place but at the same time has that neighborhood feeling to it, you know the restaurant around the corner.
That was the idea behind it, really being a bistro where the food is very approachable but we put the right technique and love behind it. Just as I learned working at other restaurants. But without making it complicated.
French cooking haven't been that hot for some time but now it feels like it's really coming back, a modern French renaissance in food, do you agree?
I agree with that, there's a lot of young great French chefs that are really on the rise. Also some of the classic French restaurants like Troisgros is coming back into the spotlight, that's great and I'm not saying that just because I'm French.
I think for some time people have felt that French cooking was out of date or not trendy anymore. Now many of them are getting the recognition they deserve again.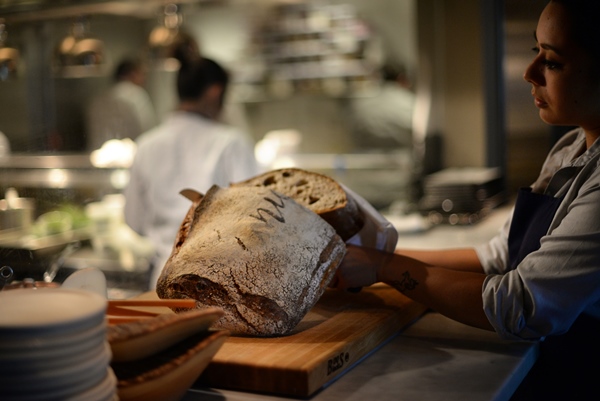 You only serve a five-course set menu, why did you choose to go that way?
After serving a la carté and a Prix-fixe menu for some time it sort of made sense to go that way. Especially since we change the menu everyday, this way is easier to manage and the quality gets higher. It's also a great way to encourage people to try dishes they may not try otherwise.
You keep your prices low, especially considering you're getting a five course meal at a Michelin starred restaurant, what was the idea behind that?
It was to make us approachable and also to make us stand out from the fine dining places. I wanted it to be a place you can come back to once or twice a month, we have some guests that come every week. If we would have high prices they wouldn't be able to come so often.
Thanks to this we have regulars that come back often and that is great for the atmosphere. You have some familiar faces and you can be more personal because you know each other. It's also nice to be able to invite friends without asking them to break the wallet.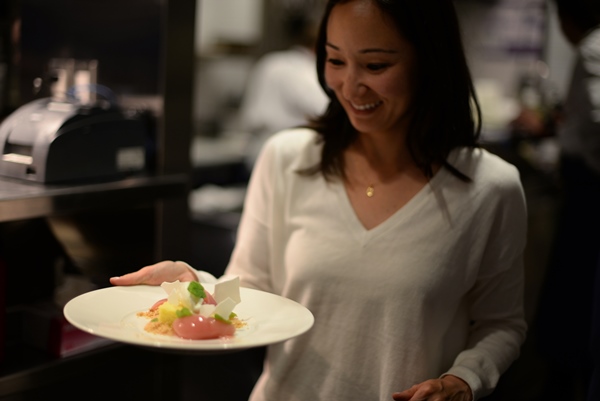 You have low-proof cocktails based on Vermouth, what is that?
Well we only have a beer and wine license which means we can't serve any hard liquor. So our beverage director came up with the idea to infuse low alcohol drinks like Vermouth with Juniper berries and spruce to make it into a Gin flavored base. Then we use different bases like that to create these low-proof cocktails.
That's a great example on how creativity can come out of limitations.
Yes, absolutely.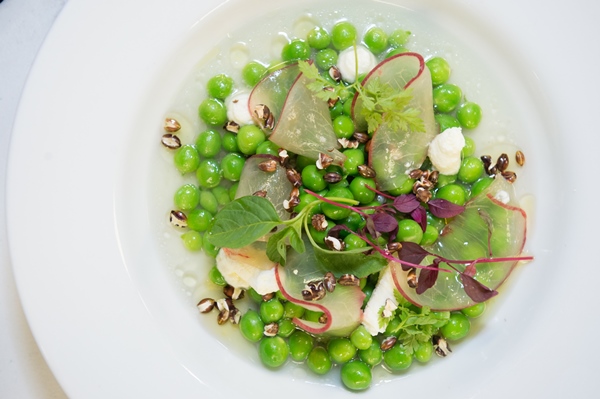 Do you have a guilty pleasure in food?
I have a sweet tooth so I'm a big fan of éclairs.
Where do you like to travel to eat?
I like to travel anywhere really. I'm going back to France every year to spend time with my family so I always try new and old favorites there.
Who do you think I should interview at Ateriet?
David Toutain in Paris, the last I was there it was really great.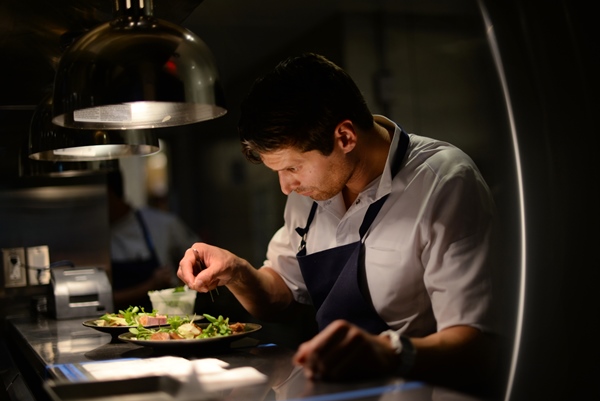 Name: Nicolas Delaroque
Age: 35
Born: Saint Cloud
Current city: San Francisco
You can connect with Nicolas Delaroque and Nico online. You'll find them at Facebook, Twitter and Instagram. Read more about the restaurant below.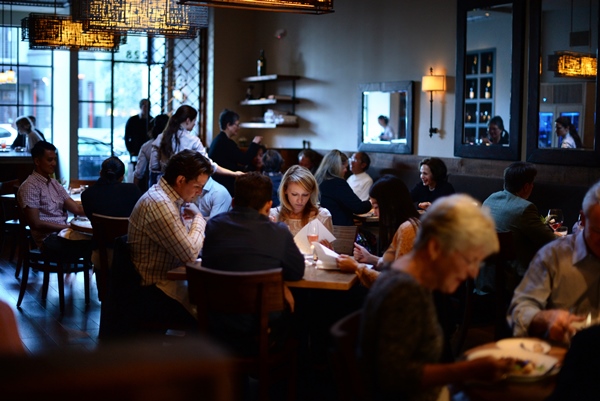 About Nico Restaurant
Nico is the critically acclaimed restaurant of Nicolas Delaroque and his wife Andrea. Chef Nicolas Delaroque combines his modern French cuisine with the best of the California ingredients. Nico offers a daily five-course tasting menu five nights a week.
Maz Naba is Nico's Beverage Director and is the man behind the low-proof cocktails and daily wine pairing.
Nico holds one Michelin star and is located in the Pacific Heights neighborhood in San Francisco. You'll find it at 3228 Sacramento Street, visit Nico online for more info and reservations.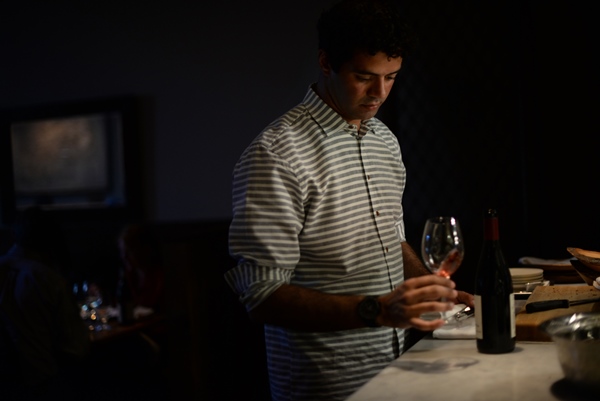 About Ateriet's Chef Q&A
Chef Q&A at Ateriet is my way of giving great chefs the respect they deserve. I interview chefs from all over the world with the stuff I want to know. If you know a chef I should interview or have any other suggestions don't be afraid to let me know, just leave a comment or send an email. You can read my other Chef Q&A's here or explore all these great chefs and restaurants in my Chef Q&A Map, you'll find it here.