Nürnberger Sausage with Fennel coleslaw & Mustard Seeds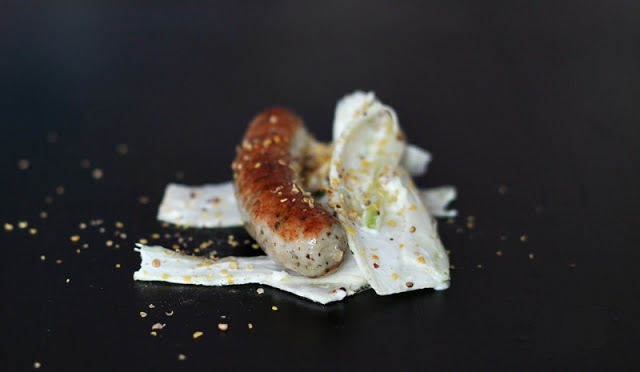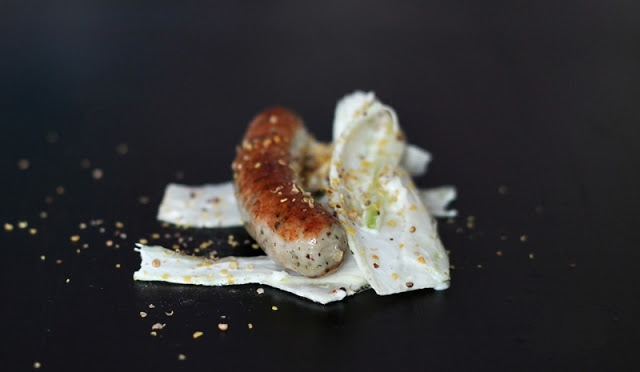 Try the delicious German Nürnberger sausage with a delicious fennel coleslaw with some cracked mustard seeds.
The Nürnberger sausage is a small almost white German sausage that dates back all the way to 1313. It´s usually small and you´ll need to serve three or four of them for a main course. I like serve them together with other meats as well like roasted chicken or with other sausages. Since it's small in size it's great to serve as a tapas.
The Nürnberger is protected by EU-law and it must be produced in Nürnberg to have to right to be called a Nürnberger, but don't worry this recipe works with most sausages with a good pork taste.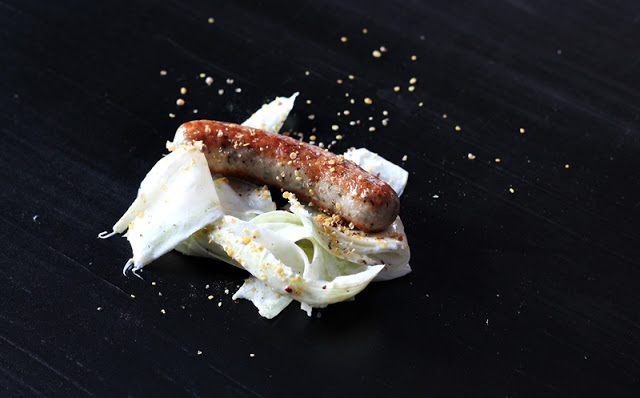 The fennel coleslaw is very easy to make and I absolutely love this one. I use only fresh fennel or anise as it is sometimes called in the US. I use a potato peeler and slice it into thin strips. The I simply combine the fennel with some lemon juice, store bought mayonnaise and some salt and pepper.
You can of course make your own mayonnaise but for a quick recipe like this it's great to be able to just put it together without spending too much time. Now let's check out the recipe, this one is enough for four small snacks, If you want to serve more simply double or triple the recipe.
Nürnberger Sausage with creamy Fennel coleslaw & Mustard Seeds
Serves 4 as a small snack
4 Nürnberger sausages
1-2 tbsp mayonnaise
1 big fennel
1 tbsp lemon juice
salt, pepper
1 tbsp cracked mustard seeds
With a potato peeler shave the fennel into thin slices, add a few drops of lemon juice and mayonnaise, combine and season with salt and pepper.
Fry the sausages in a pan, serve a spoonful of coleslaw with one sausage and sprinkle with cracked mustard seeds.