How To Make Oven Dried Cherry Tomatoes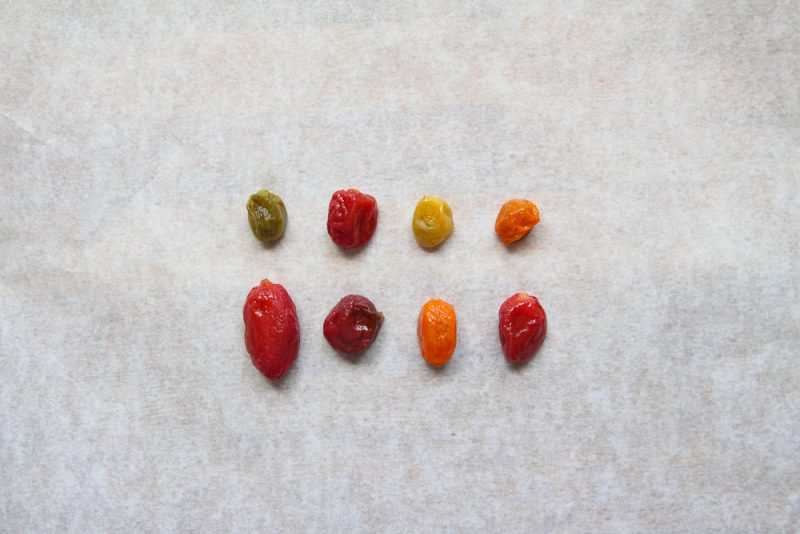 Let's make great cherry tomatoes even more flavorful. Learn how to make oven dried cherry tomatoes. A great twist to an already great ingredient that can be used for lots of good stuff.
So let's learn how to make oven dried cherry tomatoes. It really not very hard, spend a little bit of time in the kitchen, the rest will take care of itself and once the tomatoes are done they can be used for lots of good stuff. But let's start with why you should dry tomatoes on your own.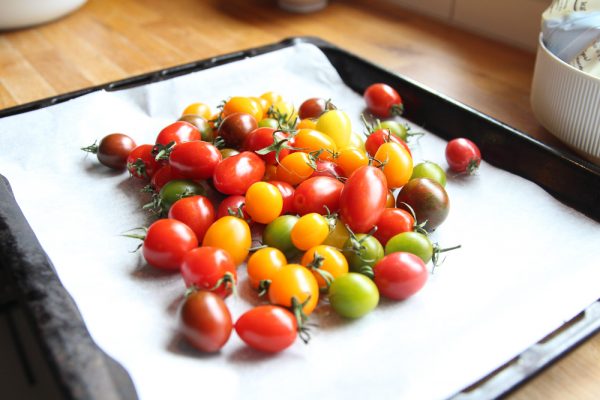 Why should I make oven dried tomatoes?
It's easy, it brings out great flavor and it's an easy way to take a dish from good to great. Before I start nerding down on dried tomatoes let's just start by saying this.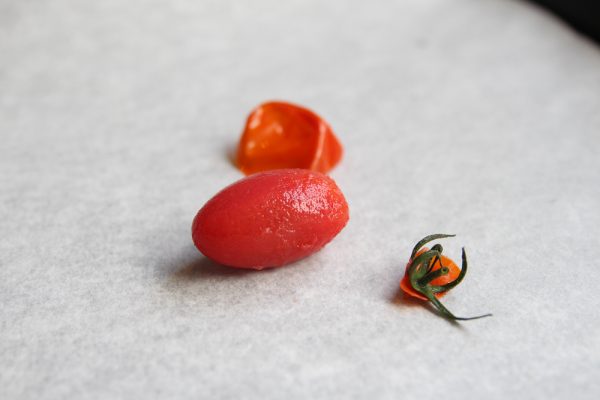 Dried tomatoes are not better than fresh tomatoes.
It really isn't, but it can be. This depends on what you are cooking and what you are serving it with. So think of drying tomatoes as a twist on a tomato dish. Not something that excludes regular good fresh tomatoes. Sometimes a combination of dried tomatoes and fresh ones is a great idea. But now let's find out how to make your own oven dried cherry tomatoes.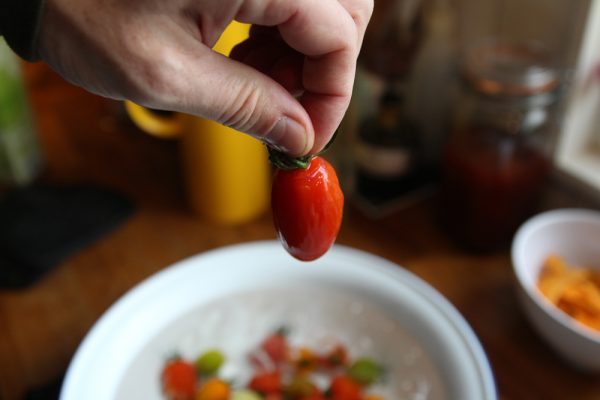 How to make oven dried cherry tomatoes
In short, this is the way. Remove the skin of the tomatoes or cut them in half or wedges. Drizzle with oil. Put in the oven. Wait. Eat.
That's really about it. Seriously if it's your first time trying this it might feel a bit more complicated. But I promise you'll succeed, just take it slow. Also, the method I use here is by taking the skin of the tomatoes. I think the skin can get a bit chewy, especially when you are drying cherry tomatoes. You can leave the skin on but you need to cut them in half or wedges in that case. Otherwise, the moisture in the tomatoes has nowhere to go when they spend time in the oven later. Now let's take the skin off.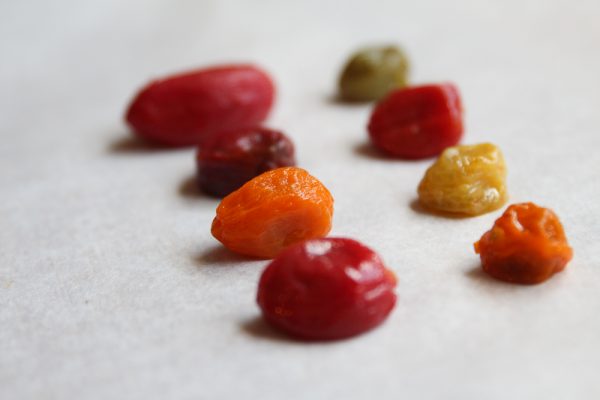 How to peel tomatoes
What you need to do when you want to remove the skin on tomatoes is this.
Cut a small cross in the skin with a sharp knife. This makes the skin come off easier.
Dip them in boiling water for about 5-15 seconds.
Remove and place in ice water to cool them down.
Using a small knife remove the skin.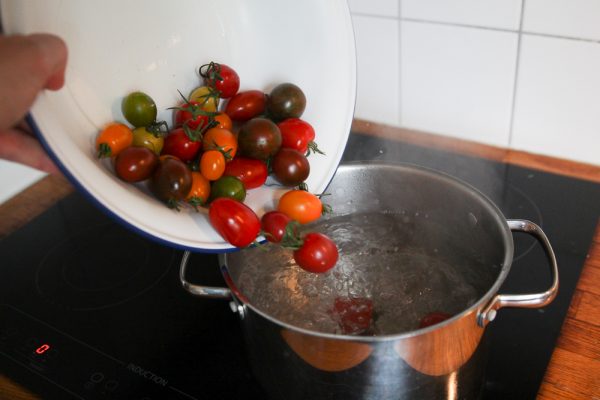 That's it. It's not hard but there are a few things you need to keep in mind. First, make sure you have everything you need before you begin. This is what you'll need.
1 big pot of boiling water
1 big bowl of ice and water
1 skimmer to remove the tomatoes from the boiling water
1 paring knife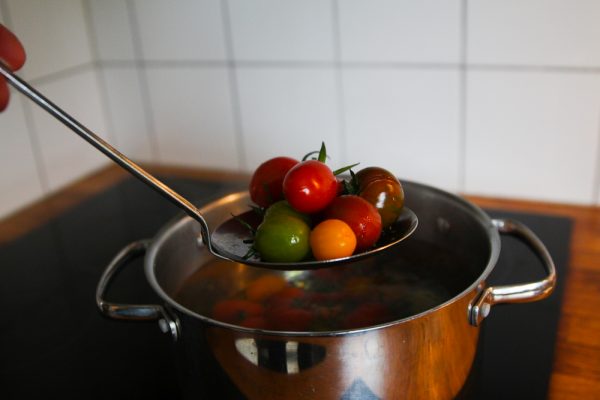 The water needs to be kept boiling. It is also important to not add too many tomatoes at once. That will bring down the temperature of the water and the skin won't come off as easy.
Then leave them in there at the maximum for 15 seconds. Use the skimmer to take out the tomatoes and transfer immediately to the ice water. This stops the cooking process and will keep the tomatoes firm and the flesh won't get mushy.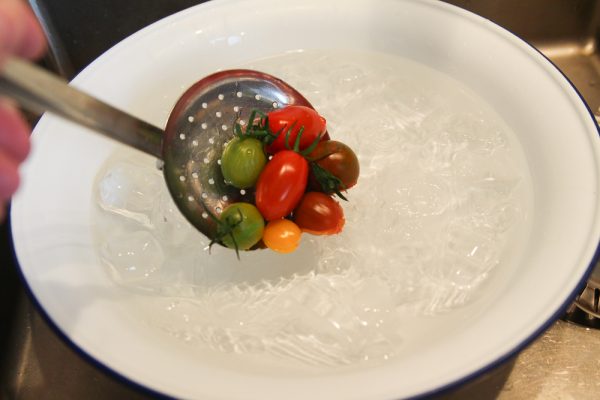 Then pick out the tomatoes from the ice water and remove the skin. Sometimes the skin can sit on hard and the tomatoes get mushy even though you haven't cooked it for too long. This depends on the variety of the tomato. But most types of tomatoes I tried have worked out great.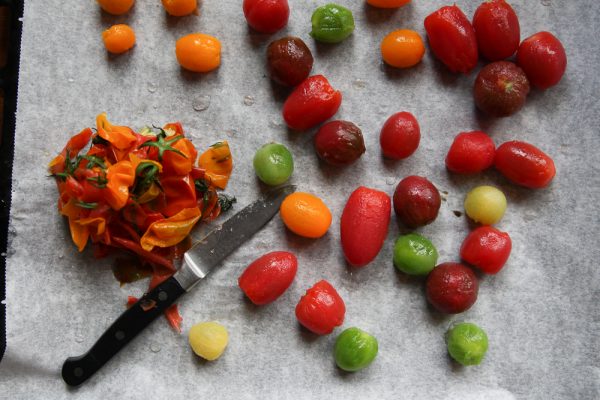 Oven dry tomatoes
Now you've removed the skins. Then place the tomatoes on a baking sheet and drizzle with a little bit of olive oil. Season with a little bit of salt, you can also add other flavors like sliced garlic and fresh herbs if you want to.
Then place the tomatoes in the oven. Now how long and at what time you want to dry them depends on what result you want.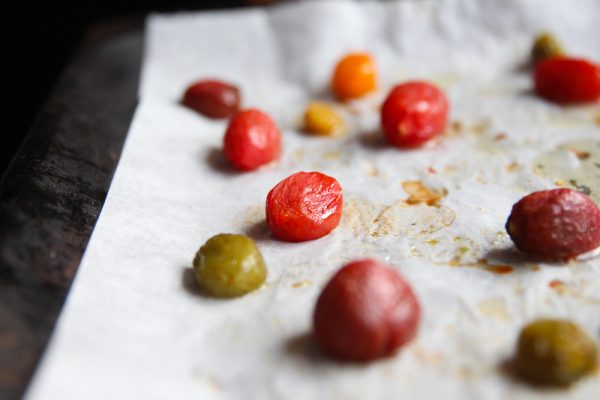 You can go very low like at 60°C/140°F and dry them overnight. Or go as high as 120°C/248°F for a slightly roasted flavor. I like mine somewhere in between. The ones I show you here was dried for six hours at 100°C/212°F. The result is a semi-dried tomato packed with flavor and that also look beautiful.
That is about all you need to know. Try making different tomatoes at different times and with skin off or on. Slices, wedges and halved tomatoes also work great. It's really just trial and error on what type of tomato and drying time you prefer.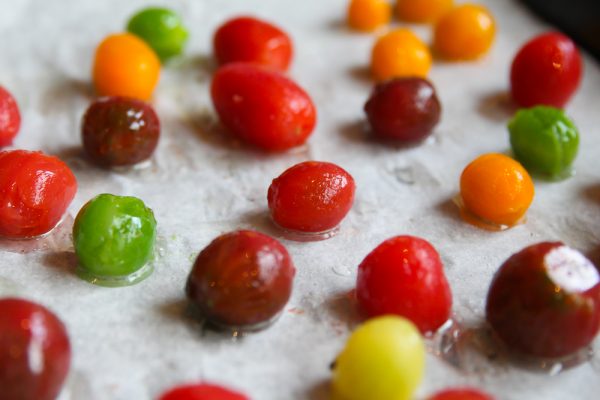 How to store the tomatoes
If you're doing this you might as well make a big batch. Once the tomatoes are dried they will keep for about a week at least if kept covered and cold. If you cover them in oil they will keep for longer. But no worries, if you have extra they tend to get eaten within a week.
What to serve oven dried cherry tomatoes with
You can serve them with anything. In my photos here I made a simple twist on a Caprese Salad. It's dried cherry tomatoes of different colors. Mozzarella cheese, balsamic vinegar and fresh nasturtium leaves and flowers from my garden. It looks good and is delicious.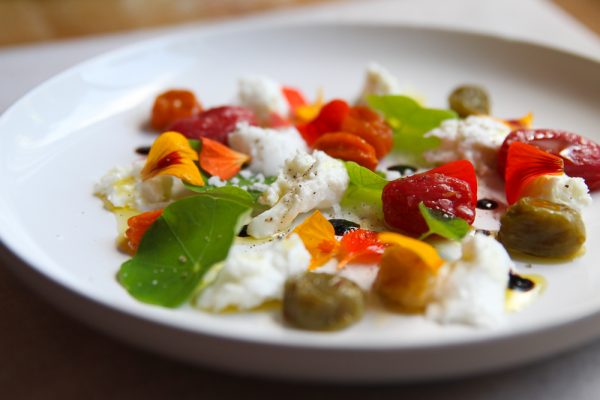 There's also a photo of a dish I did a while back with regular sized tomatoes that are served with arugula and garlic. You can get that recipe in detail here.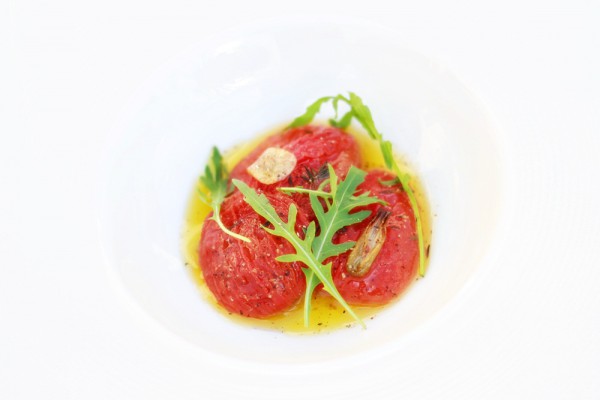 As a final bonus, you can do the same thing with olives. It takes more time but the flavor is incredible. Get the recipe for this Tomato bruschetta with dried grated olives here.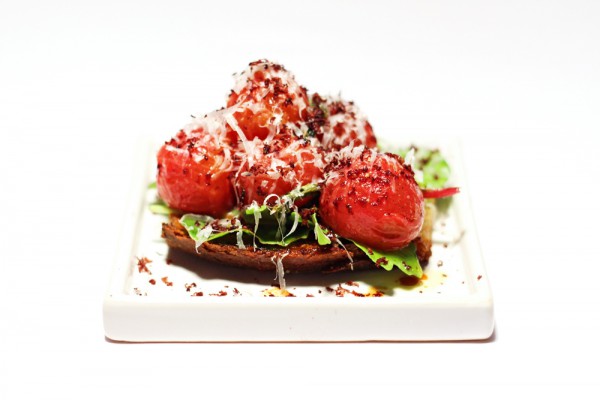 Good luck drying tomatoes, once you get started with drying your own food there is no looking back.