Oven Roasted Celeriac, Cress, Hollandaise & Truffle Salami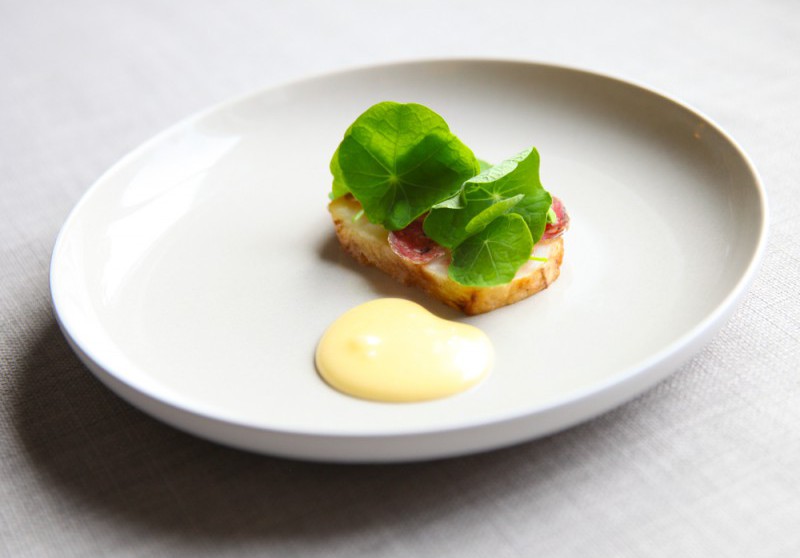 Making Oven Roasted Celeriac is one of the best ways you can use a celeriac. The flavor gets amazing. I pair it with truffle salami, some fresh cress and hollandaise sauce. You need to try this.
If you've never tried oven roasted celeriac before then now is the time. It's one of the best way to use this very flavorful root vegetable. When roasting it the flavor intensifies and it looses some of the sharpness you'll find when eating it raw.
There are different methods to making oven roasted celeriac. Some leave the skin on, some bake it in foil. I like to peel it first. Then I fry it in a pan with butter, salt and pepper so it gets some of the buttery flavor and starts to soften. After that I cook it in the oven until it's completely soft. Slice it and serve.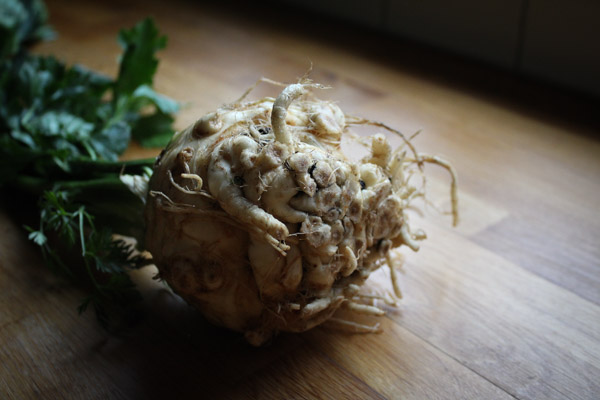 The oven roasted celeriac is a great base for a vegetarian or vegan dish. But as it happened I had some truffle salami at home. So I added some fresh cress and a hollandaise sauce instead of keeping it vegetarian. Let's start cooking.
Oven Roasted Celeriac, Cress, Hollandaise & Truffle Salami
Serves 4-6 as an appetizer
Roasted celeriac
1 fresh celeriac, about 10 cm / 4 inches in diameter
4 tbsp butter
Salt, pepper
Hollandaise
2 egg yolks
1 lemon
2 dl / 0.85 cups melted butter
1 tbsp water
Salt, pepper
For serving
1 small truffle salami, about 6 slices for each serving
1 handful of fresh cress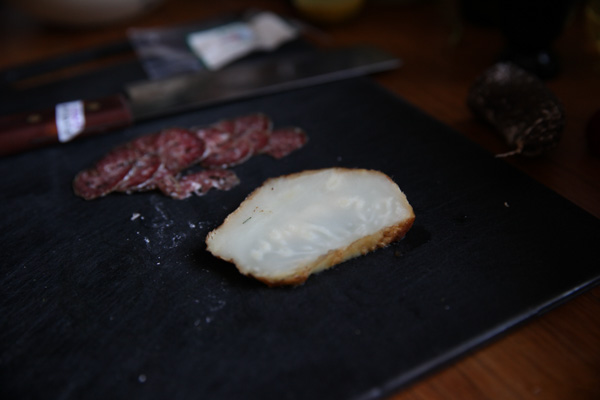 Let's take it from the top. Start by peeling the celeriac. Since the skin is quite thick this is easiest done with a knife. Then heat the butter in a frying pan and fry the celeriac all around until it's golden.
Once the celeriac is fried place it in a oven proof tray and bake in the oven at 180­ Celsius / 350 Fahrenheit until completely soft all the way through. This should take around 1-2 hours. When it's cooked wrap it in tin foil and set aside. This will keep it warm for at least half an hour while you prepare the rest of the dish. You can of course leave it in the oven for a longer time on low temperature if you plan to serve it a little later.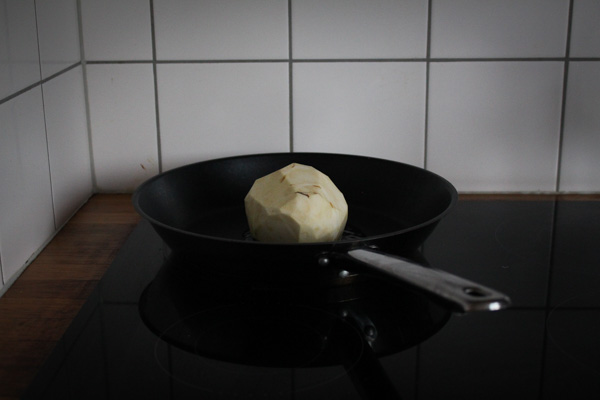 Now let's move on to the Hollandaise sauce. Melt the butter, keep it warm. In a pot add the egg yolks, water,  squeeze in the juice of the lemon and add some salt and pepper. Whisk the eggs and other ingredients on low heat until it heats and start to thicken.
Once the eggs have thickened but are still smooth remove from the heat and add the butter a few drops at the time while whisking. If the sauce starts to get very thick then add a few drops of water to thin it. Once all the butter is in check the flavor and add more salt, pepper and lemon juice if necessary. If you've never made a warm emulsion sauce like Hollandaise before there is a great video here that you can use. Both methods shown in the video works great.
Now when the celeriac and sauce is done all you need to do is slice the truffle salami thin and wash the cress. Let's plate this.
It's very easy, open up the tinfoil around the celeriac and slice one slice for each serving. On top of each slice add some truffle salami and then the cress on top. Add one spoonful of Hollandaise by the side. Serve. Good luck.