Bjarke Bundgaard is the craft beer expert at Carlsberg and he and Carlsberg wants us to start pairing beer with desserts instead of the classic wines that usually go with it. Now is Carlsberg could get people to pair their desserts with beer that would be a great way to boost sales for the Danish brewery but they do have a point. Pairing beer with desserts can work if done properly.
The most common problem with the pairing is that the dessert is too sweet which will make the beer taste more bitter than it actually is so it is a good idea to stay away from the super sweet desserts.
Below you can read two of the examples that Carlsberg have suggested, if you can't get a hold any Carlsberg see if your local store can recommend something similar. You can also watch a short clip on top from Bjarke on what you should consider if you want to pair your next beer with a dessert.
For me this is a fun way to try something different when you host your next dinner, no matter what brand of beer you choose.
Jacobsen Brown Ale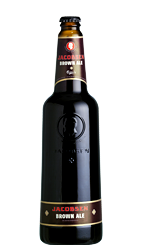 If you'll be serving a caramel dessert, chocolate mousse or another lighter chocolate treat, Jacobsen Brown Ale is a great beer to pair. Brown Ale is one of the most popular Jacobsen varieties and is brewed based on English tradition.
It is known for its dark, malted aroma that gives notes of coffee, cacao and caramel which elements make this a great beer for deserts with the same characteristics. For example, tiramisu, chocolate mousse or Sarah Bernhardt cake are great examples of what to couple the ale with. This beer's forte is that it works as a palette cleanser while also supporting these dessert's aromas.
Grimbergen Blonde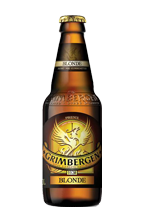 If your dessert plans are leaning more toward ripe fruits such as melon, pineapple, apples and pears then this Belgian monastery beer is a great compliment. This is particularly true if the fruits are to be served with a classic vanilla cream or ice cream.
With its sweetness, the beer contains fruitiness and a light bitterness; just the right elements to balance the fruits sourness and rich cream.
Tip: If you are serving a classic fruit salad, use Grimbergen Blonde to marinate the fruits.