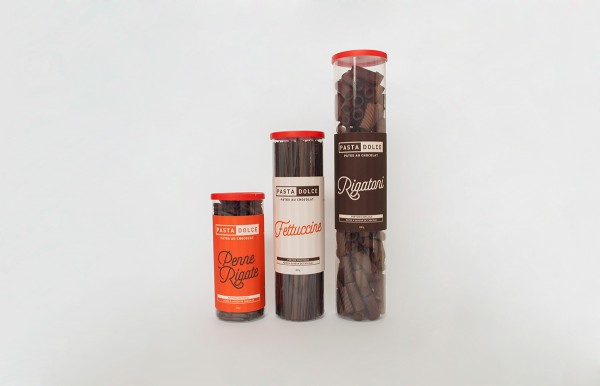 This chocolate looks just like pasta. Not only do every piece of chocolate look like pasta, it is packaged in the same way. Such a cool project, do take a look at the Pasta Dolce Packaging Concept.
Pasta Dolce is a fictitious company that sells chocolate based pasta for dessert purposes, simply put it's pasta made out of chocolate. The range of chocolate pasta in Pasta Dolce consists of three different varieties in three different packaging sizes, Penne Rigate, Fettucine and Rigatoni.
The pastas are packed in clear plastic tubes with a simple label on the side and this design works great with the dark chocolate pasta. The design is made by Mary-Frances Cacciatore from Montreal. You can see more photos from this Pasta Dolce Concept here and more of the work by Mary-Frances here.