Penne Pasta with Salsiccia and Tomato Sauce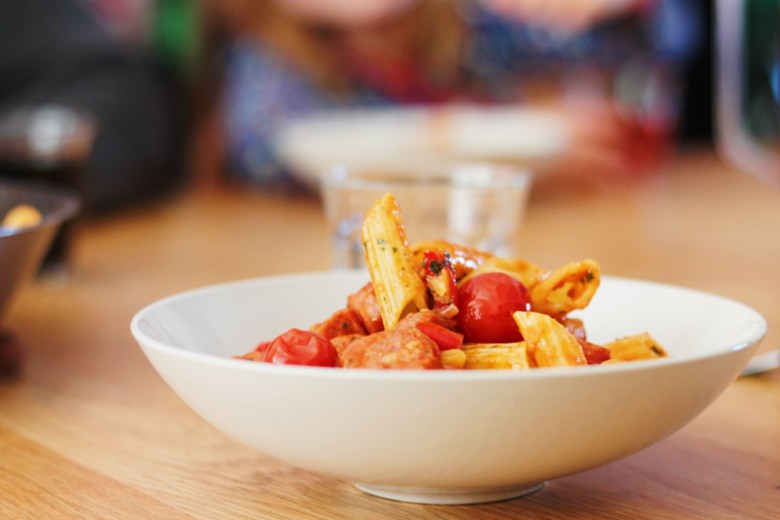 One of the best ways to use fresh Salsiccia, try this quick and simple recipe for Penne Pasta with Salsiccia and Tomato Sauce.
When in doubt use Salsiccia, that should be a saying and there is a chance it will be after you've tried this recipe for Penne Pasta with Salsiccia and Tomato Sauce. Salsiccia is an Italian pork sausage that sometimes also can be called Italian sausage. You normally buy it raw and cook it whole and eat it like a normal sausage. But since it is raw you can also chop it and use it as you would ground meat in a lot of different ways.
The way I am using it in this recipe is just that, it is super simple but since the sausage is already packed with flavor you will get a totally different sauce than if you would have used ground meat. Usually you can find some different styles or flavors of salsiccia. Fennel or anise is the most common one but there can also be other types of herbs and hot varieties. I prefer the fennel one but all works fine.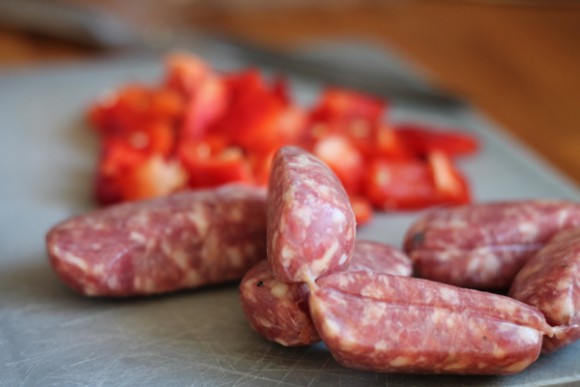 Now this recipe is like mentioned super simple and that is precisely the point. This is one of those recipes that you can use when you aren't really interested in cooking. I promise that you'll like this better than that take-out you might have settled for otherwise.
Another added bonus is that this is a very cheap recipe to make, sure the salsiccia could be a little bit pricy but you don't have to use a lot to get all the great flavor. Other than that it's just cheap stuff.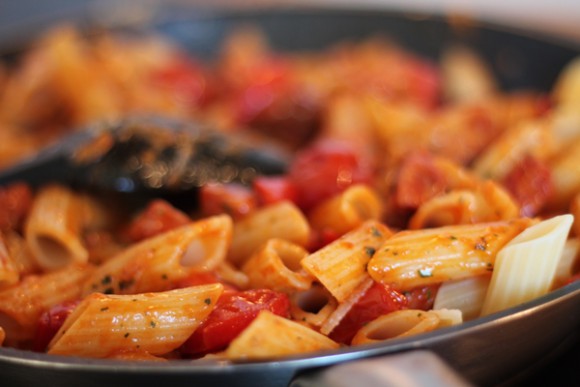 Penne Pasta with Salsiccia and Tomato Sauce
Serves 4
350g / 12 oz penne pasta
1 big red bell pepper
1 can of canned cherry tomatoes
4 cloves of garlic
1 tsp dried provencal spice
200g / 7 oz salsiccia sausage
Olive oil
Parmesan cheese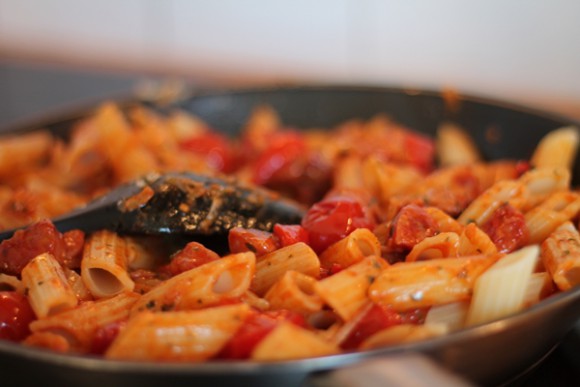 Chop the pepper, salsiccia and garlic. Add to a pan and fry until cooked. You don't have to use any extra oil or other fat because once the cooking starts the fat in the salsiccia will be enough. Add the provencal spice, if you don't have any you can replace it with some other dried herbs like basil, oregano or parsley. Add the canned tomatoes and leave to simmer on low heat for about 20 minutes.
Boil the pasta in salted water but drain it before it is fully cooked. Then add the pasta to the sauce and let it simmer for about one minute. Serve with some parmesan cheese and a salad on the side.