Meet Perfecte Rocher of Tarsan i Jane, Seattle in our Chef Q&A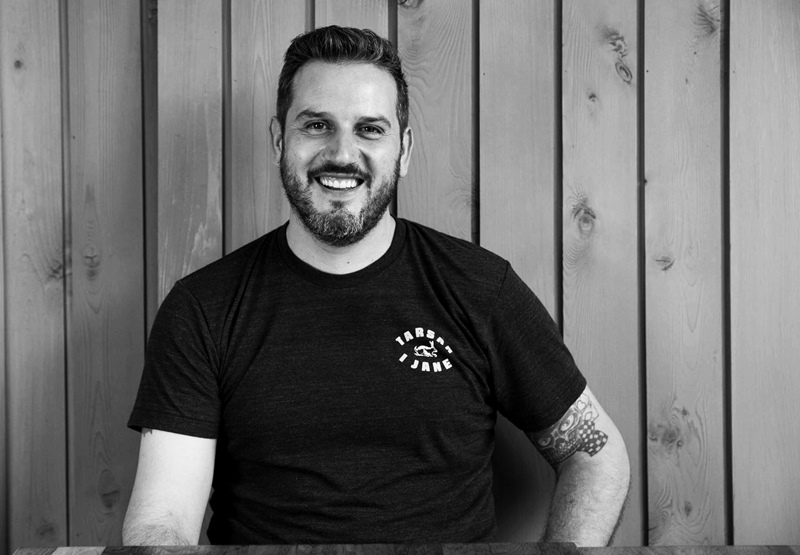 Perfecte Rocher is the Chef and owner of Tarsan i Jane in Seattle. Meet him in our Chef Q&A in a talk about punk rock, Paella and why Seattle is such a great food city.
Perfecte Rocher grew up in a small village close to Valencia, Spain. He spent much of his childhood in his mothers and grandmothers kitchens. This is what eventually led Perfecte Rocher into a career in food.
After traveling through a big part of the world while cooking he has now landed in Seattle together with Alia Zaine, a butcher, cook as well as Perfecte's partner in business and life.
You were brought up in your family's restaurant Tarsan in your hometown Villalonga, Spain. Was there ever a different career path besides food?
It's true, I grew up in my family's (on my father's side) restaurant, Tarsan and under the guiding hand of my mother and grandmother in their kitchens.  Food was a huge part of my childhood, however, I wanted nothing to do with it. I was a punk rocker. I started a band with my best friends when I was 13 and moved to London when I was 17 to record two albums. We toured all over Europe.
I returned to working in restaurants out of necessity, because it was work that I knew.  It wasn't until one of my chefs told me, "you need to make a decision, music or cooking because you can't do both." I found a new appreciation for food and realized how far you can go in a kitchen after working in my first Michelin starred restaurant. I decided this is the career for me.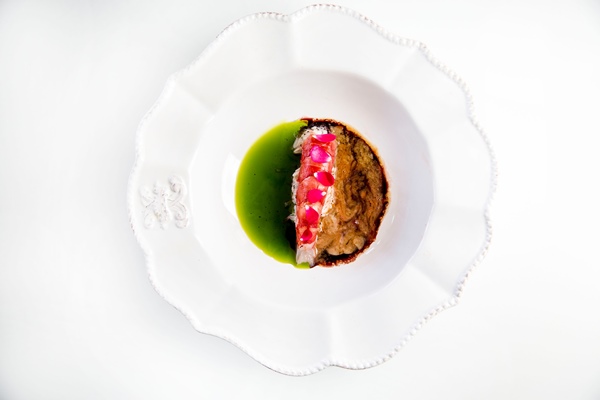 Your food is based in the Valencian tradition from Spain but now also naturally influenced by your time in the US, how would you say it has developed since you left Spain?
I've always known what kind of food I wanted to make—Valencian. I'm very proud of my Valencian roots and at the same time I am a world traveler. I have worked and cooked in restaurants all over Spain, in the UK, in China, across the US.  
My food as a result has become more worldly.  I like to take inspirations from everywhere I've been. I think a chef needs to have knowledge about what is happening with food around the world, but it is paramount, to use what is around you and apply your wealth of knowledge to that to create something that is extraordinary and unique.  
You can taste my Valencian roots in my food, but the food I am serving at Tarsan i Jane is not Valencian, it's a modern take on Valencian cuisine applied to the Pacific Northwest.
We can't talk about your food without talking about Paella, a dish you've built yourself a reputation for in the US. Why is it so great and what is the most common misunderstanding about it?
Paella is one of the most important dishes in Valencia, it is also one of the most misinterpreted dishes in the world. I come from a small village in Valencia where changing one ingredient in the paella could get you kicked out of the village.  
Traditional paella needs to be a very thin layer of rice, only several grains thick with a limited amount of set ingredients all cooked together over wood fire.  Traditional paella never has peas, chorizo, or piquillo peppers. It's forbidden to mix seafood and meat with the exception of eel and duck.  To answer this questions fully, we will need hours.
I think this unwillingness to accept change is great on one hand because it allows traditions to remain traditions while on the other hand it stagnates innovation. At Tarsan i Jane we pay homage to traditional Valencian cuisine Sunday's where we serve a 5-dish pre-set menu featuring paella. Thursdays through Saturdays are dedicated to my passion project where innovation is the goal.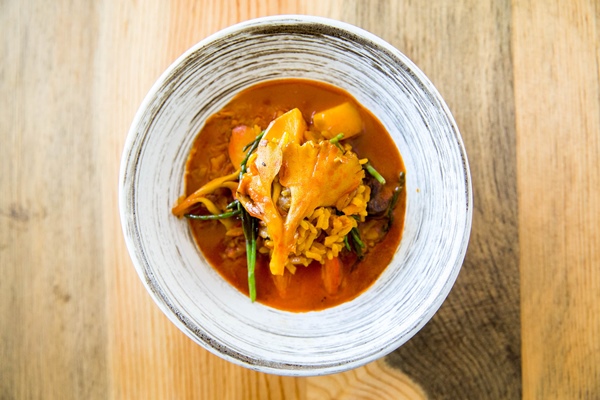 Besides Paella which are the most known dishes from Valencia outside Spain?
All i pebre d'anguiles, arròs amb fesols i naps, bunyols de carabassa, arròs al forn (one of my most favorite dishes), espardenya, fideua, arròs a banda, arròs amb crosta, pebreres farcides d'arròs amb tonyina negra, coques, putxero….are some of the most known dishes from Valencia.  In addition to all the delicious dishes from Valencia, there are over 200 different traditional rice dishes.
You and your partner relocated from Los Angeles to Seattle to open Tarsan i Jane, how come you chose Seattle?
We visited Seattle 6 years ago and promised ourselves that one day we would move here. We feel in love with the way of life here. We appreciate how socialized and conscious of the environment Seattleites are. We also love how readily accessible nature is here. You can hop in your car in the city and within a short drive you can be in the mountains to forage for berries, mushrooms, wild herbs, you name it!
We spend our "days off" visiting the mountains to seek inspiration for new dishes and visiting the farms we purchase product from.  Unfortunately, this is not feasible in most big cities. Seattle has the potential to become the next best food city.
Do you have a process when creating new dishes?
Yes, but it all depends on the day and what product I am focusing on. One thing that has become very popular at Tarsan i Jane is single ingredient focused dishes. I really like making these dishes because I get to show how much one ingredient can do.
I also like to make dishes that celebrate an ingredient that people have consistently told me they don't like, but make it in a way that they will like it.  We serve a dish called pastenaga at Tarsan i Jane that follows both of these ideas. Pastenaga, or carrot in English, is a dish of carrot in textures—carrot confit, carrot purée made with our house kimchi, carrot guacamole (no avocados were harmed in the making of this guacamole), house black garlic, Idiazabel cheese, and crispy kale.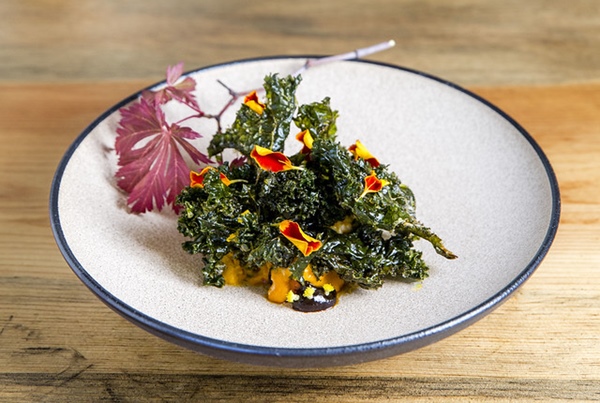 Have you found any new ingredients in the US that you've learned to love?
I have found many ingredients here that I love. The US is a melting pot of so many different cultures. One of my favorite things to do is visit international markets. I frequent them often and drive Alia crazy with all the new ingredients I come home with to experiment with.
Is there any ingredient that you don't like?
No, I like everything.
Do you travel back to Spain to keep up with what's going on there when it comes to food?
Yes, all the time. I like to go back to my village, Valencia, Barcelona, the Basque Country, and if I have time- the other parts of Spain.
Where do you like to travel for culinary inspiration?
Catalunya and Valencia, Basque Country, London, San Francisco, New York, and Los Angeles.
You have a history in playing punk rock, do you still play?
No, the kitchen takes all my time. To play the guitar, you need a lot of time like working in a kitchen. I wish one day I can play again.
Do you have any great bands you can recommend?
Too many! I love so many different styles of music from punk rock to jazz to African jazz to heavy metal to rock n' roll…Fella Kuti, Sixto Rodriguez, The Clash, The Rolling Stones, Miles Davis, Charlie Parker, MC5, Iggy and the Stooges, Metallica, Pantera, Elvis, Little Richard, Larry Williams…I could go on and on!
I love music. I think playing music is very similar to working in the kitchen, it's never finished.  You can spend your whole life playing and still know nothing in the grand scheme of things.
Do you have a guilty pleasure in food, and if so what is it?
Gummy bears, I love them.
Who do you think we should interview here at Ateriet?
Ricard Camarena- he's a good friend of mine and an amazing Valencian chef.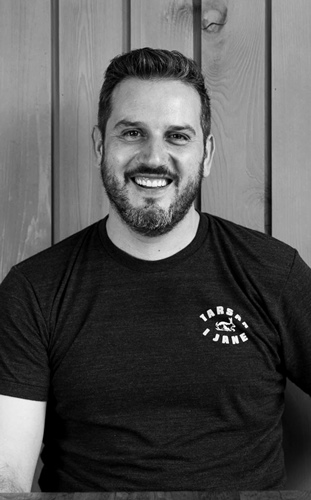 Name: Perfecte Rocher
Age: 38
Birth city: Valencia, Spain
Current city: Seattle
Favourite quote: "Tota política que no fem nosaltres, sera feta contra nosaltres." –Joan Fuster
Translation: "Any policy that we do not make, will be made against us."
About Tarsan i Jane
Tarsan i Jane opened earlier this year by Perfecte Rocher and partner Alia Zaine. They offer a set menu of 7 or 9 courses. The food is modern Valencian influenced by the Pacific Northwest. Besides the set menu Tarsan i Jane also offers a weekly paella menu.
Tarsan i Jane is located on 4012 Leary Way NW, Seattle. For more info and reservations visit Tarsan i Jane online.
About Ateriet's Chef Q&A
Chef Q&A at Ateriet is my way of giving great chefs the respect they deserve. I interview chefs from all over the world with the stuff I want to know. If you know a chef I should interview or have any other suggestions don't be afraid to let me know, just leave a comment or send an email. You can read my other Chef Q&A's here or explore all these great chefs and restaurants in my Chef Q&A Map, you'll find it here.