Pickled Pear with Blue Cheese and Rye Bread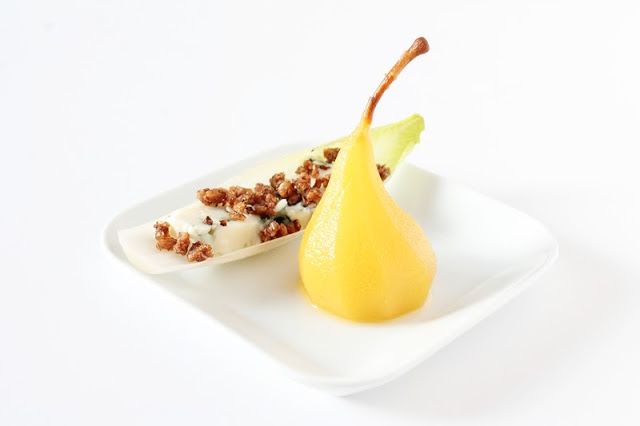 Try this delicious Pickled Pear with blue cheese and rye bread. It's the perfect cheese dish to try when pears are in season.
Pears are in season and if you're lucky enough to have your own tree then you will probably have too much, so why not make a pickled pear dish.
I only served this kind of sweet pickled pears as an dessert before, usually with whipped cream or vanilla ice cream. But since I got my hands on some high quality blue cheese I decided to try it with the pears. With some fresh slightly bitter endive and some roasted rye bread it turned out great. The recipe is for ten pears but if and they will keep for a while in the fridge so make some extra. They will come handy.
I also added some measurements for this recipe because when it comes to pickling it's hard to adjust flavors once it's done.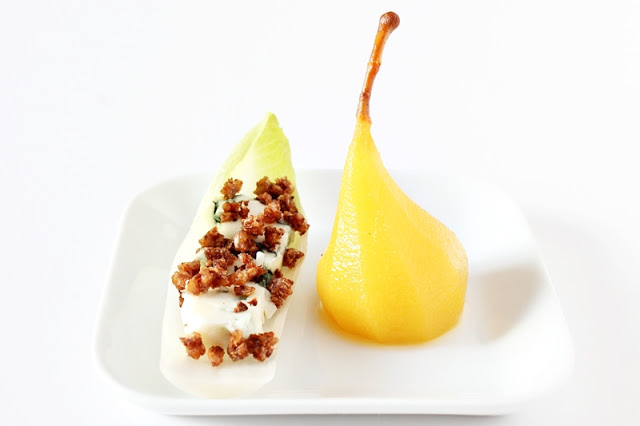 Pickled Pear with Blue Cheese and Rye Bread
10 fresh firm pears
1 lemon
250 grams of sugar
a pinch of saffron (used mainly for colour, can be excluded)
1 cinnamon stick
1 vanilla pod
200 ml white wine
1000 ml water
endive salad
rye bread
blue cheese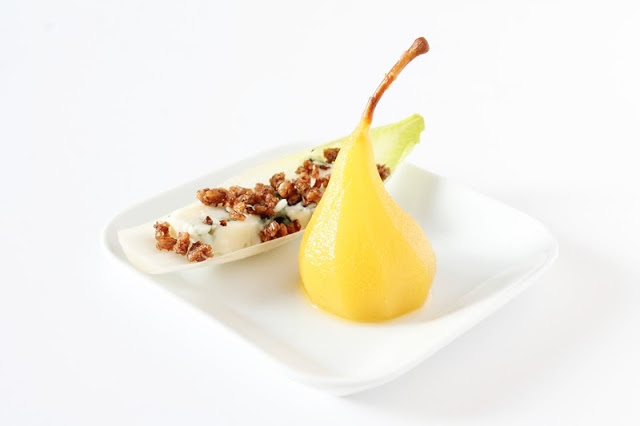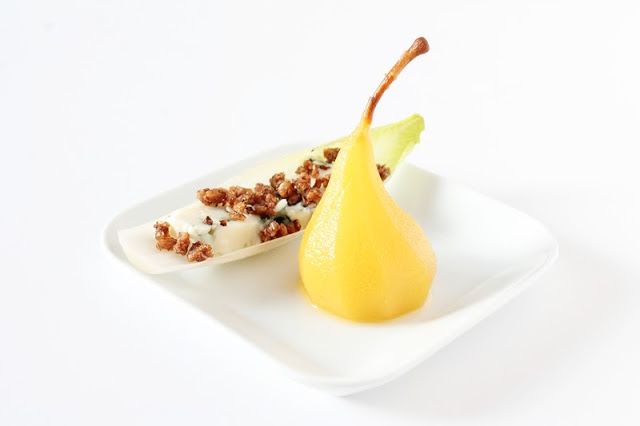 Cut away the bottom of the pears and peel them, put them in cold water together with some lemon juice to keep them from browning.
Combine sugar, cinnamon stick, vanilla pod, water, white wine, saffron and bring it to a boil. Add the peeled pears and simmer until cooked through, it usually takes about half an hour. Remove the pears from the heat and let cool in the liquid.
Rinse the salad and remove a leaf, trim if necessary. Cut a big piece of blue cheese and put on top of the salad. Dice some rye bread and toast in a dry pan until crunchy, put the bread on top of the cheese and serve.
If this recipe seems familiar it can because it has been previously posted here in a big article about blue cheese. Read it here.