Propercorn Crunch Corn Taste Test – Let's Try This Snack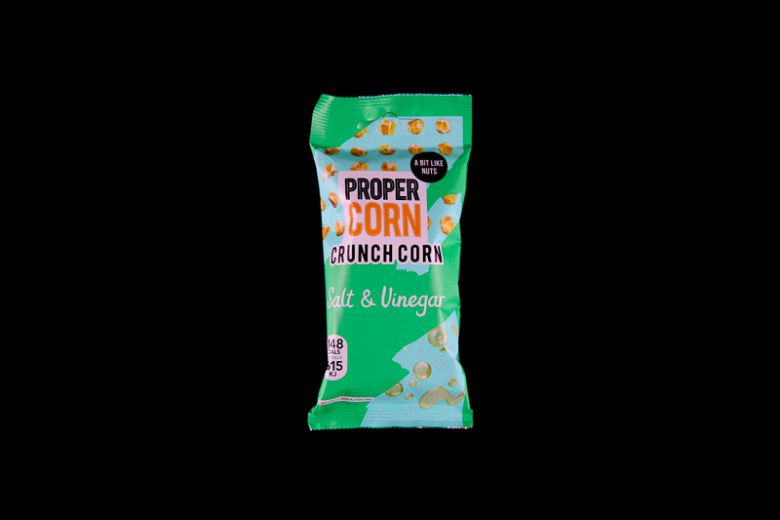 Let's put Propercorn Crunch Corn through the Taste Test. This is not the regular Propercorn Popcorn but a semi-popped variety called Propercorn Crunch Corn, let's see if they are any good.
Propercorn Crunch Corn is the semi-popped popcorn from the British popcorn Propercorn. I happened to stumble upon these recently and I haven't tried them before. So what better time than to put it through the Taste Test? I've tried the regular Propercorn a few times before and they will be tested on the original product here eventually but for now let's just go with this crunchy variety. But as always let's take a quick look at what Propercorn is.
What is Propercorn?
Propercorn is a British popcorn brand that was founded in 2011 by Cassandra Stavrou and Ryan Kohn. The company is based in London and all products from Propercorn is developed and produced in England. Since launching Propercorn have become a big hit and you will find it in more or less every store you happen to stumble into in Britain.
The brand is also expanding outside Britain and I've found Propercorn on airports, on flights and just the other day in a candy store in Sweden. Before starting Propercorn Cassandra Stavrou was and ad executive at BBH ad agency in London but quite to pursue her passion for popcorn. Good news for us popcorn lovers. Enough about that, let's move on to more important things. Like how good the Propercorn Crunch Corn are.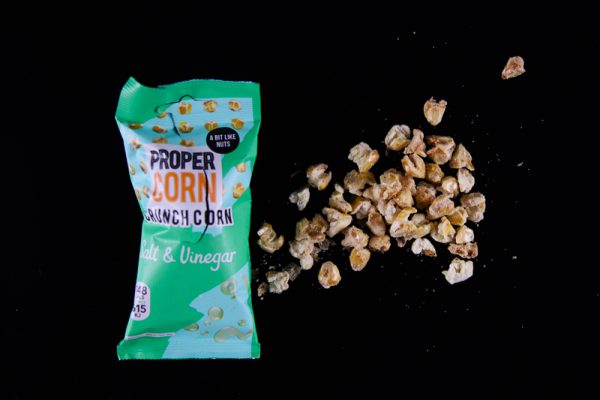 Propercorn Crunch Corn Taste Test
Like I already mentioned Propercorn Crunch Corn is a semi-popped corn. It's smaller than regular popcorn and the texture and crunch is more similar to toasted whole corn which you can find as a snack sometimes. Propercorn Crunch Corn comes in a few different varieties. I tried the Salt & Vinegar.
Design and Packaging
Propercorn Crunch Corn comes in small snack size bags of 30 grams / 1 oz. I had to find out that on the Propercorn website because it didn't really say on the bag, at least not so I could find it. The size is a perfect snack size and it works nicely.
The design is great with a clear pastel green with a matte finish. It looks modern and fresh. So far so good, let's move on.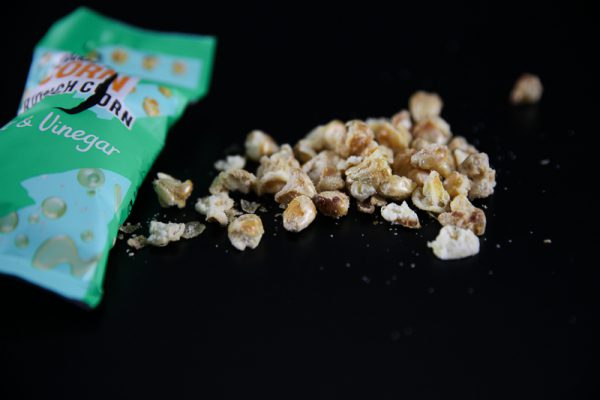 Ingredients
This is the full list of ingredients for Propercorn Crunch Corn.
Half-popped corn (65%), soybean oil, rice flour, natural flavourings, sugar, salt, dried spirit vinegar, dried barley malt vinegar, citric acid, malic acid, sea salt, dried Suffolk cider vinegar, rosemary extract.
This looks ok to me, nothing weird about it. Now for what really matters, what does it taste like?
Propercorn Crunch Corn Flavor
There are many great things about this snack but let's start with the bad stuff. First I tried the Salt & Vinegar one, if that is not your preferred flavor you won't like this. It comes with a sharp kick of vinegar which is great if that's your thing. Second bad thing is that once you've had a handful you will crave a cold beer. Lastly it is a bit dusty, some of the crunch will end up on your pants and fingertips, most likely both.
Now for what's good. The texture is perfect, a great crunch that is not too hard. Lovely flavor with that sharp vinegar kick. The size of the bag is perfect since I think this is the type of snack you will get tired of rather quick. But all in all a good product.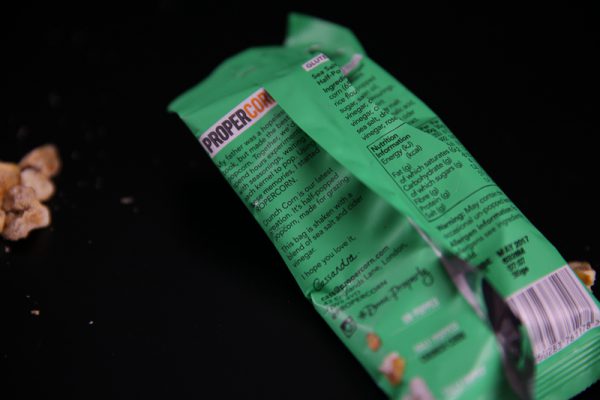 Taste Test Result
Nice snack, ok ingredients and a good packaging. Lovely flavor and nice flavor. With all things considered I'm giving the Propercorn Crunch Corn a 4 out of 5. Slightly bigger pieces and less crumble is what I think is missing. Still highly recommended.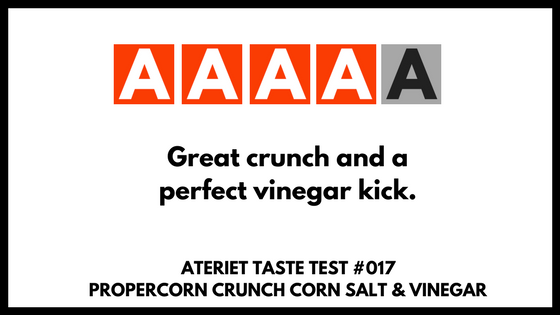 Info
Name: Propercorn Crunch Corn Salt & Vinegar
Brand: Propercorn
Bought: London, England
Produced by: Propercorn
Taste Test at Ateriet
Taste Test at Ateriet is what it sounds like. We test food and drinks from all over the world and rate each product. The result is a grade that rates from 1-5 where 1 is bad and 5 is outstanding. This is also the only category at Ateriet where we might write down a product or brand. For any taste suggestions, opinions or if you have a product you want us to try contact us via email. For all Taste Tests check out the full coverage here.