Pulled beef tacos with apple & fennel coleslaw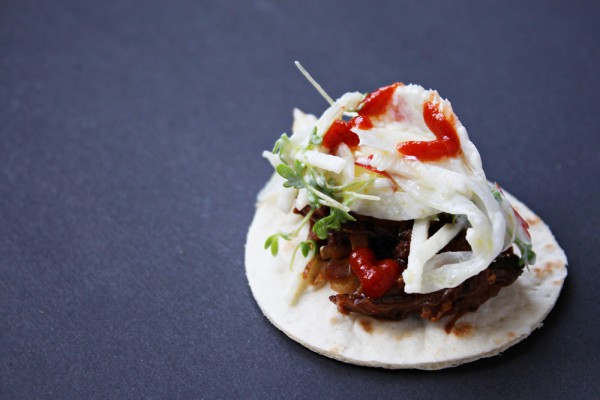 Pulled pork and pulled beef are great to put on tacos, the other day I´ve got some pulled beef left over from making tacos and decided to make some mini tacos and add a fresh coleslaw and a few drops of Sriracha sauce on top. I made my pulled beef in a clay pot with some chillies, onion, garlic and some steak sauce and it turned out great, of course you don't need to get a clay pot if you don't have one, just use any other pot with a lid that can be used inside an oven or you could roast the meat without any pot but I think it sometimes gets a bit dry when I do that.
The coleslaw is made with fresh apples, fennel, yogurt, mayonnaise and a little bit of cress. I use the yogurt the make it a little bit lighter in both fat and taste. If you´re not into fennel you can of course replace it with any cabbage you like. For the bread I bought regular wheat tortillas and cut them i nacho size pieces so the tacos would be small enough to eat in one bite.
Pulled beef tacos with apple & fennel coleslaw
beef, one big piece that´s good for slow cooking (I used chuck roll)
dried chillies, (I used ancho and cayenne)
garlic
steak sauce (I used Sweet Baby Rays)
onion
water
salt, pepper
fennel
apples
mayonnaise
yogurt
cress
salt, pepper
tortilla bread
Sriracha sauce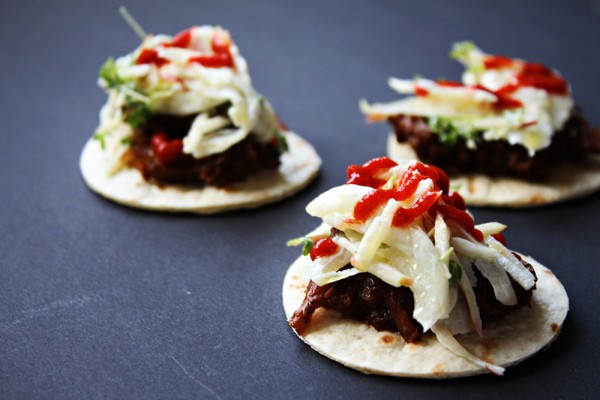 Chop the onion and garlic and add in a pot with the meat, chillies, steak sauce, salt and pepper, add a little bit of water and put the lid on. Place the pot in an oven and cook on low temperature (about 120°C / 250F) for 6-8 hours or until the meat is tender enough to pull. Once done pull the beef and add more chillies, salt, pepper and steak sauce if necessary.
Slice the fennel thinly and cut the apples in julienne, combine with equal parts yogurt and mayonnaise, add the cress and season with salt and pepper.
Cut the tortillas into small round pieces, add a spoonful of pulled beef and top it off with the coleslaw and a few drops of Sriracha, serve.