Quick Fennel Gnocchi with Garlic, Parmesan and Fennel Dill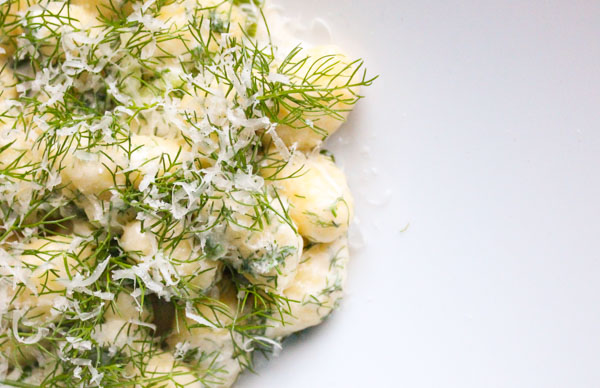 Sometimes it's great to use shortcuts when cooking. Try this quick fennel gnocchi recipe, it uses store bought gnocchi and you can get it done in less than fifteen minutes.
So today I'm making some Quick Fennel Gnocchi with a creamy garlic and fennel sauce. Grated Italian Parmigiano-Reggiano and some fennel dill. That doesn't sound quick at all but here's the secret.
I bought the gnocchi. You see even if you have the highest of ambitions in the kitchen and you want to do everything from scratch you have to realize that sometimes time simply isn't on your side. This is one of those times.
Simply go to the store or your local deli. Ask what the best non flavored gnocchi are and get some. Then all you have to do is make this quick sauce and you've got yourself a great dish.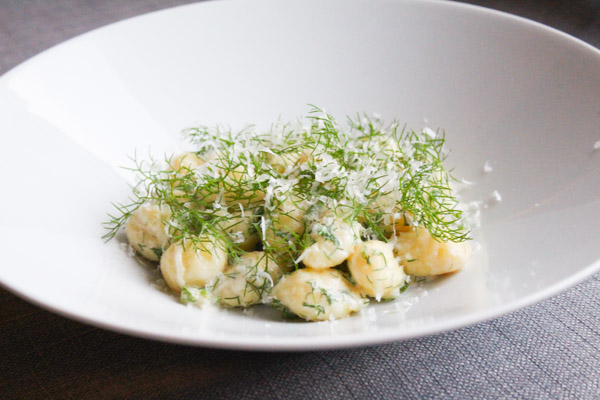 About the Gnocchi
The gnocchi I got was called Rana and I got the unflavored kind. Unflavored doesn't mean unseasoned, just that there aren't any additional flavors like basil or spinach. If you have the time there is course nothing that stops you from making your own gnocchi. Just make sure you have the time and patience. Now let's make this quick recipe.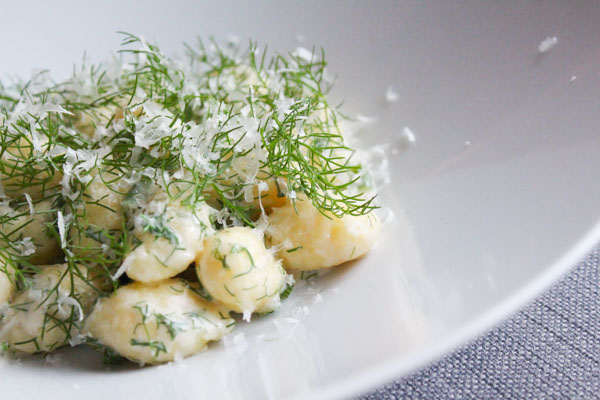 Quick Fennel Gnocchi with Garlic, Parmesan and Fennel Dill
Serves 4 as an appetizer
2 small fresh fennels with the dill still on
400g / 14 oz store bought gnocchi
2 dl / 0.85 cups heavy cream
2 cloves of garlic
1 thumb size piece of Parmesan cheese
2 tbsp olive oil
Salt, pepper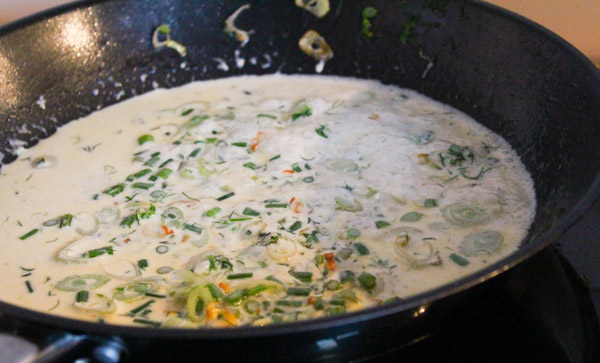 First rinse the fennel. Then pick away all the dill and set aside. Then chop the fennel bulb. Peel and slice the garlic cloves. Bring a pot of water to the boil and add salt.
Add the olive oil to a pan and add the garlic. Cook the garlic on medium heat until it's soft but not browned. Add the fennel and continue to cook for a few minutes.
Add the cream to the pan and season with salt and pepper. Leave to simmer on low heat.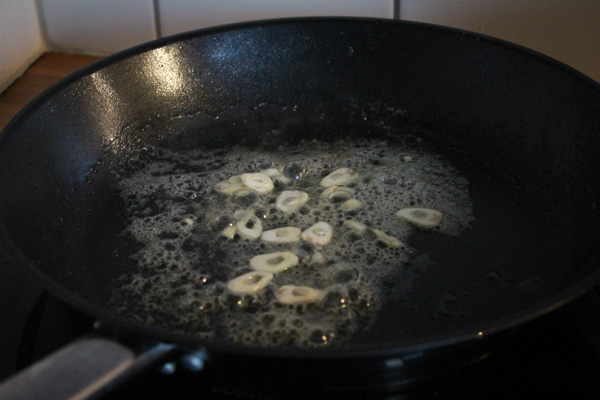 Now it's time to cook the gnocchi. Add them to the boiling water and let cook a little bit shorter than according to the instructions on the packaging. My gnocchi was suppose to cook for four minutes, I only left them in for about two minutes. This is because the gnocchi will keep cooking after you combined with the sauce. If you boil them for four minutes they will be overcooked when it's time to eat. The same principle goes for regular pasta.
Once the gnocchi is cooked drain them and then add to the pan and combine with the cream.
Plate the gnocchi with the sauce onto four deep bowls. Add the fennel dill on top and grate the Parmesan on top. Serve immediately.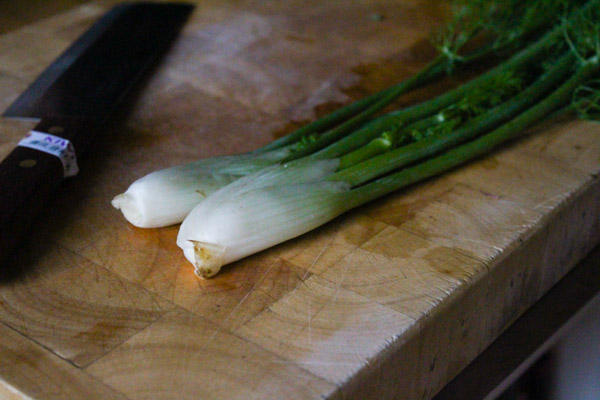 Other ways of using this recipe
I served this as an appetizer. You can of course make a bigger batch and serve it as a full meal. Maybe with a piece of meat on the side or a nice salad if you want to keep it vegetarian. The sauce is also great for regular pasta. Good luck.