Quick pickles with Cucumber and Fennel that you have to try!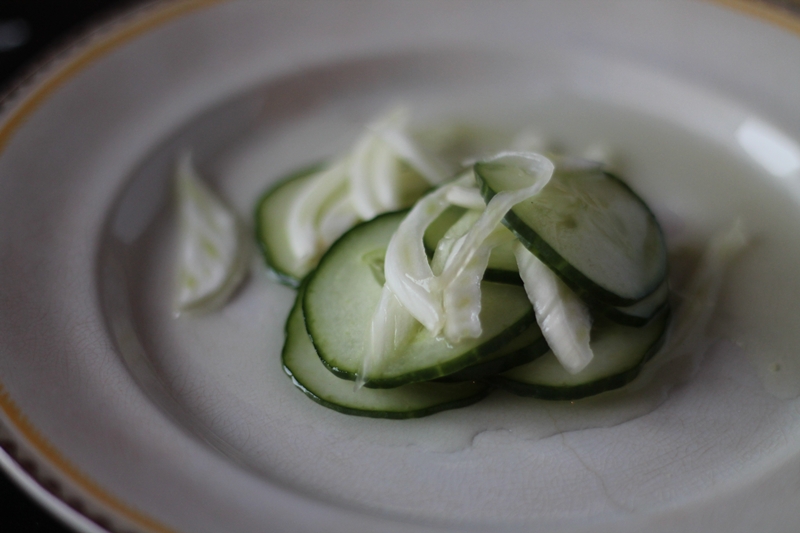 Try these Quick pickles with cucumber and fennel. They will put that extra twist on almost any meal.
Quick pickles is one of my favorite things to serve to almost any meal. There are great ones to buy but nothing beats the feeling of serving some home made! This recipe is partially stolen from the Momofuku cookbook, a great book for more recipes besides quick pickles so if you are looking for more tasty Asian styled food i highly recommend it.
Quick pickles with cucumber and fennel
Serves 4-6 people as a side
1 cucumber
1 big fennel
2 teaspoons salt
2 tablespoons sugar
Rinse and slice the cucumber, rinse the fennel and cut it in half and remove the stem. Slice the fennel in thin slices, combine the cucumber and fennel with the sugar and salt and place in a plastic container with a lid. Shake the container so the sugar and salt gets evenly spread on the vegetables. In a few minutes the sugar and salt will melt and start to flavor the vegetables.
The pickles are ready to eat in two hours, before serving check the taste, if it is too salty or sweet you can rinse the vegetables quickly in cold water. The pickles can be prepared a day ahead and will last for a few days if kept cold.
Some other great and simple quick pickles
Since pickles and especially home made varieties have become a favorite thing for me I have got some other recipes you can try. These are slightly more complicated but easy enough for anyone to make.
The first one I recommend is my pickled white onions, get the recipe for those here.
You can also make that same recipe with red onions and serve it for a taco. I've been putting out some taco recipes lately and one of them have the pickled red onions as a vital part, get the full taco recipe here including the pickled red onions.
At last you can of course pickle other stuff as well. Try this simple recipe for pickled carrots, it's truly delicious.