Red Pepper Walnut Dip with Crostini
Try my recipe for Red Pepper Walnut Dip with Crostini, you'll make this more than once.
This recipe for Red Pepper Walnut Dip is a new for me but dips are easy. Roast, boil or cook stuff you like, blend it and start dipping. Dips are also always appreciated and a great go to food for when you want something simple that easily can be eaten in front of the TV but don't go for anything ready made. This dip is a little bit inspired by the Southern Mediterranean, walnuts, olive oil, grilled or roasted peppers and smoked paprika. It's got a rich red pepper flavor with a slight burnt taste, in a good way.
The recipe is set for four people but if you're gonna make do some extra, no one has ever complained over too much dip have they?
I use smoked paprika powder from Spain in my recipe, I bought mine in Spain but I have found it in many other countries so hopefully you can find it in a good grocery store. The paprika is great for many other things besides this dip so consider it an investment.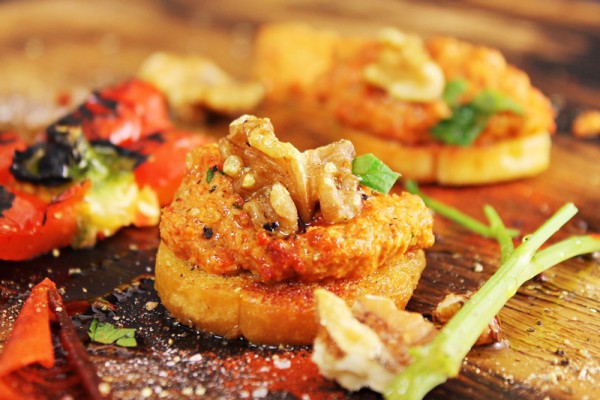 Red Pepper Walnut Dip with Crostini
Serves 4
3 red peppers
1 tsp vegetable oil
3 tbsp olive oil
2 cloves garlic
1 handful walnuts
1 baguette
A few leaves of parsley
salt, pepper
2 tsp smoked paprika powder
1 tsp olive oil, for toasting the bread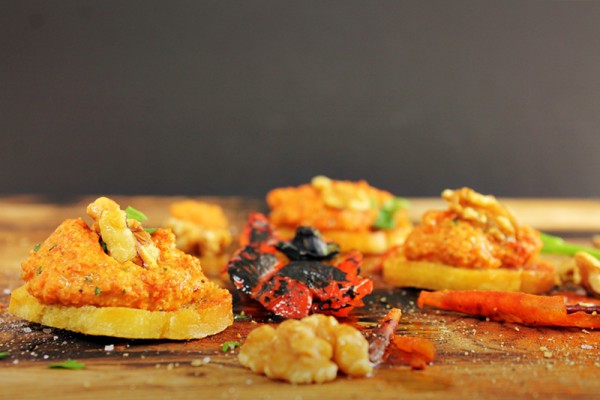 Brush the red peppers with the vegetable oil and roast on high heat in the oven for about ten minutes. Remove from the oven and leave to cool, then deseed and peel the peppers. Blend the peppers with olive oil, walnuts, garlic and parsley until it´s a rough paste. Remove from the blender and season with salt, pepper and smoked paprika powder.
Slice the bread and roast in a pan with a little bit of olive oil and salt. Add the pepper dip to the crostini and decorate with a walnut on each crostini.