Red Plums Glazed with Vinegar, Parma Ham & Goat Cheese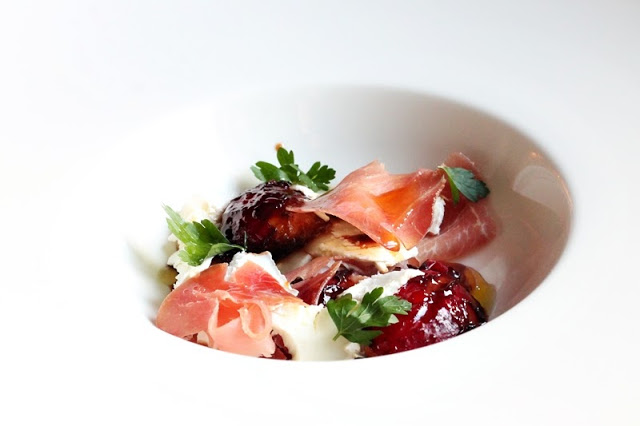 Try these red plums that have been glazed with balsamic vinegar, parma ham and goat cheese. A great way to use those red plums for something else than dessert.
This is a great and unusual way to use red plums, try to get firm and red ones because the won't get too soft when heated with the vinegar. The combination between sweet and sour plums the salty ham and creamy goat cheese is a great one that you can apply to other dishes like salads or bruschettas.
It also works well as a side to grilled meats, if you think it would get too heavy on the meat you can exclude the Parma ham. You can also try the same cooking technique with other fruits like peaches, cherries and apricots.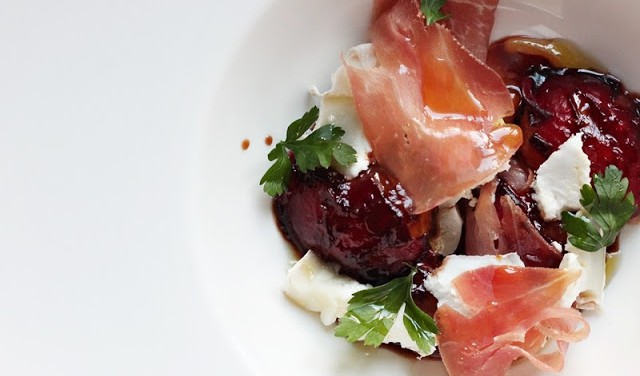 Red Plums Glazed with Balsamic Vinegar, Parma Ham and Goat Cheese
Serves 4 as an appetizer
8 slices Parma ham
3 tbsp balsamic vinegar
8 fresh red plums
120 gram / 4 0z goat cheese
parsley
olive oil
2 tbsp sugar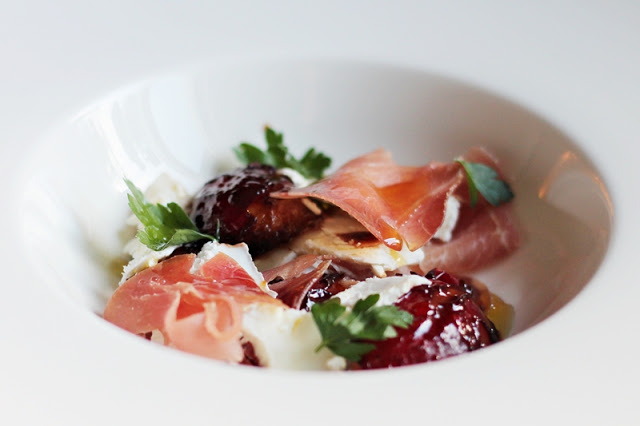 Cut the plums in half and remove the pit. In a pan add a the sugar and let it melt, add the plums flesh side down and let cook for a few seconds. Add the balsamic vinegar and bring it to a boil, add a splash of water in case it gets too dry. Then you can turn the heat down and slowly let the plums simmer for a few minutes. Plums and stone fruit cook quite fast so don't leave it in for too long because they might get too mushy in that case.
On a plate combine the Parma ham with the plums and the vinegar from the pan with crumbles of the goat cheese. Add a few leaves of parsley.
I've put together another post about serving Parma Ham and a few tips and tricks that could come useful that you can check out here.