Reval Chocolate Packaging Design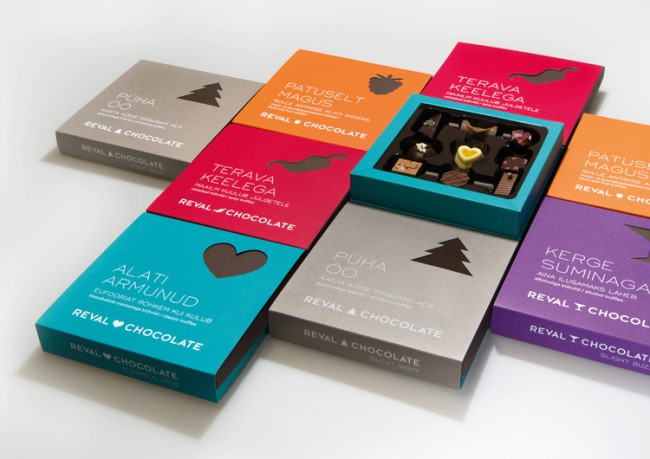 Reval Chocolate is an Estonian chocolate brand that takes an contemporary grip on classic chocolate truffles. With great packaging, beautiful truffles with fun and exciting flavors they are bound for success.
Reval Chocolate comes in six different boxes each with a different theme, this theme is also used in the packaging which comes with its own color and a symbol which will represent the flavor profile in each box.
For example the box of spicy truffles comes in red and with the shape of a chili fruit, the name of the box is "With a sharp tongue", the flavors represented in the box are pepper, chili, ginger to name a few. Each box is filled with nine different truffles that is just as beautiful as the design of the box.
AD Angels are the name of the Estonian agency that has created the packaging for Reval Chocolate. Reval Chocolate are sold mainly in Estonia but hopefully it will spread to somewhere near you, until then we kindly ask Reval to ship over a few pounds of chocolate, you know, for tasting…
The six themes of the chocolate boxes are
ALWAYS IN LOVE / More euphoria than one can take / classic truffles
WITH A SHARP TONGUE / The world belongs to the brave / spicy truffles
SLIGHT BUZZ / It keeps becoming more and more beautiful / alcohol truffles
SINFULLY SWEET / You are always forgiven / berry and fruit truffles
O HOLY NIGHT / The sweetest time of the year / truffles with a Christmas feeling
YOU ARE SO CUTE / I'd give all the flowers to you / truffles for your Valentine"