Meet Romain Avril of Lavelle Restaurant in Toronto in our Chef Q&A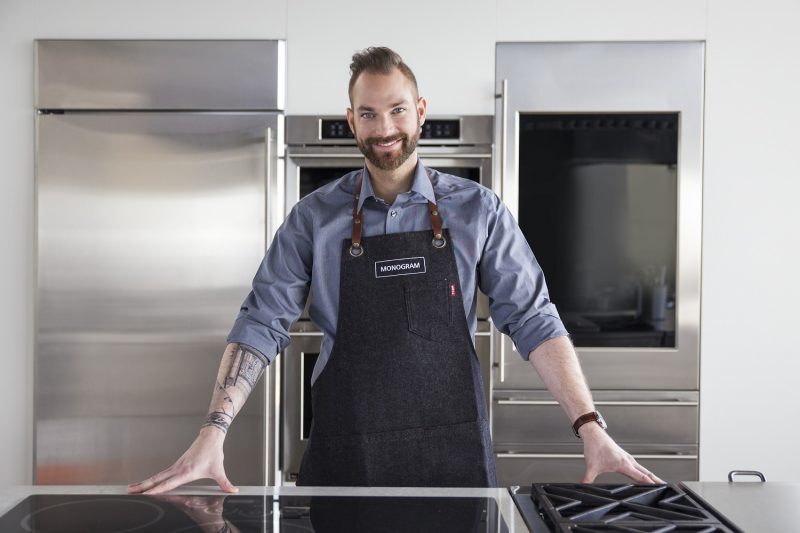 Romain Avril is not only the Chef at the rooftop restaurant Lavelle in Toronto. He is also the first ever Executive Chef for Monogram Canada, the luxury appliance brand. I got the chance to ask Romain Avril both about his roles as a Chef, why he choose to become part of the food world and about the Toronto dining scene, keep reading.
Romain Avril was born in France where he also started out his career in the kitchen.  After working in restaurants holding both one and two Michelin stars Romain eventually relocated to Toronto where he has worked in a number of great restaurants.
Now Romain Avril is the Chef at Lavelle Restaurant in Toronto and has partnered with Monogram Canada as their very first Execute Chef.
You've decided early to become a chef, what do you think attracted you to the profession?
To be honest, It was a part of me – I just knew. There was no other option in my mind.
 If not a chef, what other profession would you love to try?
That's a tough one! As a kid, I wanted to be an archeologist. Maybe a teacher, but in all honesty, I can't envision myself in any other profession.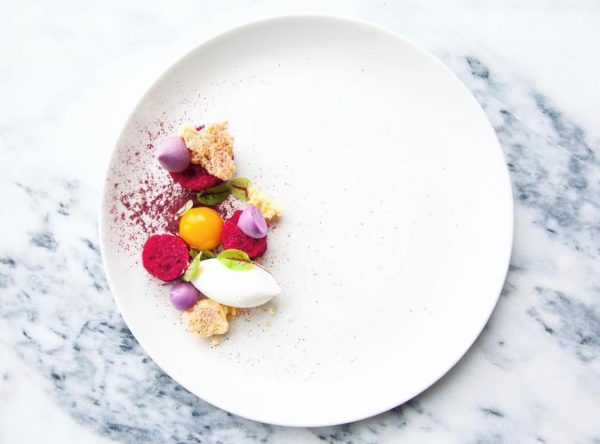 You were born in started out your career in France but live and work in Toronto, what made you want to relocate there?
After I graduated from university, I moved to the UK. After 4.5 years of living and working in the UK, I wanted a new challenge. I visited Montreal when I was 18 and I loved Canada, so my new choice of venture was quickly made.
Do you still go back to France often?
I have been back twice in the last 2 years, once to show my country to my fiancé, and the second time to ask her to marry me. Before that, I did not go back in the previous 4 years. I do want to try to go every year moving forward.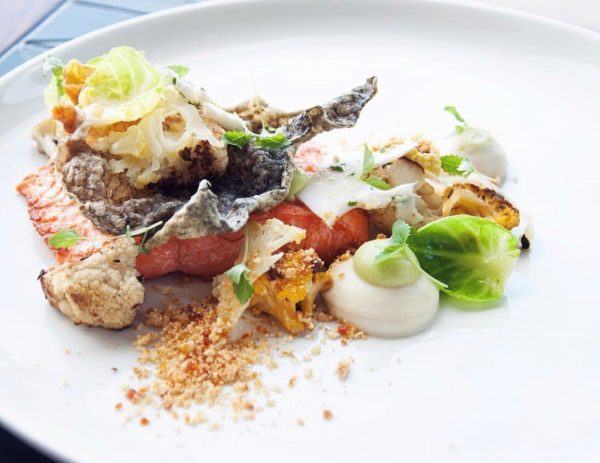 How is the dining scene in Toronto, what do you love about it and is there anything missing?
It's a scene in constant evolution. When I first came to the country, I found it a little "simple" and I don't think Torontonians were ready for fine dining. The dining scene has changed drastically over the past 3 years. A lot of chefs are pushing themselves to put Toronto on the map as a legitimate culinary destination.
 How would you describe your cuisine?
High-end, modern French/Asian fusion, elegant, light, high in acids and feminine. Delicious and beautiful to look at.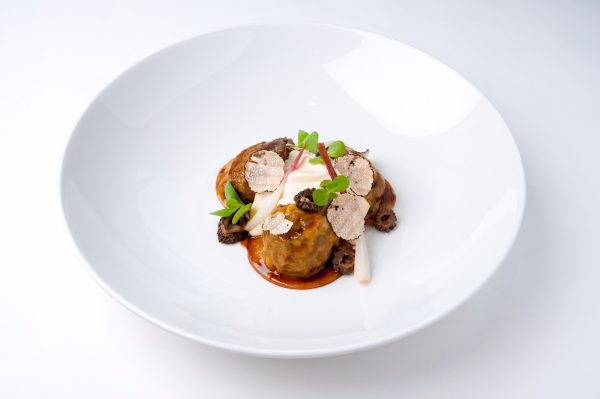 You recently partnered with luxury appliance brand, Monogram Canada. What prompted this partnership?
I was excited to share my passion for excellence, dedication to the culinary arts and love of contemporary and classic design with a brand that cares just as much as I do.
I am fueled by a relentless attention to detail, and the same artisanal spirit is echoed in every handcrafted Monogram appliance. Monogram appliances embody sophisticated styling and exceptional craftsmanship, making them the ultimate luxury.
Can you tell us more about your new role as Monogram Canada's Executive Chef?
Monogram's brand platform is Love your Craft. I am excited to show the world my passion for my craft, which is cooking, by promoting the level of excellence and quality of these appliances. Not only will I be sharing the word of how the brand is driven to give you the best home-cooking experience, but I will be hosting dinner events to show off the quality of the appliances.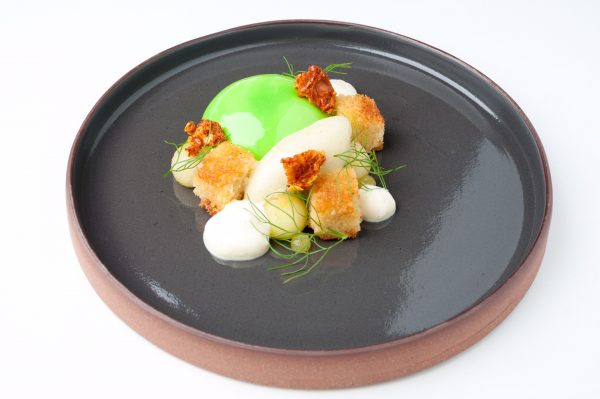 Your main focus is at the restaurant Lavelle, can you describe the food and restaurant in a few words?
I am very passionate about the food, which is modern, refined French/Asian cuisine. I would describe the restaurant as a beautiful up-in-the -sky venue with impressive views and an amazing patio.
Do you have a process when creating new dishes?
When creating a new dish, I let my emotions and feelings surrounding a dish take the lead, it is not a consciously thought-out process. Sometimes I will draw inspiration from a childhood memory, or something I saw that resonated with me. Afterward, I will apply my knowledge and add flavors and textures.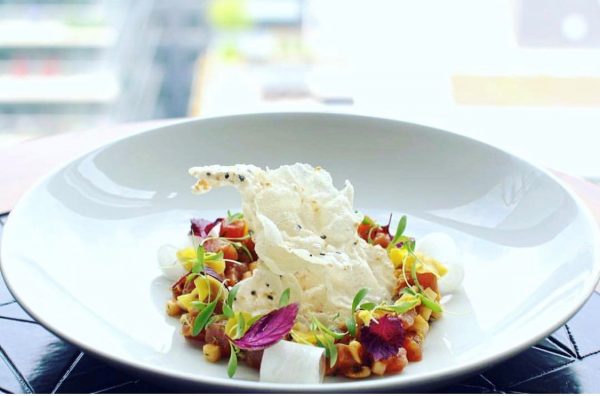 Do you have a guilty pleasure in food?
I love ice cream!
What is your favorite culinary destination?
France (sorry).
Do you have a passion for something not involving food?
Soccer and sports in general.
Who do you think I should interview at Ateriet?
Sean MacDonald
Barbode Soudi
Colin Rayner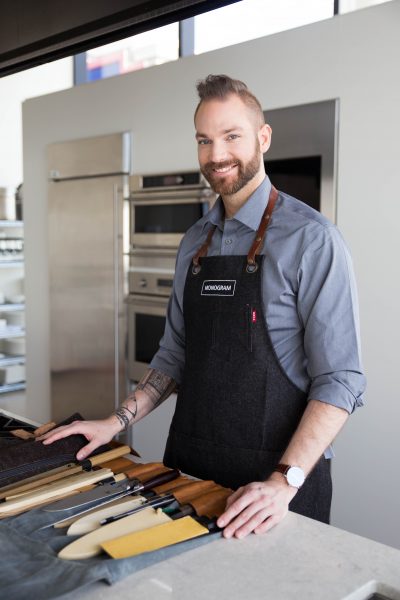 Name: Romain Avril
Birth city: L'Isle Adam
Current city: Toronto
Education: Degree in Chinese and French culinary arts
Favorite quote: "I don't cook to feed people, I cook to take you on an emotional journey through food"
Thank you Romain Avril for your time. To keep up with Romain Avril you can connect on social media. You'll find him on Twitter, Facebook and Instagram. Read more about Lavelle Restaurant and Monogram Canada below.
About Lavelle Restaurant
Lavelle is a rooftop restaurant and bar located in Toronto's King West neighborhood. The restaurant sits 16 stories above the city where Romain Avril offers his modern French/Asian fusion. Besides great food, there is also a full lounge bar, outdoor pool and a 360-degree view of Toronto. For menus and reservations visit Lavelle online here.
About Monogram Canada
Monogram Canada is a premium kitchen and appliance brand. To highlight their high quality and attention to every last detail they partnered with Romain Avril. To find out more about what Monogram has to offer you can check them out online here or via Twitter, Facebook and Instagram.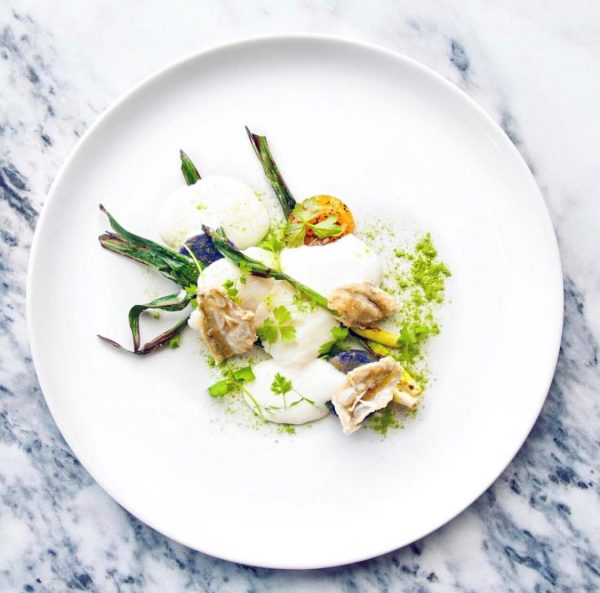 About Ateriet's Chef Q&A
Chef Q&A at Ateriet is my way of giving great chefs the respect they deserve. I interview chefs from all over the world with the stuff I want to know. If you know a chef I should interview or have any other suggestions don't be afraid to let me know, just leave a comment or send an email. You can read my other Chef Q&A's here or explore all these great chefs and restaurants in my Chef Q&A Map, you'll find it here.