Rum Packaging Design Worth Looking At – +40 Great Designs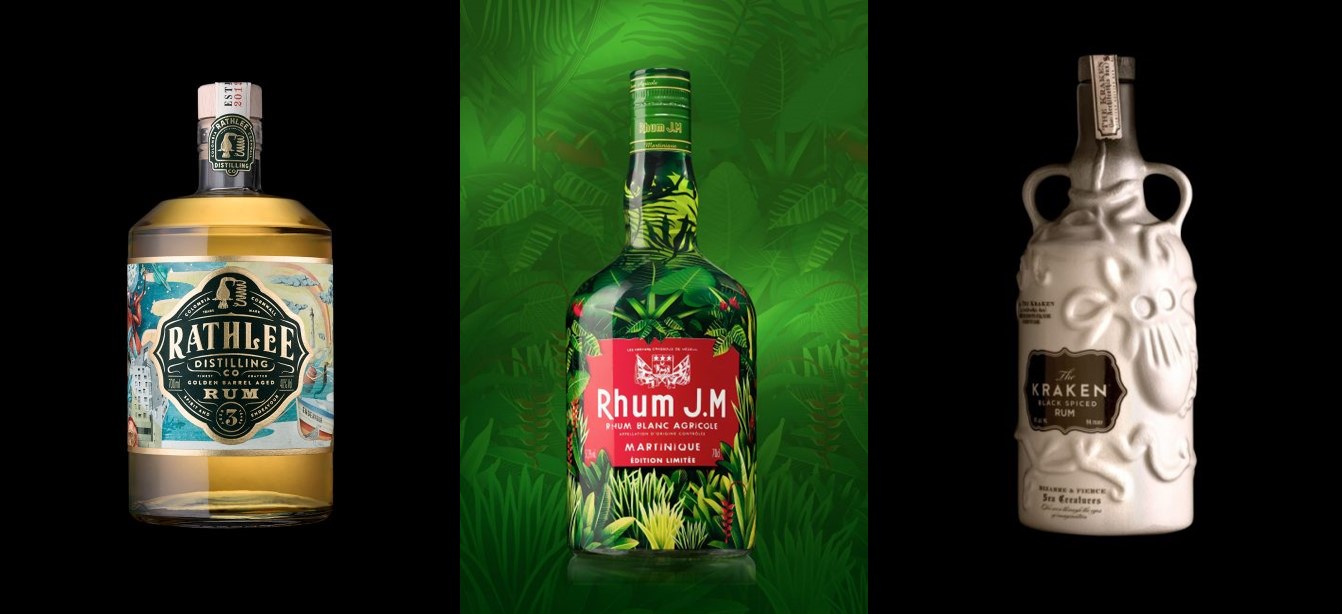 Let's focus on one product. Rum. This spirit is essential in any bar and many come looking great. Let's check out some great Rum Packaging Designs.
Rum packaging design is much like other packaged spirits. It comes in all price ranges, colors, and creative ideas to make it stand out. What you will notice once you start looking is that there are plenty of great rum packaging designs out there. I did notice a few things when picking out these designs. There is a bit too much pirate nostalgia going on in many of the rum packaging designs. I understand that it is easy to fall into that category but to be honest, do we really need another pirate or skull themed rum bottle? 
You decide, some of the ones on the list are very modern and adds something new to the category, others are classic but not every bottle can be modern can it?
So let's check some out, I picked out my favorites and hopefully you'll find them just as inspiring as I do. If you need some inspiration for cocktails I have a whole section with just that, for more great food packaging head over here.
Now let's start checking out great rum packaging design, enjoy!
Rom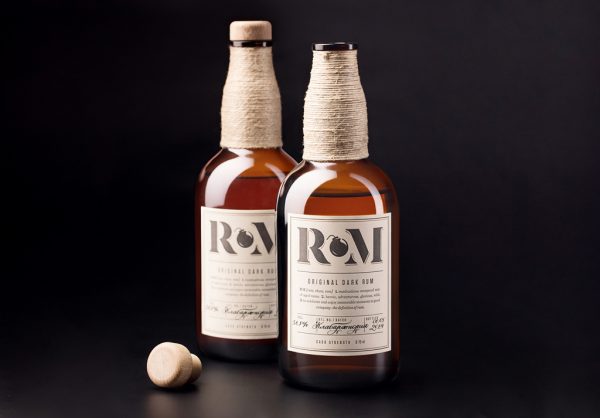 Let's start out with this fun design. The neck has some sort of rope spun around it and the O or U in the Rum is not a letter. Instead its a bomb! Fun design but fairly classic at first glance. (source)
Ron Draper Ad Rum
This was probably more fun while Mad Men was streaming. I still like the office-style design and a black bottle instead of regular glass make it stand out. (source)
Helsman Rum
The Helsman Rum packaging looks great. A small label with an anchor and the letters HR on the sides which I assume stands for Helsman Rum. This looks modern, classic and even takes some of that Carribean pirate tradition along the way with the anchor. A great design if you ask me. (source)
Oak & Palm Rum
Oak & Palm comes in bottles with the classic wine bottle shape. There are two types of rum and to keep them apart they used single color designs on the bottles which I always like. One in red and one in green with the same design besides the name. As long as you're not colorblind this looks great. (source)
Rio Rum
I like this Rio Rum. Great bottle shape and two labels both sort of just slapped on there. That and the bold lettering make this design stand out. (source)
Kraken Black Spiced Rum
Kraken is one of the more well-known rum brands. This one comes in a porcelain bottle with a huge Kraken, or octopus. Fun idea and it goes great with the brand. (source)
Boukman Rum Packaging Design
This rum comes in a hexagonal dark blue bottle. Combine that with a great label and a cool cap with a leather strap and we have one great design. (source)
Recycled Rum
 So what is recycled about this rum packaging design? It's the caps, they are made out of pressed Coca-Cola labels. Clever idea that will get all you packaging freaks going and since rums best friend is Coke I guess they come out on top as well. (source)
Rathlee Rum
A nice one with a great looking label. Love the colors, just a good design without being extreme or too bold. (source)
Stolen Smoked Rum Packaging Design
 Stolen rum that come in a shoe box from a very famous sneaker brand. I covered this one before so for more photos check it out here.
Atlántico Rum
Another regular design. I like to always add a few that isn't just crazy design work but a classic good but not to out there design. I think it's important to also recognize how great of the more classicly designed bottles look, do you agree? (source)
The Duppy Share
Palms, sun and the beach. Rum country I guess. (source)
New Dawn Rum Packaging Design
Cool design in purple, black and gold. The colors go great with the golden color of the rum, especially being lighted like this. (source)
Santaren Rum

This reminds me about a whisky bottle, especially since it comes in this paper tube. Great when traveling, otherwise I never really saw the point about adding that. (source)
Ron Botran Cobre
 Gold and black. (source)
Cuban Tails
 Here's a bottle that really stands out. Like something out of the chemistry lab and with plenty of design on it as well. (source)
Benevolence Rum
 What I like about this one is that it comes in a wine bottle. The shape looks just like a white wine bottle from the south of France, what's not to like about that? (source)
Red 8 Silver Rum Packaging Design
 Red 8, another great rum packaging where it is all about the label. (source)
World's End Rum
 Subtle and great looking. (source)
Bush Rum
Bush rum comes from the Australian outback, the packaging reflects that in a great way. A crocodile, a leather pouch to store the bottle in and a bit rough along the edges. (source)
Mount Gay Rum
 Another classicly designed rum packaging.
Rum No 5
Modern label and box, this is an example of where the box comes with something added. Looks much better than just a paper tube. I also really like the bottle shape. (source)
Baron Samedi Rum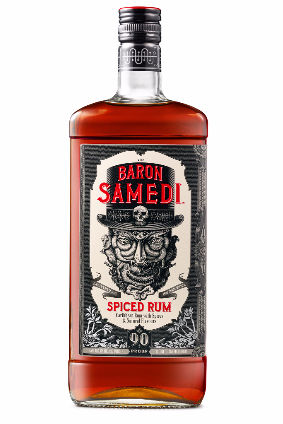 I have mixed feelings about this one, what do you think? Good or bad?
Ron De Jeremy Packaging
I'm not a fan of the kind of adult entertainment that made this guy famous. But it is fun how it became a product and I think more brands should use real people. Maybe not just from this category….
Sag Harbor Rum Packaging Design
Love the whale, love the label.
Wood's Old Navy Rum
Nice one. Navy recipe for this old navy rum.
Alnwick Rum
Black labels always look good.
Grasbrook German Rum
Another nice one. I like the typography and the clean look.
Captain's Cask
More classic stuff. (source)
Rhum J.M
Here's one that really stands out. Maybe even a bit too much, but as I said. It sure stands out. (source)
Antelope Island Rum
One of my favorites in this collection. Love the colors of the label and the whole look. (source)
Bayou Rum
Alligator skin box and a good design overall. (source)
Lazy Sloth Spiced Rum Packaging Design
A sloth rum packaging design, you thought you seen it all. Well, guess again. Besides the fun part it really look good as well. White design on black always work, at least for me. (source)
Moko Rum
Paper wrapping on top. Details like that always get me.
3 Zero Rum
Clean label and a design style that you often see for vodka or gin that for rum. But why not? (source)
Bati Rum
Lovely patterns and a nice range of different labels depending on which rum. (source)
Captain Silver Rum
Classic, in a good way. (source)
Bandit's Rum
Guns and skulls, fun design and I think it plays with the bad side in a good way. (source)
Dia De Los Muertos
Hello heavy metal and horror fans. I just found your favorite rum packaging design. Or at least your future rum favorite. (source)
Ghost Ship Spiced Rum
This is a great one, rope around the neck and a logo you can barely see. Just like a ghost ship appearing out of nowhere.
Papa's Pilar Dark Rum
Another one with a fun detail. With this design you'll never have to worry about losing the cap, it comes with a chain.
Chava Rum
Cuban style rum with plenty of graphics, but without making it too messy.
Gilmans Spiced Rum
Everything is great here. Bottle shape, label, the details. (source)
Oronoco Rum Packaging Design

All about the added details. How about that leather wrapping?
Deadhead Rum
For the last one let's go far out. How about this head? Wouldn't you love to take a sip of rum out of this one?