Russian Vodka Packaging Design for Tundra Vodka and Bitters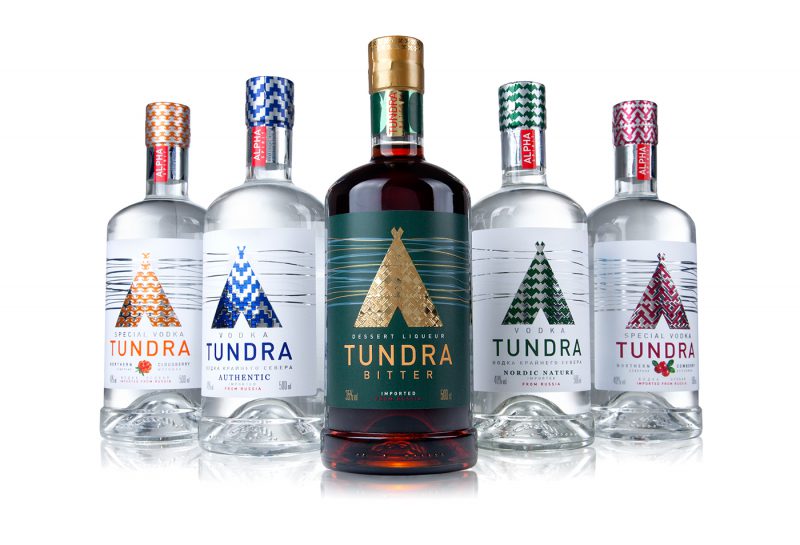 This Russian vodka packaging design for Tundra Vodka and Bitters comes in a clean and elegant packaging design without making it too exclusive, check it out.
I really like the simplicity of this Russian vodka packaging design. It's clean, it matches the product perfectly and it looks elegant. But not too elegant. I think that's a mistake for many brands, especially when it comes to liquor. Too many are going for the ultra premium market and designs the hell out of the bottles. This one is clean and simple, it looks good without being a showoff. Let's take a closer look.
The Design
The brand is called Tundra and it comes with four types of vodka and one type of bitters. All comes in the same bottle and the same basic design for each label. A rectangular label with a triangle shape that represents a tent or teepee. Behind the tent there is a set of lines in silver. Underneath is the brand name and type of vodka. Clean and simple. Depending on which vodka the color of the letters and design changes.
The Vodka
Four types of vodka and one type of bitters. The flavors are Russian and Nordic like cloudberry and lingonberry. The bitter is not a cocktail bitter but a digestif bitter comparable to Amaro Averna.
What I like is the clean design and how well it matches the product. Great work by Uniqa who is behind the design.